Wed, 19 May 2010, 05:30 PM



RB Smith Wins EOPM Trophy at Roxboro



Courtesy of Karon Woodward



TIMBERLAKE, N.C. --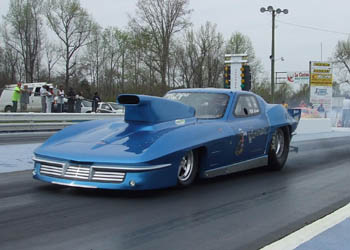 On May 15th the Roxboro Motorsports fans were back for another Extreme Outlaw Pro Mod event. When qualifying was called David Campbell, Ricky Walton, Wayne Chambers, Dave Leonardo, Bill De'Soto, Jim Teachman, Terry Black, RB Smith, Mike Graham, and Big Dog Champion Travis Harvey brung the Show to life. After 2 rounds of qualifying in the heat, David Campbell in his Eagle powered 70.5 Camaro would capture the number one spot with a 4.165 at over 184 mph, which would set a new track mph record. Travis Harvey who was debuting a new engine design would be the number two qualifier with a 4.177. RB Smith in his Virginia Speed Race Cars 63 Vette would hold the number three spot with a 4.191, with Jim Teachman with Joe Lepone tuning would round out the top half of the field at fourth with a 4.227. Engine builder/tuner Chuck Demeree would get Bill De'Soto, and Dave Leonardo into the field with Ricky Walton, and Wayne Chambers also breaking in the top 8. Chambers would qualify fifth with a personal best 4.271.
In the first round of eliminations David Campbell would take the win over the wild supercharged truck of Dave Leonardo. RB Smith would take the win over "Wild Bill" De'Soto. Jim Teachman would take the over Wayne Chambers as Chambers was unable to take the tree. Ricky Walton would advance to round 2 as Travis Harvey was unable to make the call. In the semi finals RB Smith would win over David Campbell while Jim Teachman took out Ricky Walton. In the final round both cars ran very well but it would be Roxboro's own living legend Hall of Famer, RB Smith to the stripe first. Great job to all the Extreme Outlaw Pro Mod teams. Watch out for the unqualified Pro Charged 63 Vette from Virginia Speed Race Cars who debuted the car but had mechanical problems. The next stop will be Northeast Dragway May 29th.




Drag News: 10 Most Recent Entries [ top ]

Feb 22- ANDRA Top Alcohol Champ John Cannuli Looking at Back-To-Back Championships
Feb 22- Frank Mamone is Back
Feb 22- Drag Illustrated to Hold $100,000-to-Win World Series of Pro Mod
Feb 17- Speedgroup Announces Title Sponsorship- EDRS European Drag Racing Series Becomes Summit Racing EDRS Series
Feb 08- 2016 TNT Super Series Champion- Jim Thomson
Feb 08- Dave Gunn- 2016 TNT Super Series Second Place
Feb 08- Harry Phelps- 2016 TNT Super Series Third Place
Feb 08- David Surmatchewski- 2016 TNT Super Series Fourth Place
Feb 08- JJ Jablonski- Jason Vitez- 2016 TNT Super Series Fifth Place
Feb 08- Carl's 4-Wheel Drive & Performance Center Named Presenting Sponsor of 2017 Gateway E.T.