Mon, 8 Dec 2008, 10:48 PM



Bill Reichert Reflects on Third-straight TAD National Championship



Courtesy of Will Hanna


Photo courtesy of Dave Kommel, AutoImagery.com





LOS ANGELES --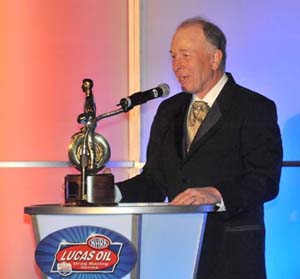 Bill Reichert
NHRA Top Alcohol Dragster driver Bill Reichert accepted the trophy for his third-straight National Championship at the NHRA Lucas Oil Series Championship Banquet in Los Angeles last Monday after posting a runner-up finish at the season-ending Auto Club Finals at Auto Club Raceway in Pomona, Calif. Reichert wheeled his Rislone Engine Treatment backed machine to his third-straight Championship on the strength of three national event wins (Chicago, Indianapolis and Charlotte) and five divisional wins (Reading, Pa., Chicago, Bowling Green, Ky., Atlanta and Reynolds, Ga.).
Reichert, who runs the family business Reichert Racing Engines in Owosso, Mich., started off slow but found his stride around the middle of the season. At the Division 3 event in Bowling Green, Ky., in August, Reichert started a string of 20 straight round wins before losing in the final of this past weekend's race.
"We definitely worked hard for this championship," said Reichert. "They were all hard, but we struggled early in the year. It was either the car acting up, or if it was running good, I lost it on the line. Around the middle of the year we really got things turned around, both the car and the driver.
"To win five in a row like we did, almost six, says a lot about this team," Reichert continued. "We wouldn't be able to do it without all the support of Rislone Engine Treatment and Bar's Leaks. You couldn't ask for a better sponsor. The President of the company Bob Mermuys and his brother Fred went to a few races with us and are a big supporter of what we do. I'm very glad to be able to give them another championship to reward their support of us over the years. We have a great group of associate sponsors in Lane Automotive, Allstar Performance, NGK Spark Plugs, Redline Oil and Victory 1 Valves as well."
Reichert points out that in addition to a great cast of sponsors, he wouldn't have the success he's had without the support of a great crew and his family.
"Without a great crew to get the car ready between rounds, its hard to win races," cited Reichert. "I really have to thank my wife Gloria, my son Andy, my daughter Ashley, Bob Adam, Corey Eich, Mike Lincoln, Jack Gilliand, Zac Running and Lon Meyers. They worked hard all year and gave their time and effort to making this possible. They deserve as much credit as I do; this truly is a team sport."
With the Championship in hand, Reichert spent most of the trip from California to his home in Michigan pondering his last round in Pomona. After running a stunning 5.16 at 282 mph, the fastest pass in 2008 for the class, in the semifinals a dropped cylinder at the hit slowed the Rislone mount in the final, handing the win to Championship-runner-up Jim Whiteley.
"I really wish I knew what was going on with that dropped cylinder," stated Reichert. "That's happened to us a couple of times this year, and it seems to be at the most inopportune times. It happened to us in the finals at Indy, but Duane Shields smoked the tires, so we got away with it there. There are a lot of things on these A/Fuel cars that are hard to figure out. We have all winter to play with it and see if we can find the problem."
Reichert and his Rislone backed team will be back in 2009 gunning for a fourth-straight Championship, but he hasn't ruled out stepping out of the driver's seat if the right driver came along.
"We're definitely going to give it another try next year," said Reichert. "The ride is still for rent like it has been this year. If a driver can come up with the money to drive the car, I'll step out and just tune the car. If nobody comes up with the money, then I'll just drive it again."
Rislone, America's best-selling engine treatment has been enhancing automobile engine performance for more than 85 years. Rislone Engine Treatment reduces friction & wear, quiets noisy lifters & valves, and removes & prevents sludge build-up. New Rislone products include: Rislone Oil Stabilizer with Engine Treatment, Rislone Transmission Stabilizer with Stop Slip and Rislone Power Steering Stabilizer with Stop Leak. Find out more at www.Rislone.com




Drag News: 10 Most Recent Entries [ top ]

Feb 22- ANDRA Top Alcohol Champ John Cannuli Looking at Back-To-Back Championships
Feb 22- Frank Mamone is Back
Feb 22- Drag Illustrated to Hold $100,000-to-Win World Series of Pro Mod
Feb 17- Speedgroup Announces Title Sponsorship- EDRS European Drag Racing Series Becomes Summit Racing EDRS Series
Feb 08- 2016 TNT Super Series Champion- Jim Thomson
Feb 08- Dave Gunn- 2016 TNT Super Series Second Place
Feb 08- Harry Phelps- 2016 TNT Super Series Third Place
Feb 08- David Surmatchewski- 2016 TNT Super Series Fourth Place
Feb 08- JJ Jablonski- Jason Vitez- 2016 TNT Super Series Fifth Place
Feb 08- Carl's 4-Wheel Drive & Performance Center Named Presenting Sponsor of 2017 Gateway E.T.