Mon, 10 Dec 2007, 12:54 PM



Williams Jr. Continues Season Ending Romp at Carolina Dragway



Courtesy of Luke Bogacki



JACKSON, S.C. --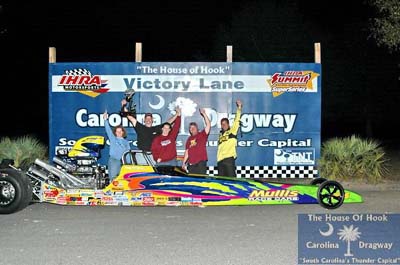 While most sportsman competitors are looking forward to the holidays and a few months away from the race track, Bradenton, FL racer Troy Williams, Jr. is no doubt looking for the nearest open facility and wishing the 2007 season hadn't come to a close. Williams dominated the annual Florida winter series with multiple final rounds at the Immokalee Regional Raceway kickoff event, back-to-back wins at the Moroso 5-Day en route to his second 5-Day points title, and another victory at the closing event at Sunshine Dragway. Williams continued his late season streak by scoring yet again last weekend at Carolina Dragway. There, Williams drove his familiar Mullis Race Cars backed machine to yet another $20,000 victory on Saturday (his second $20,000 win in three weeks), scoring a final round decision over local standout Sammy Hollingsworth. Williams weekend work was not yet done however, as he once again rolled thru Sunday's competition to claim a $3500 prize in a track hosted gamblers event.
"Yea, I guess it's a bad time for the season to be over," joked Williams. "I broke a motor at the Bradenton 5-Day, and we slid this spare all aluminum P.A.R. engine in. For whatever reason, that's the combination--this Mullis Race Cars machine has been unbelievable since. Down here in Florida, we don't have much of an offseason, so hopefully I can carry some of this momentum over to 2008."




Drag News: 10 Most Recent Entries [ top ]

Feb 22- ANDRA Top Alcohol Champ John Cannuli Looking at Back-To-Back Championships
Feb 22- Frank Mamone is Back
Feb 22- Drag Illustrated to Hold $100,000-to-Win World Series of Pro Mod
Feb 17- Speedgroup Announces Title Sponsorship- EDRS European Drag Racing Series Becomes Summit Racing EDRS Series
Feb 08- 2016 TNT Super Series Champion- Jim Thomson
Feb 08- Dave Gunn- 2016 TNT Super Series Second Place
Feb 08- Harry Phelps- 2016 TNT Super Series Third Place
Feb 08- David Surmatchewski- 2016 TNT Super Series Fourth Place
Feb 08- JJ Jablonski- Jason Vitez- 2016 TNT Super Series Fifth Place
Feb 08- Carl's 4-Wheel Drive & Performance Center Named Presenting Sponsor of 2017 Gateway E.T.