Thu, 27 Nov 2003, 01:55 PM



2004 Last year for Top Stock



Courtesy of IHRA Media Relations


Photo copyright BME Photography





NORWALK, Ohio --
The IHRA Top Stock category will be continued for the 2004 season, utilizing the same rules as the 2003 season finished with. There will be no factoring during the 2004 season.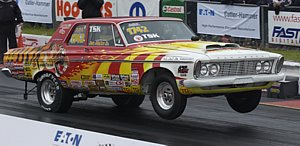 2003 Top Stock Champion Joe Aluise
First through third place points finishers will be recognized with trophies at the 2004 awards banquet.
IHRA has reviewed many different rules structures and proposals from everyone involved with the class. No matter what direction or rules package the class could take, no one was really satisfied that the class would grow and prosper. It is unfair to the competitors and fans to move forward with a class that we are not convinced has a chance for long-term success.
Therefore, IHRA Top Stock will be discontinued as a heads-up eliminator at the conclusion of the 2004 season. IHRA currently maintains an index for Top Stock style cars within our current Stock Eliminator program and will continue to do so in the future. This will enable participation at all Hooters IHRA Racing Series and Pro Am events in 2004 and beyond.


IHRA: 10 Most Recent Entries
[ top ]
Feb 09
-
The International Hot Rod Association Names Mike Dunn as President
Feb 04
-
Summit Live Webcast Kicks Off At Immokalee this Weekend
Feb 01
-
Drag Review Magazine Going Green
Jan 31
-
Cordova International Raceway Appoints Interim General Manager
Jan 22
-
2016 Memphis International Raceway Schedule Announcement
Jan 21
-
San Antonio Raceway Readies for 2016 Season
Jan 21
-
Division 1 Patriots Summit Pro-Am Schedule Released
Jan 21
-
Summit Racing Equipment Renews Partnership with IHRA
Jan 21
-
Division 4 Renegades Summit Pro-Am Tour Schedule Revision.
Jan 19
-
IHRA Announces the Appointment of a New Interim President