Fri, 1 Sep 2000, 06:50 PM



Stock Class Sets Tone for the 46TH Annual U.S. Nationals



Story and Photos by Geoff Stunkard



CLERMONT, Ind. --
While Thursday might not be considered a big day for the Pro racers, for the 151 racers in the Stock Eliminator division, it was a battle for supremacy over their peers. These guys (and gals) had already put in a full day on Wednesday with two runs, and after a third qualifying session first thing in the morning, they were sorted by class in the staging lanes and began to run off for the U.S Nationals Class Championship crowns. In some cases, it would also be an opportunity to actually become part of the final 128-car field for those drivers who did not run under the -0.635 bump that finished up the third session.
For the drivers who had no opponents in class, it was simply an exercise in taking the tree and heading down track. As per the NHRA Federal Mogul rules, if the racer fails to run at or below the index for his or her combination, that racer does NOT get seeded into the field. In the end, four class victors got into the program despite not being under the -.0635 final bump, while three others failed to do so since they were above the index for their combinations.
Of the 56 different classes contested at this year's event, the three largest were E/SA, G/SA, and H/SA, with ten cars each in E/SA and H/SA, nine in G/SA. In the final of E/SA, it was Lincoln Morehead driving his late-model '97 Firebird to victory with an 11.13 to Monte Howard's 11.24. Howard was in a '67 Camaro. Meanwhile, in H/SA, Brain Rogers' '69 Camaro cranked out an 11.49 to take out the '72 Demon of Ed Wallace, who followed with an 11.75. Of the nine cars in G/SA, Joey Wilkes took his new 2000 Firebird to a single when opponent Micci Walter could not make the call.
Also taking U.S. Nationals trophy honor in fields of five opponents or more were Jim Waldo (B/S '69 Mustang), Tim Russell (C/S '98 Firebird), Bill Hawk (D/SA '67 Shelby Mustang), Verne Buchanan (J/SA '73 Mustang), Don Holmes (K/SA '78 Firebird) and Bud Rowe (M/SA '85 Camaro)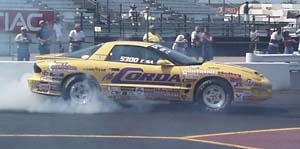 Al Corda wins C/SA.
Moving into the classes with three or four competitors, hard-fought wins came to Gene Mosbek (A/SA '64 Plymouth Savoy), Dave Young (B/SA '63 Polara convertible), Al Corda (C/SA '99 Firebird), Randy Wilkes (F/SA '00 Camaro), Danny Ashley (N/SA '74 Grand Am), and Bob Dennis (U/SA '82 Cutlass) in the automatic classes. Stick car winners were Tom Baird (A/S '69 Camaro), John Cavalato (D/S '94 Camaro), Steve Brack (J/S '85 Camaro) and Jeff Swanson (K/S '93 Mustang).
Finally, those emerging as victors in two-car battles included the stick entries of Dean Cook (F/S '72 Mustang), Todd Bednaz (G/S '68 Camaro), Rob Turkal (I/S '80 Camaro), Gary Russell (L/S '94 Camaro), Travis Gusso (M/S '88 Mustang), and Jim Schaechter (N/S '65 Malibu). Doing the trick for the automatic contenders were Dave Edwards (L/SA '78 Trans Am), Clint Blezien (O/SA '91 Camaro),Bert Morgan (R/SA '75 Buick) and Greg Philley (W/SA '80 Mustang). In the popular truck classes, it was Chris Sniesak (DT/SA '99 Dakota) and Ray Valpreda (FT/SA '98 Dakota).
Below is the list of 2000 U.S. Nationals Stock Class Winners:

       Num  Class Driver, Home Town, Car Type

       1681    A/S  Tom Baird, Blue Point NY, '69 Camaro
       6730    B/S  Jim Waldo, Richland WA, '69 Mustang
         32    C/S  Tom Russell, East Sparta OH, '98 Firebird
       3114    D/S  John Cabataio, Macomb MI, '94 Camaro
       3222    E/S  Ben Wenzel, Saginaw MI, '67 Camaro
       1165    F/S  Dean Cook, West Warwick RI, '72 Mustang
       1056    G/S  Todd Bednaz, Terryville CT, '68 Camaro
       3113    H/S  Dave Walther, Lanesville IN, '69 Camaro
       3105    I/S  Rob Turkal, Rapids City IL, '80 Camaro
       5899    J/S  Steve Brack, Lawrence KS, '85 Camaro
       4209    K/S  Jeff Swanson, Arlington TN, '93 Mustang
       3154    L/S  Gary Russell, E. Sparta OH, '94 Mustang
       5008    M/S  Travis Gusso, Sioux Falls SD, '88 Mustang
       3163    N/S  Jim Schaechter, Colona IL, '65 Malibu
       5552    O/S  Jerry Heath, Minneapolis MN, '89 Mustang
       3058    P/S  Jimmy Gower, Leitchfield KY, '66 Chevelle Wgn
       3777    R/S  Harlan Updike, Fredericktown OH, '66 Bel Air
       3099    T/S  Bill Koski, Las Vegas NV, '66 Belvedere
       5426   A/SA  Gene Mosbek, Elk River MN, '64 Savoy
       5555   B/SA  Dave Young, Inver Grove Hts MN, '63 Polara
       5300   C/SA  Al Corda, Elk Mound WI, '99 Firebird
       1352   D/SA  Bill Hawk, Manassas VA, '67 Shelby
       1633   E/SA  Lincoln Morehead, Newburgh NY, '97 Firebird
       3220   F/SA  Randy Wilkes, Zanesville OH, '00 Camaro
       3125   G/SA  Joey Wilkes, Zanesville OH, '00 Firebird
       2217   H/SA  Brian Rogers, Franklin TN, '69 Camaro
       3419   I/SA  Bruce Parsons, Lewisburg OH, '86 Camaro
         43   J/SA  Verne Buchanan, Conway AR, '73 Mustang
       3040   K/SA  Don Holmes, Dayton OH, '78 Firebird
       3852   L/SA  Dave Edwards, Washington OH, '78 Trans Am
       1924   M/SA  Bud Rowe, Bridgeton NC, '85 Camaro
       3474   N/SA  Danny Ashley, Marion IN, '74 Grand Am
       3278   O/SA  Clint Blezien, Bensenville IL, '91 Camaro
       3300   P/SA  Tom Kasch, Toledo OH, '00 Firebird
       3231   Q/SA  Harry Doolittle, Grosse Ile MI, '00 Firebird
       3066   R/SA  Bert Morgan, Charleston IL, '75 Buick
       3080   T/SA  Rick Fuller, Louisville KY, '66 Bel Air Wgn
       4093   U/SA  Bob Dennis, Shorter AL, '82 Cutlass
       3611   V/SA  Jonathan Tarrance, Bremen KY, '82 Monte Carlo
       1118   W/SA  Greg Philley, Taberg NY, '80 Mustang
       5237   GF/S  Terry Lacy, McPherson KS, '83 Dodge
       3520   HF/S  Steve Pohill, London ON, '82 Escort
       2205  BF/SA  Mark Poole, Hendersonville TN, '87 Sundance
       2030  EF/SA  Jimmy Malone, Nashville TN, '91 Shadow
       3321  FF/SA  Marion Stephenson, Danville IL, '91 Delta 88
       3139  HF/SA  Ron Seibenick, Perry OH, '84 Topaz
       3604   DT/S  Mark S. Hinz, Warren MI, '00 Dakota
       3629   IT/S  George Strohauer, Montpelier OH, '90 Dakota
       3346   JT/S  Bill Curtis, Ann Arbor MI, '97 Ranger
       5508  AT/SA  Charles Blossom, Woodbury MN, '91 GMC
       3022  CT/SA  Jennifer Dziorny, Wixom MI, '94 Dakota
       3121  DT/SA  Chris Sniesak, Wales Twp MI, '99 Dakota
       3582  ET/SA  John Lovins, Riverside OH, '96 Dakota
       1869  FT/SA  Ray Valpreda, Lawrenceville NJ, '98 Dakota
       3658  GT/SA  Phil Pierce, New Carlisle OH, '92 Ram 150
	 4261  JT/SA  Gerald Nivans, Memphis TN, '91 Ranger





NHRA: 10 Most Recent Entries
[ top ]
Feb 20
-
Carolina Dragway and Piedmont Dragway Join NHRA Member Track Network
Feb 20
-
Dodge Fuels Migh-High NHRA Nationals as New Title Sponsor
Feb 20
-
PHOENIX - Tony Schumacher Likes Team's Diretction Heading to NHRA Arizona Nationals
Feb 19
-
Tim Marshall- A Drag Racing Photographer
Feb 17
-
POMONA 1 -Through the Lens of Ron Lewis
Feb 16
-
PHOENIX - Fact Sheet
Feb 16
-
PHOENIX - Leah Pritchett Hopes for Third Straight Win at NHRA Arizona Nationals
Feb 14
-
Summit Racing Equipment Renews NHRA Sponsorships
Feb 13
-
Brittany Force Released from Hospital
Feb 13
-
POMONA 1 - Special Awards