Fri, 1 Sep 2000, 07:52 PM



Super Stock Class Action Highlights Friday Sportsman Racing



Story and Photos by Geoff Stunkard



CLERMONT, Ind. --
The tradition of class eliminations at the U.S Nationals is a well-known one, and few will argue that Super Stock battles are a fan and racer favorite. A class win at this forty-sixth annual event gives the car driver both glory and respect, not to mention a nice sum of contingency funds. This year's running found 163 cars on the property by the time qualifying finished on Thursday, and those racers were the first to hit the IRP quarter-mile when action resumed on Friday morning at 8:00 AM.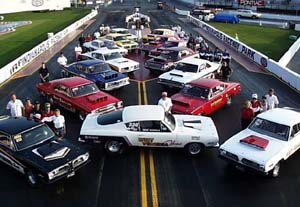 The SS/AA Field.
Of course, for fans of the division, the big fight is still in SS/AA, the sole domain of the Hurst-constructed Chrysler 426 Hemi Darts and Barracudas from 1968. Though Super Stock has seen an immense influx of late model cars in the past two decades, these 32-year-old beasts from the past still thrill with their high wheelstands and nine-second performances. There were 18 of the rare Chryslers at Indy this year, but parts attrition had already pulled three of those out of contention by Friday's first class runoff. The remaining 15 came from as far away as California and Canada to see who would win the crown this year.
With the field down to eight cars for the second round, controversy reared its head. Two of the quickest racers in the SS/AA class, Bucky Hess and "Little Joe" Teuton, had won but were tardy in reporting to the staging area due to mechanical problems. Therefore, both were unable to get in line for the round apparently due to the large number of Super Comp entries blocking the back of the lanes. As a result, they were disqualified despite the fact that Teuton had managed to arrive via the return road and pull toward the burnout area even as the final pair of the remaining six entries were crossing the finish line. Hess never got beyond the back of staging. Starter Rick Stewart made the tough call much to the disappointment of Teuton's crew and onlookers, but, as they say, he's the boss out there…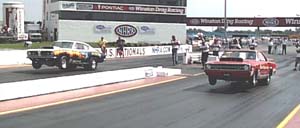 David Barton wins SS/AA finals.
After the other Teuton entry driven by Sid Bonnecarre fell out in the semifinals, the money round came down to Gatornationals runner-up Richard Beshore in a Barracuda and second-generation racer David Barton, son of Hemi guru Ray Barton, in a just-completed Dart. Young Barton strapped a nice holeshot (.512 to .574) on the Michigan-based Plymouth, and Beshore was reeling the Dart in as the 1320 passed beneath. Unfortunately, his quicker 9.122 was not enough to beat Barton's comparable 9.137, and this year's prize and notoriety will go back to Pennsylvania to the Barton shop by .047.
The race Hemi contingent was by far the largest of the S/S divisions in 2000. Going into three rounds of competition were late model conversions in GT/BA, GT/EA, GT/FA, GT/GA and GT/HA, while standard Super Stock classes with five to eight entries included SS/HA and SS/KA. Hard fought battles between contestants in fields of three or four machines included stick cars in SS/D and SS/L, automatic machines in SS/DA, SS/FA, SS/GA, SS/IA and SS/LA, conversions in GT/AA GT/DA, and GT/JA, and modified entries in SS/BS, SS/BM and SS/DM.
Finally, two car battles were between contestants in GT/CA, GT/IA, GT/K, GT/KA, SS/EA, SS/JA, SS/K, SS/OA, SS/PA, SS/AM, SS/FM, SS/TB, SS/AX SS/B, SS/E, and SS/K. As a result of winning class, 12 cars were able to bump their way into the final 128-car field. This story was filed pending tech.
Below is a list of the Super Stock Class Champions from the 46th Annual U.S. Nationals

     Num  Class Driver

       3133   SS/B  Dickie Ogles, Bowling Green KY, '69 Corvette
       2018   SS/C  Jimmy Bridges, Nashville TN, '66 Corvette
       3087   SS/D  Ken Hutchinson, Indianapolis IN, '69 Camaro
       3102   SS/E  Kenny Schindler, Hendersonville TN, '68 Corvette
       4998   SS/F  Red Leblanc, Memphis TN, '69 Mustang
       5502   SS/G  Paul Anderson, Lewiston MN, '67 Camaro
       4491   SS/H  Tony Wood, Tulsa OK, '68 Camaro
       3088   SS/I  Bill Friebel, House Springs MO, '69 Camaro
       3484   SS/K  Stephen L. Koch, Mt. Wash KY, '66 Chevy II
       5711   SS/L  Don Sofranko, Davenport IA, '66 Nova
       4477   SS/N  James Lee, Tulsa OK, '55 Chevy
       3073   SS/O  Richard Feldman, E.Liverpool OH, '66 Impala
       1990  SS/AA  David Barton, Wernersville PA, '68 Dart
       1005  SS/BA  David Thomas, W. Chester PA, '69 Corvette
       5006  SS/DA  Alex Polewik, Cedar Rapids IA, '69 Camaro
       5088  SS/EA  Mike Bogina, Olathe KS, '70 Barracuda
       3653  SS/FA  David Haag II, Jeffersonville In, '68 Camaro
        381  SS/GA  Brian Olson, Peru IN, '67 Nova
       3025  SS/HA  JR Lambert, Louisville KY, '67 Camaro
       2885  SS/IA  David Rampy, Piedmont AL, '66 Nova
       3269  SS/JA  Jeff Dona, Gordonville MO, '69 Camaro
       5091  SS/KA  Dan Larson, St. Paul MN, '85 Camaro
       5830  SS/LA  Dennis Nelson, Hugo MN, '81 Malibu
       5429  SS/NA  Rick Ryan, Aberdeen SD, '88 Cutlass
       4094  SS/OA  Buggs Dennis, Shorter AL, '88 Cutlass
       1928  SS/PA  Richard Diorio, E. Brunswick NJ, '55 Chevy
       3085  SS/FC  Larry Nelson, Westerville OH, '82 Pontiac
        378  SS/AX  Jeff Sexton, Fairborn OH, '84 Camaro
       3081  SS/BX  Joe Covert, Saukville WI, '94 Regal
       2568  SS/DX  John Gallina, Marco Island FL, '87 Buick
        107  SS/AS  Wes Leopold Jr, Bridgeville PA, '93 Daytona
        776  SS/BS  Doug Lambeck, Irvine CA, '90 Camaro
          4  SS/AM  Bo Butner, Floyds Knobs IN, '98 Grand Am
       1052  SS/BM  Arnie Martel, Tewksbury MA, '99 Grand Am
        777  SS/CM  Bob Lambeck, Northridge CA, '98 Olds
        362  SS/DM  Teresa Butner, Floyd Knobs IN, '96 Achieva
       3731  SS/EM  Rick Katterjohn, Booneville IN, '90 Trans Am
       3344  SS/FM  Ernest Price, Navarre OH, '69 Camaro
       4458   GT/A  Mitch Autry, Henderson TN, '91 Calais
       3155   GT/C  Vic Krol, South Bend IN, '85 Mustang
       3036   GT/E  Charlie Westcott, Parma MI, '97 Grand Am
       1665   GT/F  Joe Mendillo, Hamden CT, '90 Camaro
       2212   GT/G  Eric Wingo, Springfield TN, '92 Grand Am
       3697   GT/I  Brad Zaskowski, Grand Rapids MI, '87 Camaro
       2119   GT/K  Jimmy Spell, Stedman NC, '90 Camaro
       1499  GT/AA  Jim Boudreau, Tewksbury MA, '92 Camaro
       2282  GT/BA  Robert Burgin, Cuthbert GA, '96 Achieva
          7  GT/CA  Ricky Decker, Charlestown IN, '94 Camaro
       3232  GT/DA  Joe Skinner, Columbia Station OH, '94 Cavalier
        327  GT/EA  Mike Beachy, Kokomo IN, '82 Firebird
       3122  GT/FA  Joey Wilkes, Zanesville OH, '86 Camaro
       1184  GT/GA  Wes Leopold, McDonald PA, '87 Daytona
       3388  GT/HA  Mark Nowicki, Gaylord MI, '98 Avenger
       1227  GT/IA  Michael Volkman, Pittsburgh PA, '00 Sebring
       5723  GT/JA  Ernie Penner, Pembina ND, '99 Firebird
       1747  GT/KA  Tim Worner, Duncannon PA, '88 Cutlass
       2105  GT/LA  Johnny Moore, Montgomery AL, '99 Firebird
       4093  GT/MA  Bob Dennis, Shorter AL, '97 Firehawk
        339  SS/TA  Pat Storey, Bradford ON, '99 Dakota
       3400  SS/TB  Ernie Neal, Columbus IN, '98 Dakota
        240  GT/TB  Fred Allen, Winamac IN, '00 S-10
       1447  GT/TC  Joe Scott, Sunbury PA, '00 S-10
       7371  GT/TD  Don Studley, Orange CA, '99 Dakota





NHRA: 10 Most Recent Entries
[ top ]
Dec 17
-
Homegrown Top Fuel Dragsters Part IV
Dec 15
-
Tickets on Sale Now for Sixth Annual NHRA New England Nationals
Dec 15
-
NHRA Youth and Education Program Celebrates 30th Season by Increasing Focus on S.T.E.M.
Dec 15
-
NHRA Jr. Drag Racing Conference Finals Return to Osage Tulsa Raceway Park and Bristol Dragway
Dec 15
-
Tickets On Sale Now for the Menards NHRA Heartland Nationals presented by Minties
Dec 15
-
E3 Spark Plugs Extends Official Partnership with NHRA
Dec 15
-
Tickets On Sale Now for the NHRA Arizona Nationals
Dec 15
-
Torrence Plots New Title Quest
Dec 14
-
Gateway Motorsports Park Receives Outstanding Facility of the Year Award at Race Track Business Conference
Dec 14
-
Courtney Force Honored to be Named to 30 Under 30 List