Sat, 8 Jun 2002, 11:01 PM



Millican, Stott, Stordeur, Rector and Gahm Qualifying Number One






Photo by: Competition Plus.com





GRAND BEND, Ont. --
Clay Millican's track record elapsed time from Friday, a 4.615 second, 317.23 mph effort, was more than enough to hold on to the top rung of the Top Fuel eliminations ladder and he showed that run was no fluke by running a 4.658 second elapsed time in the final qualifying session. Bruce Litton improved his hold on second place with a 4.796 second, 298.30 mph run in the final session, while Paul Romine and Louie Allison supplied the drama, going from outside the field to third and fourth spots with a 4.858 at 297.22 for Romine and a 4.960 at 288.09 for Allison.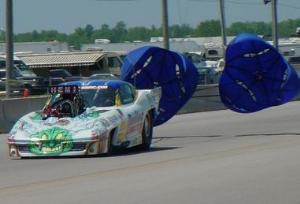 Mitch Stott
Mitch Stott held onto the number one spot on the Pro Modified eliminations ladder with his Friday night pass of 6.225 seconds at 227.21 mph. World Champion Mike Janis took home the "Lend America Home Run" money for the quickest pass during The Mac Tools "Night of Fire" with his pass of 6.282 seconds at 225.26 mph for the number two position. Carl Spiering and Fred Hahn rounded out the top four. The biggest surprise of the event was Shannon Jenkins, second in championship points to Canadian driver Al Billes, Jenkins unable to get down the track in four tries, so he will not be in the field for Sunday's eliminations for the first time since the middle of the 2000 season.
Team Mancuso held on to the top two qualifying spots in Screamin' Eagle Nitro Harley with their times from Friday night qualifying. Steve Stordeur set the track E.T. record with a run of 6.347 seconds at 217.39 mph. Johnny Mancuso's 6.442-second pass at 205.38 remained number two. Ray Price stayed number three with his Friday time and Doug Vancil moved into the top half of the field Saturday with a pass of 6.457 seconds at 193.54 mph.
A voodoo doll didn't have much effect on Jimmy Rector during Funny Car qualifying, Rector and second qualifier Mike Comella sitting out the final qualifying session while the rest of the competitors took their best shot at dislodging the two from the top of the eliminations ladder. Rector's track elapsed time record 5.840 second, 240.19 mph qualifying run from Friday easily held off all challengers, but Comella's 5.861 barely survived some serious challenges, Laurie Cannister moving into the third spot with a final-round 5.866 and John Vouros securing the fourth with a 5.868.
Brian Gahm, with his track record pass (6.565 second at 211.61 mph) from Friday, held on to the number one spot in Sunoco Pro Stock. The top 16 players didn't change Saturday and the only shuffles in the order were Carl Baker, Jason Collins and John Bartunek, who moved up to 11th, 12th, and 13th, respectively. Chevy Cavalier and Pontiac Gran Am lead the way in qualifying with four cars each in the field, Ford Mustang and Mercury Cougar follow with three, while Ford Probe and Dodge Neon each have one car in the show.
Final eliminations are scheduled for Sunday at 11:30. The Mopar Performance Parts Canadian Nationals is the fifth stop on the twelve-race Hooters IHRA Racing Series.


IHRA: 10 Most Recent Entries
[ top ]
Feb 09
-
The International Hot Rod Association Names Mike Dunn as President
Feb 04
-
Summit Live Webcast Kicks Off At Immokalee this Weekend
Feb 01
-
Drag Review Magazine Going Green
Jan 31
-
Cordova International Raceway Appoints Interim General Manager
Jan 22
-
2016 Memphis International Raceway Schedule Announcement
Jan 21
-
San Antonio Raceway Readies for 2016 Season
Jan 21
-
Division 1 Patriots Summit Pro-Am Schedule Released
Jan 21
-
Summit Racing Equipment Renews Partnership with IHRA
Jan 21
-
Division 4 Renegades Summit Pro-Am Tour Schedule Revision.
Jan 19
-
IHRA Announces the Appointment of a New Interim President