Thu, 21 Aug 2014, 17:50 PM



Torres Takes Pro Gas Points Lead with Win, Balough Wins Again at Fontana



By Bob Johnson


Photo copyright 2014 Bob Johnson Photography





FONTANA, Calif. --
Val Torres Jr has taken the Southern California Pro Gas Association points lead mid-way through the 8-race season, as the popular Chino Hills, Calif., racer won the Russ Harris Memorial race, defeating Russ Hester in the final round at Auto Club Dragway. Travis Balough won his third race at Fontana this summer, including his second Pro Gas title and a Super Gas win at the NHRA National Open in June.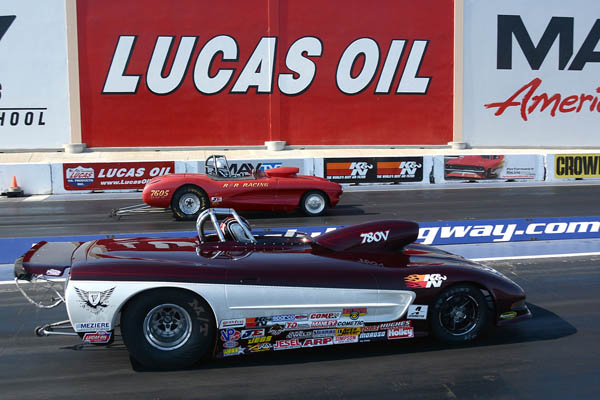 Val Torres Jr. defeated Russ Hester
Torres, who has two final rounds and a semifinal to his credit in the 4-Pro Gas races contested this season, got to the final round of Saturday's race with wins over Phil Pacatang, Aaron Kinard, and Greg Ventura before racing Brenden Herem in the semifinal. In that race, Torres had a .006 advantage at the line, and took the win at 9.923 as Herem broke out. Russ Hester beat Mike Lang, Paul Wiechmann, and Randy Balough before stopping top qualifier Randy Fabbro in a double breakout semifinal.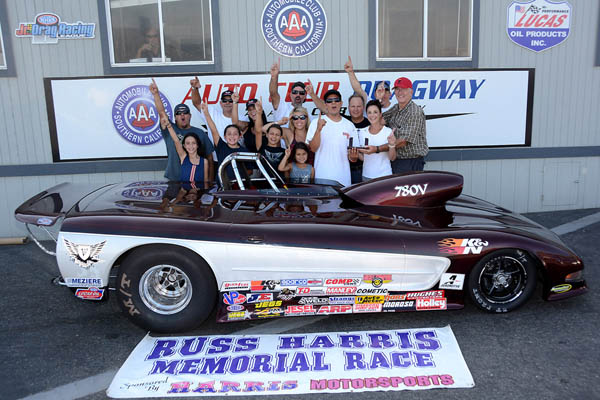 Val Torres Jr celebrates win.
Torres had an .021 starting line advantage on Hester's '57 Corvette in the final round, and took the double breakout win 9.865, 160.19 to a losing 9.846, 140.07. Torres win was worth $2000 plus contingencies.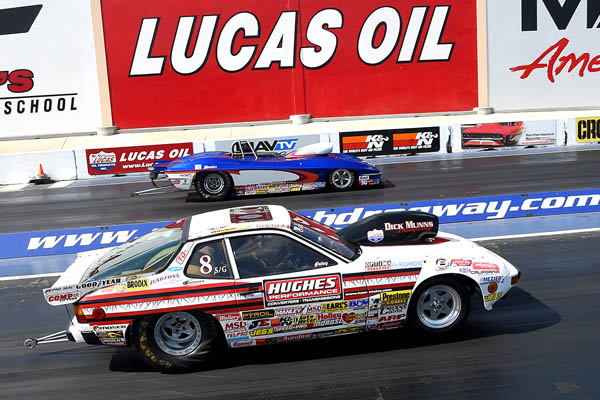 Travis Balough (far lane) defeated Pete Bothe
Sunday's race was sponsored by the Pro Gas Association and Harris Family Motorsports. Third round racing began with Pete Bothe running 9.904 for a win over Aaron Kinard, as his Corvette was .001 too quick; Val Torres Jr defeated Hollis Colleasure; Travis Balough ran a 9.905 to Greg Ventura's too quick 9.884, and Randy Balough took a bye run win. A potential father-son pairing in the final round saw Travis Balough stop point's leader Torres with a 9.933 as Val Jr., broke out, and Pete Bothe put an end to the father-son match, as he clicked a .008 reaction and 9.894 win as Randy Balough lost with a 9.874.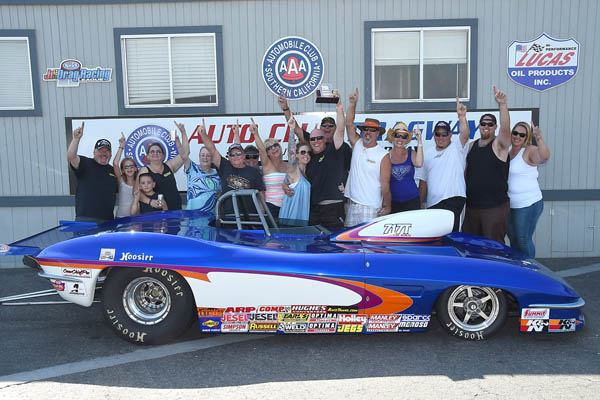 Travis Balough celebrates win.
Four-time Pro Gas series champion Pete Bothe and Travis Balough made up the final round, with Balough's '63 Corvette leaving first with a .008 light, and getting the win at 9.931 to Bothe' 9.927 (.019 reaction) with his Chevy-powered '78 Porsche.
Races 5 and 6 of the SoCal Pro Gas 8-race series will take place at Auto Club Dragway on September 13-14.




Drag News: 10 Most Recent Entries [ top ]

Feb 22- ANDRA Top Alcohol Champ John Cannuli Looking at Back-To-Back Championships
Feb 22- Frank Mamone is Back
Feb 22- Drag Illustrated to Hold $100,000-to-Win World Series of Pro Mod
Feb 17- Speedgroup Announces Title Sponsorship- EDRS European Drag Racing Series Becomes Summit Racing EDRS Series
Feb 08- 2016 TNT Super Series Champion- Jim Thomson
Feb 08- Dave Gunn- 2016 TNT Super Series Second Place
Feb 08- Harry Phelps- 2016 TNT Super Series Third Place
Feb 08- David Surmatchewski- 2016 TNT Super Series Fourth Place
Feb 08- JJ Jablonski- Jason Vitez- 2016 TNT Super Series Fifth Place
Feb 08- Carl's 4-Wheel Drive & Performance Center Named Presenting Sponsor of 2017 Gateway E.T.