Fri, 01 Aug 2014, 18:43 PM



Track Champs Crowned at Irwindale



Courtesy of Dave Kommel


Photo copyright 2014 Dave Kommel





IRWINDALE, Calif. --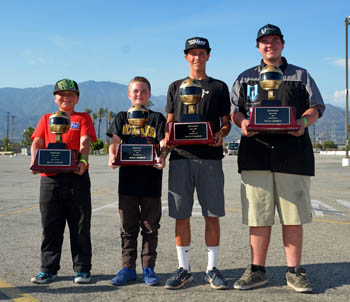 Doniphan Schmidt, Maverick Molloy,
Dylan Oliveira and Brandon Savolt
Junior Dragster racers from California, Arizona and Nevada converged on Irwindale Drag Strip on Saturday July 26 to conclude a short, but successful 2014 season. With two races on the day, boys and girls alike were furiously chasing points to earn the coveted track championships.
In Group One (8-9 year old), Doniphan Schmidt defeated Ryan Mason to take race one. Doniphan's shot at a double came up a little short as Gavin Pine outran him in the race two final. In Group Two (10-12 year old), Michael Gidcumb took the race one honors over Matthew Shelden while Cade Poe won a double breakout final over Braiden Chesleigh in race two.
In Group Three (13-14 year old), Josh Gagnon utilized a great .009 light in the final of race one to put away Dylan Horridge. The final in race two saw Dylan Oliveira eliminate Chris Schweers. Group Four (15-17 year old) saw Gabrielle Schmidt earn the hardware in race one over RJ Karls and Brandon Savolt over Kevin Motter in race two.
At the end of the day track champions crowned were Ryan Mason in Group One, Maverick Molloy in Group Two, Dylan Oliveira in Group Three and Brandon Savolt in Group Four.




Drag News: 10 Most Recent Entries [ top ]

Feb 22- ANDRA Top Alcohol Champ John Cannuli Looking at Back-To-Back Championships
Feb 22- Frank Mamone is Back
Feb 22- Drag Illustrated to Hold $100,000-to-Win World Series of Pro Mod
Feb 17- Speedgroup Announces Title Sponsorship- EDRS European Drag Racing Series Becomes Summit Racing EDRS Series
Feb 08- 2016 TNT Super Series Champion- Jim Thomson
Feb 08- Dave Gunn- 2016 TNT Super Series Second Place
Feb 08- Harry Phelps- 2016 TNT Super Series Third Place
Feb 08- David Surmatchewski- 2016 TNT Super Series Fourth Place
Feb 08- JJ Jablonski- Jason Vitez- 2016 TNT Super Series Fifth Place
Feb 08- Carl's 4-Wheel Drive & Performance Center Named Presenting Sponsor of 2017 Gateway E.T.