Thu, 03 Jul 2014, 12:23 PM



Bowen Takes Second Straight Win in Hedman Husler Hedders DRO AA/FC Challenge



Courtesy of Kay Burk



'Pedal Fest' Proves Challenging for Racers but Entertaining for Spectators



PADUCAH, Ky. ---
Shawn Bowen drove the family's "Violator" AA/FC Pontiac Firebird to its second win of the 2014 season at the June 6-7 inaugural Eighth-Mile Nationals at Keith Murt's refurbished Beacon Dragway in Paducah, KY.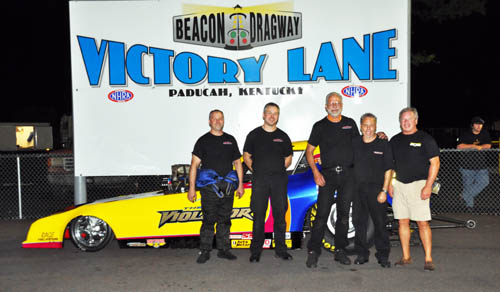 Shawn Bowen and crew celebrate win.
Bowen defeated Australian native Barrie "Bazz" Young in his "Down Under Thunder" '69 Camaro on an extremely tricky eighth-mile track that had seen a lot of rain for a couple of days. It was Young's first final round appearance in the Hedman Husler Hedders DragRacingOnline.com AA/FC Challenge presented by Comp Cams.
The Michigan-based AA/FC team scored the maximum points available for the second straight event and opened a significant gap over Bazz Young, who sits second in points, as Bowen attempts to become the third team in the six-year history of the series to win the championship twice in a row.
The weather conditions couldn't have been much worse for the Beacon Dragway track crew. They began scraping, dragging and spraying the newly repaved track on Thursday and continued to do so right up to 7 p.m. Friday for the first of two qualifying laps. This is the only eighth-mile event on the 2014 series schedule.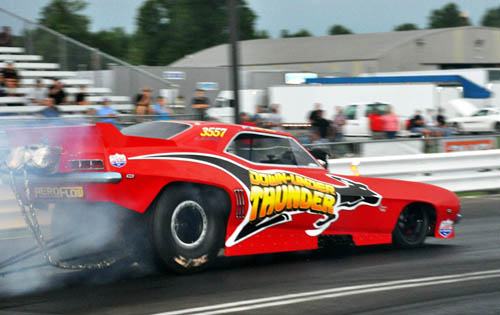 Barrie "Bazz" Young
Despite their efforts, a relative humidity of 85% and temps in the 60-degree range made getting Nitro Funny Cars down the track problematic at best. As a result every pair of drivers engaged in a "pedal fest" on every lap much to the delight of the fans who braved the at times marginal weather. Past performance meant nothing at this race. There were no obvious favorites and each lap of qualifying tested the skills of both the tuners and drivers.
Bazz Young and veteran tuner Jerry Newman made a statement with a 4.466/165.33 pass that were Low ET and Top Speed of the first session. Newman's years of match racing nitro on marginal tracks were a distinct advantage at this race.
Paul Romine, a two-time DRO Champion (2009-2010), made his return after "retiring" his Indianapolis-based team for two years. This was his first event since re-acquiring and rebuilding his Mike Spitzer-built "Man O' War" Mustang.
Eliminations began right on time at 7 p.m. Saturday night, although once again the track crew had been spraying and dragging the track frequently prior to the first round of eliminations in a serious attempt to provide the nitro cars with a track but again high humidity of 85% plus and 125 water grains in the air made getting the tires to hook very difficult if not impossible.
Because the six-car qualified field was short one entry, the Low Qualifier, Bowen, got a bye into the semis. On that single Bowen was again unable to get down the track.
"I shifted before I got to the 60-foot clocks but the tires spun when I hit the throttle and never quit until I lifted," he explained.
He got a 5.5467/87.86 time slip that amazingly would get him lane choice in the semifinals.
The next pair saw Young versus Troy Ray in the "Wild Side" Dodge Charger. Ray, making his first appearance with the DRO series since 2012, was the underdog in the matchup. Young left first with a ..1545 RT and Ray followed with a .1847 RT. Then things got weird.
As Young explained, "At about the tree I felt something hit the front of my helmet and at the same time all I could see was sparks so I stepped of the throttle and shoved the clutch in."
In the other lane Ray also instantly struck the tires and lifted but when he saw that Young was coasting he nailed the throttle and drove around Young with a 5.659/143.46 to his opponent's 5.897/75.91 for what he said was his first ever round win in his career.
Young found out after the race that a bolt from the clutch access panel came loose, hitting him in the helmet, and the sparks he saw were coming from the clutch.
The other first round match-up featured a couple of veteran ex- IHRA/NHRA Top Fuel drivers, Paul Romine and Fred Farndon. Farndon left first with a .1097 RT followed by Romine's .1510. Both men immediately pedaled but Romine recovered first and best and got the win with a 4.869/126.95 to Farndon's slowing 6.311/73.92.
It started raining almost as soon as the first round was completed but it didn't last too long and thanks to the track crews hard work and a jet track dryer that track owner Keith Murt brought in for the race in about two hours the track was ready for racing again.
The semifinals found Young returning as the quick first-round loser to race Romine, who had lane choice. Young then became the first driver in the DRO AA/FC Challenge history to return and win in the semifinals as the quick loser and advance to the final when he overcame a .088 holeshot by Romine to advance. Young had a 4.4582 to Romine's 4.5752 to win by about .03.
In the other semifinal it was Bowen and Ray, but this time the underdog did not come out on top. Bowen ended Ray's night with a 5.346/85.84 to Ray's 6.104/85.54. The race was actually much more exiting than the numbers indicate as Bowen was all over the race track and actually got sideways and rolled up on two wheels to nearly vertical and likely would have barrel rolled the car had the Zoomie headers not prevented it.
By the final round the Bowens finally found a way to take some power out of their car, saying later that they even considered leaving it in high gear. Young was in his first-ever final. Bowen left first with a .1307 to Young's .1763 and never gave up the lead, running a 4.3333/184.98 to Young's 4.4760/167.11. That speed gave him Top Speed of the meet to go along with Low ET.
Will the Bowens make it three in a row? Next race for the Hedman Husler Hedders DRO AA/FC Challenge series is a joint event with the IHRA at Cordova Dragway Park on July 18-19.
Contingency sponsors for the series are Baumgartner Race Cars, Comp Cams, MSD, Mert Littlefield Blowers, Ohio Crankshaft, Rage Fuel Systems, S&W Race Cars, Taylor Motorsports Products, Trailer Toad and Victory Performance Parts.

Hedman Husler Hedders Championship Points after two events:
1. Shawn Bowen, MI - 220
2. Bazz Young, WI - 188
3. Fred Farndon, OK - 154
4. Greg Jacobsmeyer, MO - 95
5. Mark Sanders, WA - 89
6. Paul Romine, IN - 88
7. Troy Ray, KY - 87





Drag News: 10 Most Recent Entries [ top ]

Feb 22- ANDRA Top Alcohol Champ John Cannuli Looking at Back-To-Back Championships
Feb 22- Frank Mamone is Back
Feb 22- Drag Illustrated to Hold $100,000-to-Win World Series of Pro Mod
Feb 17- Speedgroup Announces Title Sponsorship- EDRS European Drag Racing Series Becomes Summit Racing EDRS Series
Feb 08- 2016 TNT Super Series Champion- Jim Thomson
Feb 08- Dave Gunn- 2016 TNT Super Series Second Place
Feb 08- Harry Phelps- 2016 TNT Super Series Third Place
Feb 08- David Surmatchewski- 2016 TNT Super Series Fourth Place
Feb 08- JJ Jablonski- Jason Vitez- 2016 TNT Super Series Fifth Place
Feb 08- Carl's 4-Wheel Drive & Performance Center Named Presenting Sponsor of 2017 Gateway E.T.