Fri, 09 May 2014, 08:52 AM



New Winners Highlight Race #1 & 2 of the Mid Atlantic .90 Association Series at Atco



Courtesy of Rob Keister



ATCO, N.J. --
The Mid Atlantic .90 Association kicked off its 2014 season at Atco Dragway in Atco, NJ over the weekend. The racers were greeted with overcast skies, cool conditions, and a very well groomed track. On Saturday two new winners were crowned as Don Bangs (MASCA) & Kelli Barbato (MASSA) added their names to the list. Also joining them in the winner's circle was Oscar Olt (MASGA). On Sunday the racers danced in and out of rain-drops from a fast moving system that was just grazing the tip of South Jersey. In the end Danny Bisbano (MASCA) & Pat Dehner (MASGA) added their names to the first time winners for the Mid Atlantic .90 Association.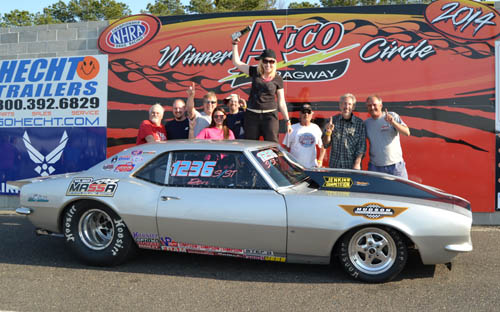 Bangs, from Southhampton, Pa took his 95 Carpenter dragster to the number 1 qualifying spot in MASCA's first race and never looked back. After receiving a bye-run for his top qualifying performance, Bangs then defeated Scott Albrecht, Chris Garretson, and Dave Layne before receiving another bye-run to the finals against Deb Moses. In the finals both drivers were about even at the start (.029 to .031 in favor of Moses) but, Bangs was the closest to the dial and took a 8.916 to 8.936 victory. In Mid Atlantic Super Street Series action, Kelli Barbato from West Chester, Pa was also the number 1 qualifier with her 1968 Camaro. Barbato received a bye-run in the first round and then a competition single as opponent Jay Neville was not able to make the call. In the 3rd round Barbato beat a red-lighting Rich Price and in the semi's just squeaked out a victory over Sean Lanigan. The finals would guarantee a 1st time winner in MASSA as Barbato and opponent Jeff Thornton were both first time finalist. The finals were over at the start as Thornton pushed the tree a little too hard and went red (-.014) and Barbato motored on down to a 10.883 victory. Rounding out the action on Saturday was the Mid Atlantic Super Gas Association. In the end it was local racer Oscar Olt from Medford, NJ taking the victory over Frank Volpe and his 2000 Mustang.
On Sunday, racers were greeted with overcast skies and the threat of rain which made the program run a little faster than normal and forcing officials to cut the race down to one qualifying shot. In MASGA action, Pat Dehner from Smithtown, NY in the PC Richards 1969 Camaro took the victory. Dehner started out his day with victories over past world champ Ron Orbin, Mickey Varner, George Smith, and George Donhauser to match up with Darlene Staub in the finals. In the finals Dehner claimed his first MASGA Victory with a nice .016 light and 9.915 over Staub who was .068 and broke out with a 9.882. In the MASCAseries, Danny Bisbano from Buchanan, NY took his 2001 Mullis Dragster to victory. Bisbano who had purchased the digger from Frank Genovesi last season defeated number one qualifier Tom Oliver in the first round, Walter Olt in the second, a red-lighting Mac Dougherty in the third, and Dave Long in the semi's. In the finals Bisbano was up against a tough customer with past National Event winner Tom Dauber. At the flash of the green Bisbano was on his game as he laid down a 12 thousandths package on Dauber to claim his first victory. In MASSA action, Fran Quarno Jr. took down Martie Ganjoin in the finals to claim his first victory of the 2014 season.
The Mid-Atlantic .90 Association will take a short break before hitting Maple Grove Raceway in Reading, Pa on May 17th & 18th. This will be a great warm-up for any racers who want to get some practice in before the Lucas Oil Division 1 series visits the Grove the following weekend. Also because of the next week's divisional series race, Maple Grove is allowing Mid Atlantic .90 Association racers to leave your rigs over the week. For information on the series please visit their brand new website at www.midatlantic90.com or contact Rob Keister at Rekeister@aol.com.




Drag News: 10 Most Recent Entries [ top ]

Feb 22- ANDRA Top Alcohol Champ John Cannuli Looking at Back-To-Back Championships
Feb 22- Frank Mamone is Back
Feb 22- Drag Illustrated to Hold $100,000-to-Win World Series of Pro Mod
Feb 17- Speedgroup Announces Title Sponsorship- EDRS European Drag Racing Series Becomes Summit Racing EDRS Series
Feb 08- 2016 TNT Super Series Champion- Jim Thomson
Feb 08- Dave Gunn- 2016 TNT Super Series Second Place
Feb 08- Harry Phelps- 2016 TNT Super Series Third Place
Feb 08- David Surmatchewski- 2016 TNT Super Series Fourth Place
Feb 08- JJ Jablonski- Jason Vitez- 2016 TNT Super Series Fifth Place
Feb 08- Carl's 4-Wheel Drive & Performance Center Named Presenting Sponsor of 2017 Gateway E.T.