Thu, 08 May 2014, 17:28 PM



Frank Hawley-Scotty Richardson Join Forces!



Courtesy of Lana Hawley



FONTANA, Calif. --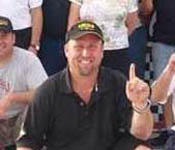 Scotty Richardson
Frank Hawley and Scotty Richardson, two of the most successful racers and driving instructors in Drag Racing are teaming up! Hawley and Richardson will be combining the "Schooled by Scotty" program with Frank Hawley's "Personal Performance Development" lectures for the first time ever at the Auto Club Dragway in Fontana, CA on June 4 & 5.
The program is designed for racers to bring and train in their own race cars. Drivers can also choose to attend the classroom only sessions at a reduced cost.
"I have been a huge fan of Scotty's for many years," said Hawley. He is one of the most knowledgeable and successful drivers in our sport. "Scotty and I started talking at the PRI show last fall and realized that our styles of teaching, although different, would complement one another and that if we worked together we could create the best 'bracket racing' clinic ever. I have watched and listened to Scotty teach drivers and he has listened to my lectures. I think we have a great amount of respect for each other. Scotty has been operating his very successful "Schooled by Scotty" training programs for years and has helped a lot of racers get to the winners circle. The combination of our knowledge and backgrounds will be a fabulous experience for anyone that is serious about winning," added Hawley.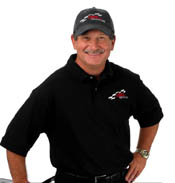 Frank Hawley
"Although Frank and I have different styles of teaching, we share one thing for sure. we both have an intense desire to be the best and to share this knowledge with others," said Scotty. "Frank has a great understanding of how the 'mind and body' work, how to clear your mind and program yourself for success. I can take the principles that Frank teaches and put them into practice on the track. If a racer needs help with anything from the starting line to the finish line we'll be able to help. It's going to be a great program. I'm really looking forward to working with Frank," said Scotty.
Racers will attend Hawley's "Personal Performance Development" seminar on the evening of June 4th at the raceway. The following morning, Scotty will conduct his classroom seminar and then the class will move to the race track where drivers will put into practice the newly learned skills from the seminars and receive continued instruction from Scotty, Frank and their staff.
Cost for the clinic will be $399 for drivers bringing their own race cars. Cost for the classroom only is $199. To find out more about this program call 866-480-7223 ext. 102 Paul Shields or ext. 103 Jeff Arend or visit Frankhawley.com




Drag News: 10 Most Recent Entries [ top ]

Feb 22- ANDRA Top Alcohol Champ John Cannuli Looking at Back-To-Back Championships
Feb 22- Frank Mamone is Back
Feb 22- Drag Illustrated to Hold $100,000-to-Win World Series of Pro Mod
Feb 17- Speedgroup Announces Title Sponsorship- EDRS European Drag Racing Series Becomes Summit Racing EDRS Series
Feb 08- 2016 TNT Super Series Champion- Jim Thomson
Feb 08- Dave Gunn- 2016 TNT Super Series Second Place
Feb 08- Harry Phelps- 2016 TNT Super Series Third Place
Feb 08- David Surmatchewski- 2016 TNT Super Series Fourth Place
Feb 08- JJ Jablonski- Jason Vitez- 2016 TNT Super Series Fifth Place
Feb 08- Carl's 4-Wheel Drive & Performance Center Named Presenting Sponsor of 2017 Gateway E.T.