Fri, 02 May 2014, 12:02 PM



Thunder Road Raceway Park Season Opener NHRA Summit Racing Bracket Series



Courtesy of Thunder Road Raceway Park



GILLIAM, La. --
Thunder Road Raceway Park 2014 Summit Racing Bracket Series, kicks off in fine fashion on Saturday May 3rd. Area bracket racers have eagerly awaited the beginning of the NHRA point's series that will ultimately lead to the crowning of the 2014 track champions and the Thunder Road Raceway Park representation in the Team Finals at Texas Motorplex in Ennis TX, October 17-19. The TRRP Season opener bracket point's race will see racers from Louisiana, Mississippi, Tennessee, Texas and Arkansas in competition throughout the event. Classes contested are Super Pro, PRO/No Electronics, Jr Dragsters, Super Pro Bike and Sportsman ET, categories. Thunder Road Raceway Park President, Nelson Hoyos said, "We are excited to be here and begin our NHRA Summit Racing ET point's series. We are looking forward to creating a team of the Best Racers in our Division 4 South Central Region to compete in the team finals and bring home the Championship! Our racers have responded very positively and are looking forward to being a part of the Thunder Road Raceway Team. This is going to be a great series and it will only get bigger and better!"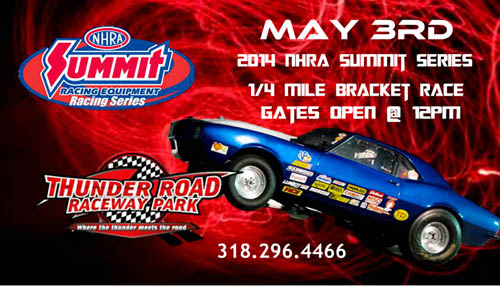 The NHRA Summit Racing Series Bracket Races are races featuring the best bracket racers in the NHRA Division 4 region competing for the gold and glory. This challenging series for area racers featuring daredevil speeds and requiring lightening quick reactions will take place throughout 2014. Drivers from several states are expected to compete in the yearlong competition that wraps up in October.
Gates will open at 12 p.m. with time trials starting at 1 p.m.
Race entries:
• Super Pro ? (7.0-11.99)-Entry Fee $65.00 & Buy-Back $30.00
• Pro/No Elect ? (9.00 13.99)-Entry Fee $45.00 & Buy-Back $20.00
• Jr Dragster (7.90, 8.90, 11.90)-Entry Fee $25.00 & Buy-Back $10.00
• Super Pro Bike ? (7.50-16.99)-Entry Fee $30.00 & Buy-Back $15.00
• Sportsman ET (12.00 to 19.99)-Entry Fee $25.00 & Buy-Back $10.00
Adult Spectator & Crew admission- $15
Kids 12 and under are free

About Thunder Road Raceway Park:
Thunder Road Raceway Park™ (TRRP) is a state-of-the-art, motorsports facility featuring a riveting 1/4-mile Drag Strip, sanctioned by the National Hot Rod AssociationT (NHRA) in Division 4; Hosting such premier events as the NHRA Summit Racing Series, NHRA Lucas Oil Racing Series, and NHRA Jr. Dragster Programs. TRRP's Drag Strip was built to NHRA specifications; featuring 8 Private VIP-Tower Suites offering an optimized viewing-vantage point for groups or companies. Grandstand seating capacity for over 8500. Corporate Headquarters to the Driven 2 Win Drag Racing School and the D2W Ultimate Driving Experience. For more information, visit www.RaceTRRP.com, connect with TRRP at https://www.facebook.com/trrpdrag , call 318.299.RACE (7223), or send an email to Marla@RaceTRRP.com




Drag News: 10 Most Recent Entries [ top ]

Feb 22- ANDRA Top Alcohol Champ John Cannuli Looking at Back-To-Back Championships
Feb 22- Frank Mamone is Back
Feb 22- Drag Illustrated to Hold $100,000-to-Win World Series of Pro Mod
Feb 17- Speedgroup Announces Title Sponsorship- EDRS European Drag Racing Series Becomes Summit Racing EDRS Series
Feb 08- 2016 TNT Super Series Champion- Jim Thomson
Feb 08- Dave Gunn- 2016 TNT Super Series Second Place
Feb 08- Harry Phelps- 2016 TNT Super Series Third Place
Feb 08- David Surmatchewski- 2016 TNT Super Series Fourth Place
Feb 08- JJ Jablonski- Jason Vitez- 2016 TNT Super Series Fifth Place
Feb 08- Carl's 4-Wheel Drive & Performance Center Named Presenting Sponsor of 2017 Gateway E.T.