Sat, 05 Apr 2014, 16:58 PM



K&N Spring Fling Thursday Results



Courtesy of John DiBartolomeo



LAS VEGAS --
Thursday's Baldwin Racing Alzheimer Awareness Day dawned with bright Vegas sunshine and one time trial for each of the over 450 competitors before eliminations.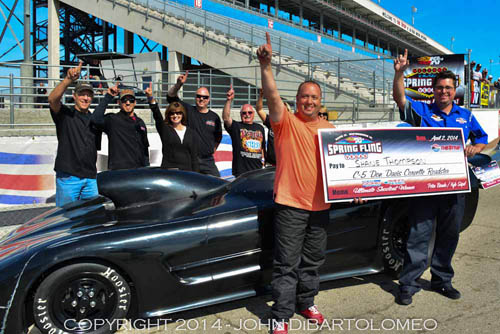 Shootout 1 Winner
First order of business for Thursday was the completion of the Don Davis Race Cars/Racetech Ultimate Shootout. Two door cars and two dragsters remained with the door car combatants being Zak Clark from Canada and Mark Simonian from Sanger California. In their race, Simonian ran under the index to hand the win to Clark.
As for the two dragsters, Shane Thompson and his Silverstate Refrigeration team from nearby Henderson, Nevada faced Aaron Steinky, just another of the many Canadian racers to make the trip south. For the Canadian contingent, Steinky turned on the red light handing the win to Thompson, who has been on fire this year with a win also at the Carquest Auto Parts NHRA National earlier this year.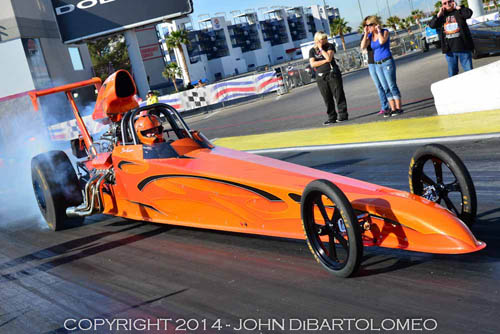 Shootout 2 Winner
For the final Thompson put a 6.23 dial on his car for the 1,000 distance run at the 'Fling while Clark carried a fast 6.37 on his Nova door car. It was all for naught though has Clark turned on the red bulb. Thompson showed just how tough he was going to be anyway, as his .007 reaction time coupled with a 6.243 on his dial earned him the Don Davis Race Cars C5 Corvette roadster with Clark taking the Racetech dragster back to Canada.
For Thursday's Warm-Up race, with three cars left in Super Pro, Glen Kern earned the bye run by virtue of his low reaction time while Chris Forsyth faced off with Steve Casner. When the tree came down, their reaction times were near identical but at the finish line the win light turned on in Casner's lane but shortly afterward, both cars were involved in a crash. While both cars suffered significant damage, the most important fact is the drivers walked away without a scratch. The result handed the final round win to Kern but it sure wasn't the way he wanted to accept it. Nonetheless, due to the incident, the last thing on anyone's mind was a winner's circle photo but Glen Kern is your Thursday Super Pro winner.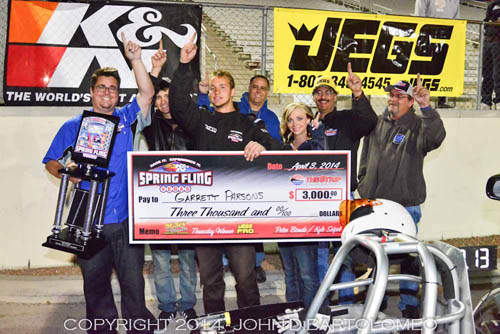 Thursday Pro Winner
In Pro Eliminator, at three cars, the bye run went to a winner from last year, Garrett Parsons, with another winner from last year, Brad Burton racing Dan Goss for the final round birth. Burton left first by virtue of his dial-in but I was Goss with the better reaction time and the win. In the final, Goss turned on the red bulb by .006 which made 17-year old Parsons the first two-time winner of the Vegas Fling.
There's still three more days of racing and fun left so be sure to tune in to the live video and audio of the event sponsored by JEGS and Steve Schmidt Competition Engines. Visit www.bracketraces.com for the feed and more info on the K&N Spring Fling series of races.




Drag News: 10 Most Recent Entries [ top ]

Feb 22- ANDRA Top Alcohol Champ John Cannuli Looking at Back-To-Back Championships
Feb 22- Frank Mamone is Back
Feb 22- Drag Illustrated to Hold $100,000-to-Win World Series of Pro Mod
Feb 17- Speedgroup Announces Title Sponsorship- EDRS European Drag Racing Series Becomes Summit Racing EDRS Series
Feb 08- 2016 TNT Super Series Champion- Jim Thomson
Feb 08- Dave Gunn- 2016 TNT Super Series Second Place
Feb 08- Harry Phelps- 2016 TNT Super Series Third Place
Feb 08- David Surmatchewski- 2016 TNT Super Series Fourth Place
Feb 08- JJ Jablonski- Jason Vitez- 2016 TNT Super Series Fifth Place
Feb 08- Carl's 4-Wheel Drive & Performance Center Named Presenting Sponsor of 2017 Gateway E.T.