Thu, 13 Mar 2014, 13:29 PM



Hit Reality Show "Dreams to Champions" Starring Brian Olatunji Moving to Velocity



Courtesy of Leadfoot Media



DETROIT --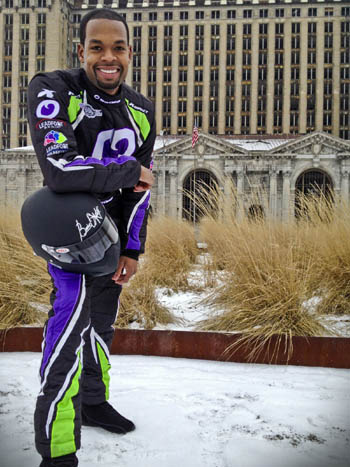 Brian Olatunji
Detroit native and NHRA race car driver Brian Olatunji and the Leadfoot Motorsports team are revving up the 2014 racing season with a Big Announcement! - Hit reality series "Dreams to Champions" has joined Discovery Communications' Velocity network, set to debut this Saturday.
"Dreams to Champions" is back by popular demand. The fast paced ten episode reality series follows motorsports young guns on the fast track. Featuring racers Brian O, Juan Carlos Blum and Jonathan Castro the show was a success when initially shown on SPEED last year. After a massive network overhaul Fox Sports Media Group broadened the channel's focus to including a vast array of live sporting events. When SPEED was rebranded as Fox Sports 1 the decision was made to drop motorsports oriented reality programming. Discovery Communications seized the opportunity to incorporate "Dreams to Champions" into its programming portfolio on their high octane, male targeted network Velocity.
"We are elated Velocity chose to pick-up Dreams to Champions and grateful to SPEED for giving us the initial platform to let the world know who we are. This opportunity is like being born again and excitement is an understatement!" stated Brian O.
"Dreams to Champions" is racing to debut on Velocity, Saturday March 15, 2014 at 3 pm eastern / noon pacific. Be sure to catch each episode and follow Brian O, Juan Carlos Blum and Jonathan Castro as they chase their dreams of winning a professional championship. Check your local listing for further programing details. Stay tuned for news of a second heart-pounding season and information on how you could appear on "Dreams to Champions" with Brian O.
For updates on Brian O's racing and appearance schedule, please visit: www.BrianORacing.com and download the 2014 press packet.




Drag News: 10 Most Recent Entries [ top ]

Feb 22- ANDRA Top Alcohol Champ John Cannuli Looking at Back-To-Back Championships
Feb 22- Frank Mamone is Back
Feb 22- Drag Illustrated to Hold $100,000-to-Win World Series of Pro Mod
Feb 17- Speedgroup Announces Title Sponsorship- EDRS European Drag Racing Series Becomes Summit Racing EDRS Series
Feb 08- 2016 TNT Super Series Champion- Jim Thomson
Feb 08- Dave Gunn- 2016 TNT Super Series Second Place
Feb 08- Harry Phelps- 2016 TNT Super Series Third Place
Feb 08- David Surmatchewski- 2016 TNT Super Series Fourth Place
Feb 08- JJ Jablonski- Jason Vitez- 2016 TNT Super Series Fifth Place
Feb 08- Carl's 4-Wheel Drive & Performance Center Named Presenting Sponsor of 2017 Gateway E.T.