Fri, 06 Dec 2013, 13:06 PM



2014 Mid Atlantic .90 Super Series Announces Schedule



Courtesy of Rob Keister



**Thanks to the NHRA Divisional / Open Schedule coming out a month earlier than it has in the past couple of years we are pleased to announce the Mid Atlantic Super Street, Super Gas & Super Comp schedules for 2014.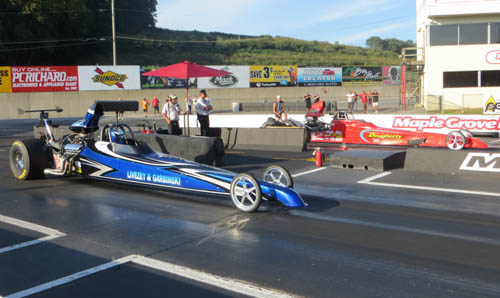 Once again all 3 series will kick the season off at South Jersey's Atco Dragway on April 26th & 27th. This race falls the weekend before the PC Richards Open that falls on May 2nd to 4th. Next stop will be our annual visit to Maple Grove Raceway in Reading, Pa on May 17th & 18th for the Sportsman Circuit Showdown. This will also be the weekend before the NHRA Lucas Oil Event at the Grove and a great practice race for those wishing to test & tune.The 3rd stop will be the newest date and the 1st of 2 stops to NE Maryland's Cecil County Dragway who will host the series on June 28th & 29th and then on August 9th & 10th. The August date is the weekend before the NHRA Lucas Oil Event. The final race of the season will be once again at Atco Dragway for the annual Season Finale on September 27 & 28th. This will also be a great warm-up for those heading to Maple Grove the following weekend for the Uni-Select Nationals.
2014 MASGA Schedule
April 26th & 27th - Atco Raceway
May 17th & 18th - Maple Grove
June 28th & 29th - Cecil County
August 9th & 10th - Cecil County
September 27th & 28th - Atco

MASCA / MASGA / MASSA pack some of the best .90 Racing on the east coast and gives racers an added alternative to the NHRA / IHRA Scene on the off weekends. MASCA / MASGA / MASSA counts 6 out of your best 10 races towards the championship and all races are run on a Saturday / Sunday Basis so racers don't have to take extra days off from work. We give everyone 2 time runs in the morning and run off a NHRA Sportsman Ladder with the higher qualified car getting lane choice for first round only. If you want info on MASGA (Super Gas) please E-Mail Leanne at lmfogerty@hotmail.com or call Lucky at 610-246-6081. For MASCA (Super Comp) & MASSA (Super Street) please e-mail Rob at
Rekeister@aol.com
or call him at 856-332-2851.**




Drag News: 10 Most Recent Entries [ top ]

Feb 22- ANDRA Top Alcohol Champ John Cannuli Looking at Back-To-Back Championships
Feb 22- Frank Mamone is Back
Feb 22- Drag Illustrated to Hold $100,000-to-Win World Series of Pro Mod
Feb 17- Speedgroup Announces Title Sponsorship- EDRS European Drag Racing Series Becomes Summit Racing EDRS Series
Feb 08- 2016 TNT Super Series Champion- Jim Thomson
Feb 08- Dave Gunn- 2016 TNT Super Series Second Place
Feb 08- Harry Phelps- 2016 TNT Super Series Third Place
Feb 08- David Surmatchewski- 2016 TNT Super Series Fourth Place
Feb 08- JJ Jablonski- Jason Vitez- 2016 TNT Super Series Fifth Place
Feb 08- Carl's 4-Wheel Drive & Performance Center Named Presenting Sponsor of 2017 Gateway E.T.