Fri, 06 Dec 2013, 13:06 PM



46th Annual Firebird Awards Banquet



Courtesy of the New Crew


Photos by Alex Charlton





BOISE, Idaho -
The 46th edition of the Firebird Award's Banquet officially brought the 2013 NHRA Drag Racing Season to a close on Saturday night, November 23rd. Held in the Ballroom of The Riverside Hotel in Boise, the Banquet featured an evening packed with awards, which included upwards of $15,000 in cash and prizes.
The evening included all the presentations in the Boise Muffler Gold Cup Championships. Our appreciation goes out to every presenting company, manhy of which included: Rod Page (Boise Muffler); Rayce & Marissa Kidd (Kidd Performance & Dyno); Matt Compton (Performance Solutions); David Wood (Woody's Outdoor Power); Rex Petersen (Fairly Reliable Bob's); Glenn Watts (Capitol City Transmission) and Rich Pedraza (Rich's Auto Care & Dyno). All of the top finishers were recognized along racers in the United Dairymen of Idaho/CWI High School & Alumni Championships, Junior Dragster chase, Lyle Pearson Acura Sport Compact Series, Carl's Cycle Sales Street Bike, Moffitt & Bratton Outlaw Street program, Lyle Pearson Acura Sport Compact series, and other points chases during the evening.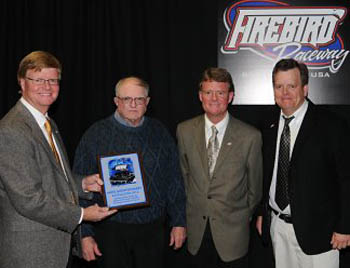 Mike Montgomery
Track champions who accepted year-end awards included: Chris Jaggers-Super Pro; Randy Williamson-Pro; Tyler Rush-Sportsman; Scott Grondahl-Sled/Bike; Dustin Smith-High School; Michael Jaggers-Junior; Mike Ritz-Outlaw Street; David Meimann-Alumni; Stephanie Meimann-Sport Compact; David Kletzien-Street Bike; Ashton Davis-Street Truck. Carl Youngstrom-Nostalgia, and Glen Phillips-Super Shifter, also earned track titles.
Voted on by his peers, Randy Williamson was awarded Bracket Racer of the Year. Williamson also won the Pro Track Championship. Sweeping honors for "Lady Driver of the Year" was Judy Radford.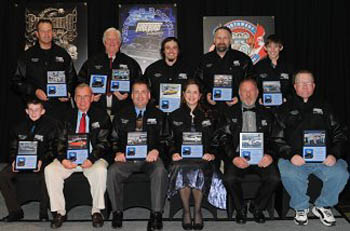 2013 Track Champions
One of the other highlights of the evening was the 27th presentation of the Racemaster award. Long standing engine builder Mike Montgomery was acknowledged for this very special Firebird Hall of Fame type award. Montgomery first started racing at Firebird in the late-60's and has be actively involved as both a racer, car owner and builder in the sport of drag racing for several decades now.
Boise Muffler Gold Cup Championship Series
Saturday night, November 23, 2013

Kidd Performance Super Pro: Chris Jaggers
Performance Solutions Pro: Randy Williamson
United Oil Sportsman: Tyler Rush
Woody's Sled/Bike: Scott Grondahl
Junior Dragster: Michael Jaggers
United Dairymen/CWI High School Teams: Middleton High (AAA) and Renaissance High (AA)
High School - Individual: Dustin Smith, Middleton High
Alumni: David Meimann
Lyle Pearson Acura Sport Compact: Stephanie Meimann
Carl's Cycle Sales Street Bike: David Kletzien
Moffitt & Bratton Outlaw Street: Mike Ritz
Street Truck: Ashton Davis
Capitol City Transmission Nostalgia: Carl Youngstrom
Rich's Auto Care & Dyno Super Shifter: Glen Phillips
Fairly Reliable Bob's Club Champions: Melba Outlaws (Silver Cup), Flyin' Brick (Bronze Cup), and
Modern Rodders (Copper Cup)

2013 Year-end special awards

Perfect Light Club Treasure Chest (drawing) - Rayce Kidd
Rising Star-Maggie Watts
Top Rookie-Rachel Rush
Best Appearing Race Car-Sharlene Lancaster
Outstanding Perseverance-Tim Shawver
Good "Guy" 2013-Andy Strunk
Outstanding Crew-Cutler & Rush Family Racing
Most Improved Driver-Chad Campbell
Team Member of the Year-Andy Varin
Lady Driver of the Year-Judy Radford
Bracket Racer of the Year-Randy Williamson
Racemaster-Mike Montgomery





Drag News: 10 Most Recent Entries [ top ]

Feb 22- ANDRA Top Alcohol Champ John Cannuli Looking at Back-To-Back Championships
Feb 22- Frank Mamone is Back
Feb 22- Drag Illustrated to Hold $100,000-to-Win World Series of Pro Mod
Feb 17- Speedgroup Announces Title Sponsorship- EDRS European Drag Racing Series Becomes Summit Racing EDRS Series
Feb 08- 2016 TNT Super Series Champion- Jim Thomson
Feb 08- Dave Gunn- 2016 TNT Super Series Second Place
Feb 08- Harry Phelps- 2016 TNT Super Series Third Place
Feb 08- David Surmatchewski- 2016 TNT Super Series Fourth Place
Feb 08- JJ Jablonski- Jason Vitez- 2016 TNT Super Series Fifth Place
Feb 08- Carl's 4-Wheel Drive & Performance Center Named Presenting Sponsor of 2017 Gateway E.T.