Thu, 10 Oct 2013, 07:52 AM



"Rookie" Boicesco Claims First Victory, Stack Continues Torrid Pace



Courtesy of Rob Keister



NUMIDIA, Pa. --
Amanda Boicesco the daughter of 2006 Super Gas World Champion Iggie Boicesco claimed her 1st victory in a dragster at the Mid Atlantic Super Comp Association event at Numidia Dragway on Sept 15th. Boicesco, started off the day with round
victories over Chase Fahenstock, Tom Boyle and Randy Windfelder Sr. to receive a bye into the final round. In the final Boicesco met New Jersey resident Tom Oliver who took down Joe Cambria, Dave Long & Don Bangs. At the flash of green Boicesco took a .017 to .020 advantage and the rookie proved that she was not going to be denied the victory as she took a 8.930 to 8.940 victory over Oliver to claim her first MASCA victory!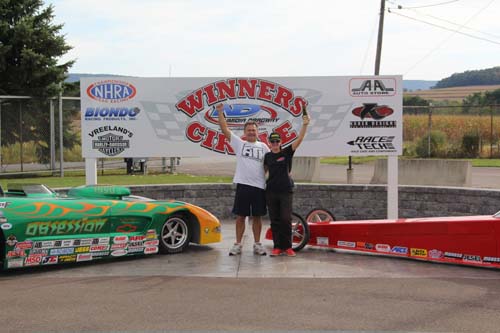 The Mid Atlantic Super Street Association joined MASCA at Numidia in conjunction with the 90 Nationals. Jimmy Stack who has been dominate so far this season borrowed a car from Super Gas Racer George Smith and proved he can drive just about anything. Stack started off his day with a victory over Mike Ficacci in the 1st, received a bye-run and then took down Rich Price in the Semi's. In the finals Stack would run against Super Street Hitter Tom Depascale who took down Bernie Staub, Kelli Barbato & Jimmy Young to match up with Stack. In the finals both drivers were on their games as Stack took a slight jump at the tree (.016 to .020). In a close race to the end Stack took his 4th victory of the season over Depascale, 10.912 to 10.918.




Drag News: 10 Most Recent Entries [ top ]

Feb 22- ANDRA Top Alcohol Champ John Cannuli Looking at Back-To-Back Championships
Feb 22- Frank Mamone is Back
Feb 22- Drag Illustrated to Hold $100,000-to-Win World Series of Pro Mod
Feb 17- Speedgroup Announces Title Sponsorship- EDRS European Drag Racing Series Becomes Summit Racing EDRS Series
Feb 08- 2016 TNT Super Series Champion- Jim Thomson
Feb 08- Dave Gunn- 2016 TNT Super Series Second Place
Feb 08- Harry Phelps- 2016 TNT Super Series Third Place
Feb 08- David Surmatchewski- 2016 TNT Super Series Fourth Place
Feb 08- JJ Jablonski- Jason Vitez- 2016 TNT Super Series Fifth Place
Feb 08- Carl's 4-Wheel Drive & Performance Center Named Presenting Sponsor of 2017 Gateway E.T.