Mon, 09 Sep 2013, 15:58 PM



The Route 66 Classic Event Report brought to you by PEAK



Courtesy of Great Lakes Nostalgia Funny Car Circuit



JOLIET, Ill. --
Once again Rr. 66 put together a great line up for their third annual Rt. 66 Classic. Last year's event seem to have a good crowd, but this year you could tell the event is growing.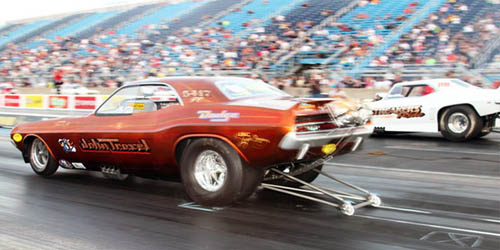 Mopar Crazy Challenger driven by Chris Schneider takes on
Ron Ooms and his Streaker's Ride.
Photo by Competition Plus
This year's lineup included gassers, NDRL, Nostalgia Prostocks, GLNFCC, plus to cap off the night they brought in the Black Ice Jet Dragster and Dave Hirata in his A/Fuel dragster was set to take on Tom Motry's Drastic Plastic Fuel Altered.
The qualifying started early and carried on all day, by early evening they were ready to start the festivities. During a pre-race ceremony they inducted Kenny Hirata into The RT. 66 Hall Of Fame.
After the induction ceremony and the National Anthem the funny cars roared to life. First out was local hero Rocky Ausec in the Solid Rock Mustang taking on Nick Tilley driving the Shyster Corvette.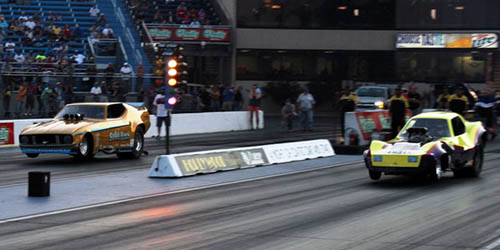 Solid Rock versus the Shyster bringing wheels up
launches to Route 66.
Photo by Competition Plus
Rocky wowed the crowd with a huge burnout. Nick is probably one of the best leavers in the group, but this run he pushed a little too hard and turned on the red light. But the best was yet to come as Rocky put a 7.38 on the board which is his personal best.
Next pair was the Mopar Crazy Challenger driven by Chris Schneider taking on new comer Ron Ooms driving the Streaker's Ride 69 Camaro. Chris took off first but the Camaro streaked by with a 7.00. The evening was winding down and the action on the drag strip was coming to a close. The funny cars came out for their final pass.
First up was the Shyster Corvette taking on the MoparCrazy Challenger. Both cars put on a show for the crowd. The Corvette left first and on a green light this time. Both cars seem to have trouble down track with the Corvette taking the win.
Ron Ooms and crew celebrate the double award
win at the Route 66 Classic.
The final pitted Streaker's Ride Camaro against the Solid Rock Mustang. Rocky did his best to get off the line first but he had to lift about half-track as the Mustang moved around a lot. Streaker's ride took the win but not without some work also, as it seemed like the summer dew came in heavy down track. The Camaro turned on the board with a 7.99. The Good Vibration Motorsports Reaction Time Award goes to Ron Ooms in Streaker's Ride.
There was one more highlight to the evening and that was the run between the Drastic Plastic Altered and Dave Hirata's A/Fuel Dragster.
Final Round Matchup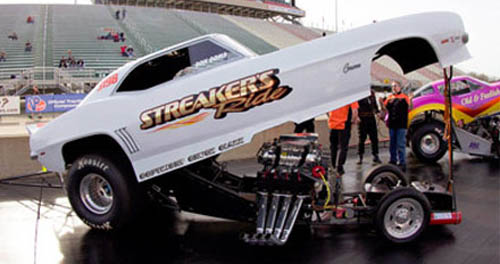 Streaker's Ride
BLOWN HEMI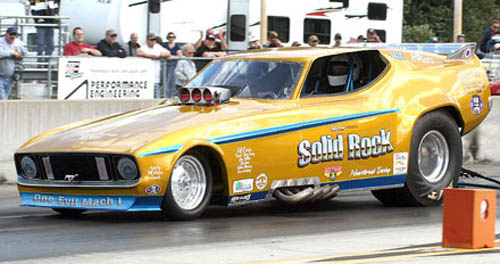 Solid Rock
BLOWN CHEVY
Dave ran a 5.40 but the kudos go to Joe Hass driving the Drastic Plastic, as he ran a full flames 1/4 mile run at 5.25. The run shook the stands.
The Rt. 66 Classic has turned into a great nostalgia event and one that has the potential to grow every year. Thanks to all of our great sponsors; Peak, Good Vibrations Motorsports, Mickey Thompson Tires & Wheels, Blue Def and Pace Performance.
Check out our website www.glnfcc.com and our Facebook page for up to date information and next year's schedule.




Drag News: 10 Most Recent Entries [ top ]

Feb 22- ANDRA Top Alcohol Champ John Cannuli Looking at Back-To-Back Championships
Feb 22- Frank Mamone is Back
Feb 22- Drag Illustrated to Hold $100,000-to-Win World Series of Pro Mod
Feb 17- Speedgroup Announces Title Sponsorship- EDRS European Drag Racing Series Becomes Summit Racing EDRS Series
Feb 08- 2016 TNT Super Series Champion- Jim Thomson
Feb 08- Dave Gunn- 2016 TNT Super Series Second Place
Feb 08- Harry Phelps- 2016 TNT Super Series Third Place
Feb 08- David Surmatchewski- 2016 TNT Super Series Fourth Place
Feb 08- JJ Jablonski- Jason Vitez- 2016 TNT Super Series Fifth Place
Feb 08- Carl's 4-Wheel Drive & Performance Center Named Presenting Sponsor of 2017 Gateway E.T.