Tue, 13 Aug 2013, 08:56 AM



Dimino Wins at Home, Keister Gets Long Overdue Victory on the Mountain



Courtesy of Rob Keister



NUMIDIA, Pa. --
Numidia Dragway played host to race # 3 & 4 of the Mid Atlantic Super Gas Series. After having over 2 months off to focus on the NHRA divisional and national event schedule the beautiful hills of Pennsylvania welcomed the 9.90 index racers.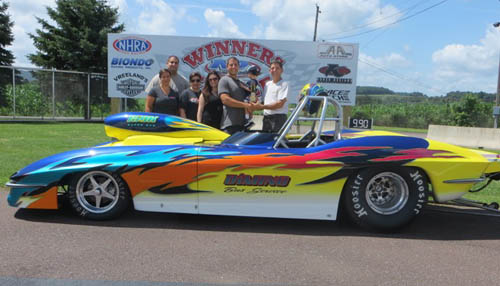 Al Dimino
Saturday the 13th started off with light rain showers but, even with a small delay the Numidia track crew had the track in tip-top shape by noon time. Hometown boy Al Dimino took his Dimino Bus Services Corvette to the #1 qualifying spot with a 9.901 in the 25 car field to earn a bye-run in the 1st round. Following Dimino was Derek Clark, Bob Henry, Mike Lauria and George Smith. After the single in the 1st round Dimino then took down a fouling Paul Schonberger, George Donhauser in the 3rd and Darlene Staub in the semi's. Dimino's opponent in the finals would be Derek Clark and his Clark Racing 95 Olds Cutlass. Clark marched his way to the finals with wins over Dale Kulp, a bye-run in the 2nd, Bob Lupini in the 3rd and Lance Kreiger in the semi's.
As the sun went down and lights came on Dimino was looking to continue his dominance at his home track and rack up another victory to add to his 90 Nationals trophy from last June. Clark was surprisingly appearing in his 1st ever MASGA final with his Chop-Top Cutlass. At the flash of the green Dimino was on his game with a substantial holeshot (.014 to .060) over Clark and that was all he needed as he reeled in Clark and made him break out. Dimino took the stripe with a time of 9.919 to Clarks 9.893.
On Sunday the 14th the day welcomed us with Clear, Sunny, Hot conditions that were going to put the best drivers to the test in these conditions. Just to tell you how tough MASGA really is 3 drivers qualified with 9.901 but, it was Earl Nichols Jr. who came out on top to claim the #1 qualifying position. Following Earl were Ron Orbin, Tom Goldman, Lance Kreiger and Frank Volpe.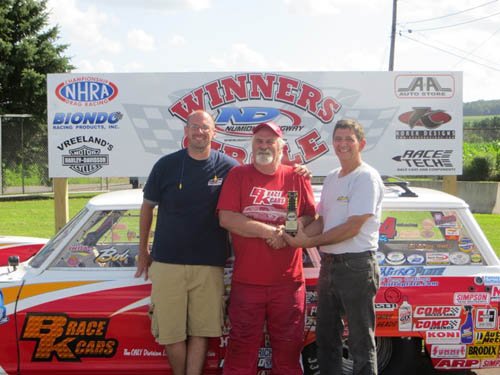 Bob Keister
Starting from the # 10 position was Vineland, NJ driver Bob Keister. Keister who was driving his BK Race Cars 64 Nova Wagon started the day off with a victory over Tom Simon's Beretta, Keister then took down a fouling Paul Schonberger and Ron Orbin to earn a bye-run in the semis which earned him a trip to his 1st final of the season. On the other side of the ladder was New York's George Smith and his "Live Wire" 68 Camaro. Smith took down #1 qualifier Nichols in the 1st round, earned a bye in the 2nd, and then took down two tough customers in George Donhauser and Goldman in the 3rd and 4th round.
So the finals were set for race #4 of the 2013 season. Keister was looking for redemption after going to the finals at last year's Atco race and Smith was looking to repeat as the Sunday winner at Numidia as he had claimed the 2012 victory. As the 2 left the starting line Keister took a huge holeshot (.015 to .068) over Smith and parlayed that into the victory of a 9.911 to Smith's almost perfect 9.902. The victory ended a very long drought for Keister as his last victory was at the 1978 Gatornationals in Modified Production. With his runner-up at Numidia, Derek Clark takes over the points lead but, is followed closely by Goldman, Kreiger and Keister.
Please visit www.midatlanticsupergas.com or Facebook.com for more info.




Drag News: 10 Most Recent Entries [ top ]

Feb 22- ANDRA Top Alcohol Champ John Cannuli Looking at Back-To-Back Championships
Feb 22- Frank Mamone is Back
Feb 22- Drag Illustrated to Hold $100,000-to-Win World Series of Pro Mod
Feb 17- Speedgroup Announces Title Sponsorship- EDRS European Drag Racing Series Becomes Summit Racing EDRS Series
Feb 08- 2016 TNT Super Series Champion- Jim Thomson
Feb 08- Dave Gunn- 2016 TNT Super Series Second Place
Feb 08- Harry Phelps- 2016 TNT Super Series Third Place
Feb 08- David Surmatchewski- 2016 TNT Super Series Fourth Place
Feb 08- JJ Jablonski- Jason Vitez- 2016 TNT Super Series Fifth Place
Feb 08- Carl's 4-Wheel Drive & Performance Center Named Presenting Sponsor of 2017 Gateway E.T.