Fri, 02 Aug 2013, 18:46 PM



Robert Overholser in the California Hustler Wins the July Saturday Night Nitro Show



Courtesy of Auto Club Famoso Raceway


Photo copyright 2013 Robert Gibson/Auto Club Famoso Raceway





At Auto Club Famoso Raceway



BAKERSFIELD, Calif. --
13 Floppers showed up for the July 13 Saturday Night Nitro at Auto Club Famoso Raceway to try and win some fat cash and gain some more points in the Boise Bakersfield Blitz series. This was the 3rd race in the 4 race series for AA/Funny Cars. The spectators started filing into the stands as the hot Bakersfield sun took leave and the nighttime nitro racing action heated things back up.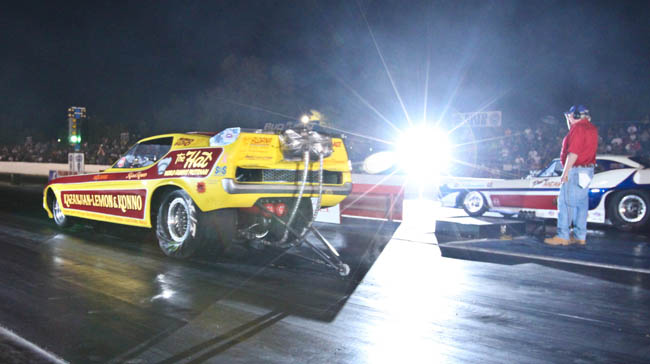 Ryan Konno (left) -vs- Chris Bennett
Devery Howard piloting the "Bays & Rupert Black Plague" Camaro clinched the pole and the points with a 5.780 @ 246.30 mph blast. Horan Jr. and crew continued their bracket like numbers with a 5.809 @ 252.85 mph pass, taking P2 and extending his lead over Overholser in the "California Hustler". Overholser posted a 5.885 to take P3 for the 8 car shoot out while Ryan Konno snuck the "Kazanjian Lemon & Konno" Mustang into P4 with a 5.894. James Day in the "Pedaler" was right on Kinno's heels with a 5.899. There was very little breathing room back to Dennis Taylor. His 5.958 put him in the #6 spot just ahead of Dale Van Gundy's 5.962 and Roger Garten's 6.115.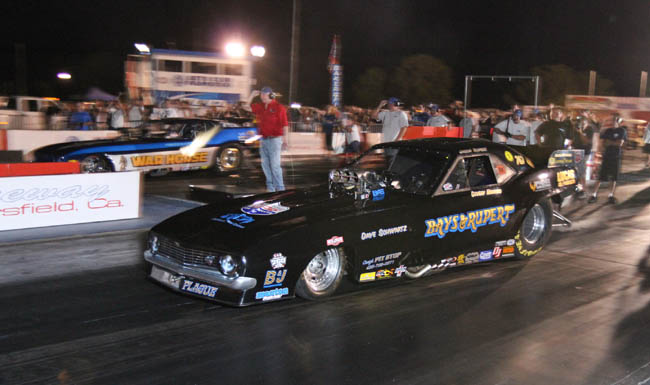 Devery Howard (near) -vs- Roger Garten
Ed Dugan in the beautiful "Fighting Irish" Camaro was just outside of the fast 8 with a 6.139. Bob Godfrey ran a 6.160 to pick up 14 points while Dennis LaCharite scavenged 13 points to keep him in the top 4 with a 6.265 lap. Chris Bennet brought out the "Pure Heaven IV" Camaro and posted a 7.047. Rick Rogers had a good 5.90 pass in testng earlier in the day, but some new parts didn't play nice as the car struck the tires right off the line and he peddeled the "Smoky's Darkside" Challenger to a decent 7.132. Apparently the force was strong with him as the Challenger was trying to do anything but go down the racetrack.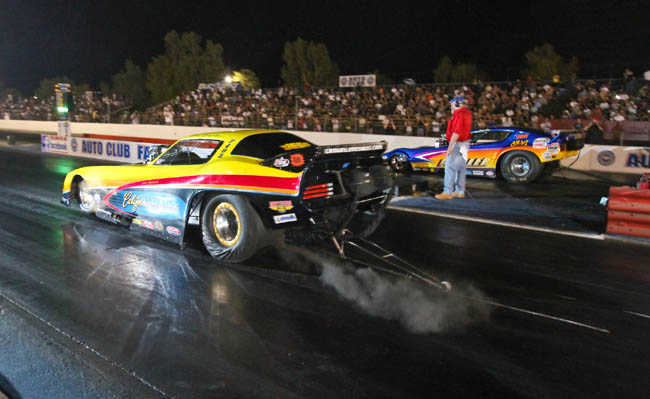 Robert Overholser (left) -vs- James Day
The finals paired James Day and Ryan Konno as the first pair. Day would strike the tires out around 100 feet as Konno stunned the crowd with an impressive 5.753 @ 248.39 mph. A 5.8x wasn't going to win tonight. The "Kazanjian Lemon & Konno" crew was thrilled with the cars performance and said they didn't hurt a single part on the flopper.
Robert Overholser and Dennis Taylor paired off next. Both floppers left hard but Taylor's "Evil Wicked Mean & Nasty" Mustang started throwing parts out the headers on the top end and he slowed to a 6.859 @ 115.64. Over in the left lane, Overholser in the "California Hustler" was thundering down the concrete quarter mile clicking the light with a stellar 5.720 @ 246.84 mph pass.
Dale Van Gundy was unable to make it back for the finals so that put Ed Dougan up against defending winner Dan Horan Jr. Everyone has been saying the Horan piloted "Patriot" is a 5.60s car, and the Swearingen tuned Mustang was going to have to step it up to take home the win tonight. The pair roared off side by side with Ed cutting a .119 to Horan's .176 light. Around 900 feet the "Fighting Irish" got out of the groove and lurched to the left. Dougan wrestled the Camaro back to the right, then left again and followed Horan through the lights at the top end as the flopper settled down in the wrong lane. Horan had stepped it up, but not enough, running a 5.764 @ 253.66 mph.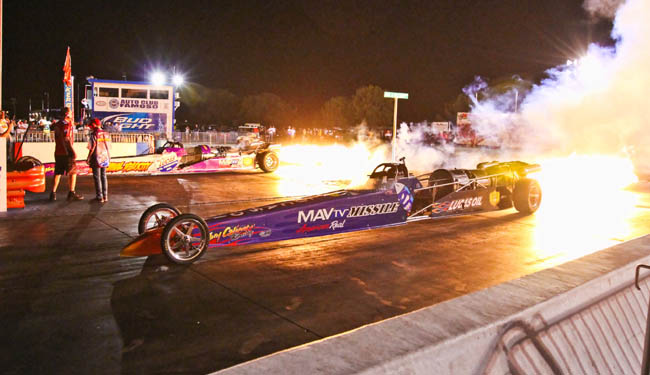 MavTV/Lucas Oil Jet Cars
The final pair out was Roger Garten driving the "War Horse" and number 1 qualifier Devery Howard at the wheel of the "Bays & Rupert Black Plague" Camaro. The "Black Plague" was completely capable of posting a big number, and everyone was holding their breath as the two cars staged. The ambers came on and Howard went red by -.221. Garten drilled the light with a .060 rt and took off after Howard. Howard realizing he went red clicked it way early. Garten had his hands full in the right lane as the "War Horse" drifted out of the groove to the left. Garten caught it and the Mustang came back to the right smacking the wall with a glancing blow around 1000 feet. The crippled car went through the lights 6.385 @ 161.52 mph. Garten was unhurt after his brush with the wall. Devery Howard coasted through with a 7.934 @ 116.68 mph. Howard was kicking himself later for lifting, never knowing if the "Black Plague" Camaro could have beat Overholser's winning 5.720.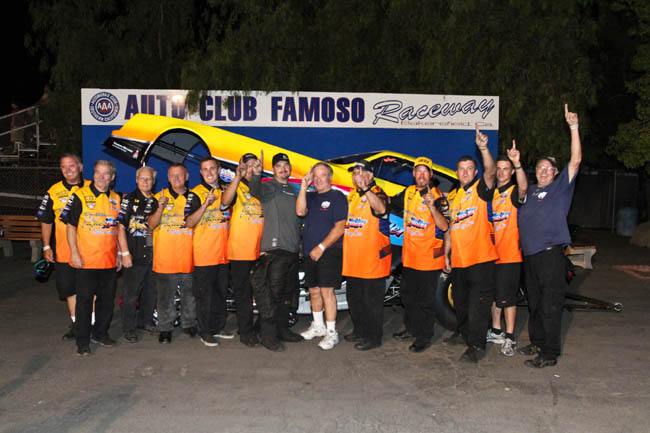 Robert Overholser & Crew
The Boise Bakersfield Blitz (BBB) reaches its climactic final race at the 42nd Pepsi Nightfire Nationals on August 8-11 in Boise. Devery Howard made up 2 spots to move to the #5 spot in the points chase. Dan Horan Jr. increased his lead by 1 point over Robert Overholser. Roger Garten is still in 3rd followed by Dennis LaChartite.
Horan's reign may be slipping. Will the "Patriot" crew be able to rebound and keep that #1 spot? The "California Hustler" seems to be coming around. Do they have enough to de-throne Dan Horan Jr.? I guess we'll all know on August 11th.
Saturday Night Nitro returns to Auto Club Famoso Raceway on September 7th, 2013. Gates open at noon. Adults tickets are $20 and kids 12 and under are free. Auto CLub Member can show their card at the gate a receive $2.00 off admission. Your admission ticket is your pit pass.
The Kern County Racing Association operates Auto Club Famoso Raceway (just north of Bakersfield, Calif.) and promotes a full schedule of races year round. For current point standings, tickets and more details, visit www.saturdaynightnitro.com




Drag News: 10 Most Recent Entries [ top ]

Feb 22- ANDRA Top Alcohol Champ John Cannuli Looking at Back-To-Back Championships
Feb 22- Frank Mamone is Back
Feb 22- Drag Illustrated to Hold $100,000-to-Win World Series of Pro Mod
Feb 17- Speedgroup Announces Title Sponsorship- EDRS European Drag Racing Series Becomes Summit Racing EDRS Series
Feb 08- 2016 TNT Super Series Champion- Jim Thomson
Feb 08- Dave Gunn- 2016 TNT Super Series Second Place
Feb 08- Harry Phelps- 2016 TNT Super Series Third Place
Feb 08- David Surmatchewski- 2016 TNT Super Series Fourth Place
Feb 08- JJ Jablonski- Jason Vitez- 2016 TNT Super Series Fifth Place
Feb 08- Carl's 4-Wheel Drive & Performance Center Named Presenting Sponsor of 2017 Gateway E.T.