Wed, 12 Jun 2013, 13:15 PM



Quaker City Nostalgia Classic Event Report



Courtesy of Great Lakes Nostalgia Funny Car Circuit


Photo by Bob Wenzelburger





SALEM, Ohio --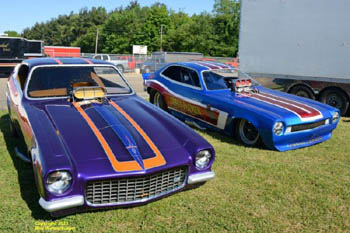 Bob Rosetty brings his new floppers
out to Quaker City.
May 26th 2013: It was the end of May and warmer & dryer weather finally came to Ohio. Norm Fox and his crew had been working hard all winter getting the facilities ready for the 2013 season. Probably the biggest undertaking was tearing up the old concrete and putting down a new surface, this must have helped as the cars seem to be striking hard on the starting line all day.
The Nostalgia Classic has turned into a yearly gathering of old style drag cars, this event seems to grow every year with car count and spectator count increasing.
This year was no exception as there was anything from gassers to Tim Arfons recreation of his Dads Art, Jet Turbine Front Engine Dragster.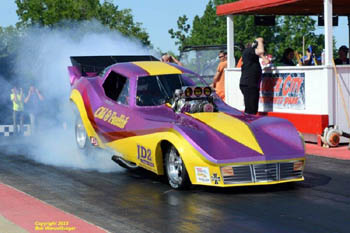 Old & Fuelish smokes the hides
in prep for a run.
As the morning went away and the time trials were done it was time to start the show. This year The GLNFCC brought six cars to participate and these guys did not disappoint the spectators. First pair out was the Total Insanity Monza driven by Chris Massarella taking on a last minute fill-in, the Excalibur Corvette driven by George Reidnauer. Both cars came out hard smoking the giant slicks.
Then with a touch of the 70's Krista Massarella came out to back up her husband in the Monza. As Chris staged there seem to be a problem with the tree as George was given an immediate red light. Chris took off but George did his best to try to reel in the Monza.
Next up was the newly bodied Vega of Bob Rosetty. Mike hall is driving the Vega which is called The Stranglehold. They went up against the local Salem favorite John DeCort driving the Old & Fuelish Corvette. As always John laid down a terrific 1,000 foot burnout. The Vega moved fist but the Corvette shot off the starting line and stopped the clocks with a 6.92.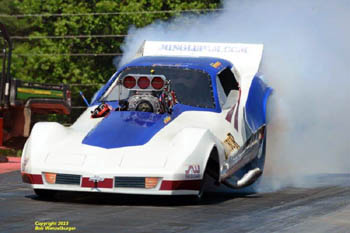 Old & Fuelish smokes the
hides in prep for a run.
Last pair was another one of Bob Rosetty's beautiful funny cars and this one is a little different. It is a 70 Pinto (Yes) this car is driven by Bob Toth. The Pinto was taking on another hometown hero, Jerry Streb in The Dazed & Confused Camaro. Both cars negotiated the tricky Quaker City hill and came out with killer burnouts. The Pinto left first and held the Camaro off until about half track and then the Camaro went thundering by.
It was time for second round and first up was The Funny Farmer Pinto taking on the Old & Fuelish Corvette. After John's first round 6.92 the Pinto knew he needed to spank the Corvette off the line. The Pinto did move first by a big margin but was no match as the Decort Brothers were on their game this day and stopped the clocks with a 7.01 to a respectable 7.40/181 out of the Pinto.
Next pair was the Stranglehold Vega taking on the Excalibur Corvette. George was out to avenge the first round timing snafu and lay down a good number. Both cars came out with burnouts and dryhops reminiscence of the day. The Corvette took off first and never looked back, stopping the clocks with a 6.97/196. But there was a little excitement on the track as Mike Hall driving the Vega got out of the groove and had to fight the car half way down the track, showing the fans why we call these cars mechanical bucking broncos.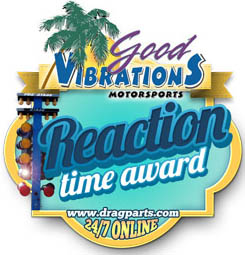 George Reidnauer
Driver of Excalibur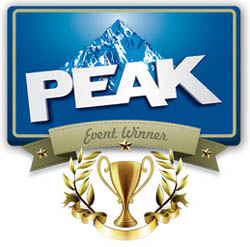 Jerry Streb
Driver of Dazed & Confused
So now the final was set. The Dazed & Confused Camaro with a 7.07 was taking on the Total Insanity Monza with a 7.31. For a few seconds the clocks seem to turn back to Salem, Oh. 1975. Both cars did wild burnouts and then barked their way up to the tree with old style dry hops. Both of these drivers know how to put on a show for the crowd. Chris knew he had to get Jerry off the line and he did with a .084 reaction to Jerry's .230. This made for a great side by side chase as the Camaro just took the win and The Peak Auto Trophy with just a .0257 margin.
George Reidnauer took home The Good Vibration Motorsports Reaction Time Award with a .063 light in the second round. We would like to send out a special THANK YOU to George and his crew for filling in for a hurt car at the last minute allowing The GLNFCC to put on a full 6 car show.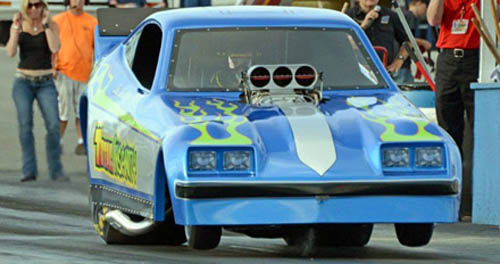 Total Insanity
Thanks again to the fine staff at Quaker City Motorsports Park, they always make us feel like family. I know that Norm Fox the owner had his doubts the first year or so but he really has a facility and staff to be proud of.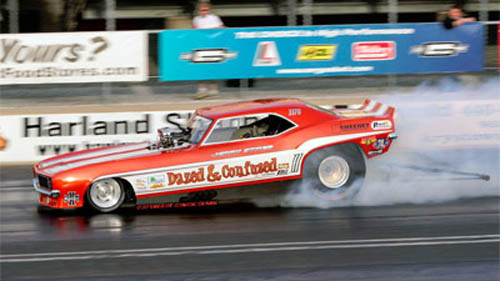 Dazed & Confused
Thanks to all of the sponsors who help us put on these fine shows. Peak Auto, Good Vibrations Motorpsorts, Mickey Thompson Tires, Pace Performance Blu Def, O'Reilly Auto Parts, Summit Racing Equipment and Total Flow Products.
Check out our website www.glnfcc.com and our Facebook page for up to date information and next years schedule.




Drag News: 10 Most Recent Entries [ top ]

Feb 22- ANDRA Top Alcohol Champ John Cannuli Looking at Back-To-Back Championships
Feb 22- Frank Mamone is Back
Feb 22- Drag Illustrated to Hold $100,000-to-Win World Series of Pro Mod
Feb 17- Speedgroup Announces Title Sponsorship- EDRS European Drag Racing Series Becomes Summit Racing EDRS Series
Feb 08- 2016 TNT Super Series Champion- Jim Thomson
Feb 08- Dave Gunn- 2016 TNT Super Series Second Place
Feb 08- Harry Phelps- 2016 TNT Super Series Third Place
Feb 08- David Surmatchewski- 2016 TNT Super Series Fourth Place
Feb 08- JJ Jablonski- Jason Vitez- 2016 TNT Super Series Fifth Place
Feb 08- Carl's 4-Wheel Drive & Performance Center Named Presenting Sponsor of 2017 Gateway E.T.