Thu, 09 May 2013, 18:51 PM



Competition Gets Stacked at 1st ever MASSA Events



Courtesy of Rob Keister



ATCO, N.J. --
Second Generation driver Jimmy Stack Sr. took no prisoners at the Inaugural Mid Atlantic Super Street Association races held at Atco Dragway in Atco, NJ. Stack started from the #1 qualifying position in his Garbinski & Livezey 71 Challenger on Saturday. He was closely followed by Nick Mayo, Frank Quarino Jr., Ben Saia and Bill Trum.
For his efforts of qualifying number one, Stack received a bye-run in the 1st round. He then took down John Fedeli, Kevin Tiedemann and Jason Lawrence in the semis. In the finals Stack raced past Division 1 champion Matie Ganjoin and his 1969 Camaro. Ganjoin took down Mark Kelly in the first, Bernie Staub, Bill Trum and received a bye-run into the final round against Stack. In the final round Ganjoin got the jump at the start (.028 to .038) but, the high mph Challenger caught Ganjoin and forced him to break out giving the win to Stack 10.908 to 10.884.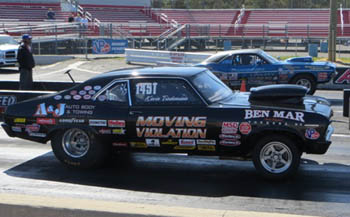 On Day Number Two East Chester, NY resident Kevin Tiedemann took the number one qualifying spot in his 1970 Nova. He was followed by Bob Kodadek, Stack, Greg Kelly and Bernie Staub. Tiedemann took down 2012 .90 Nationals Champion Keith Mayers in the first round to earn a bye-run to the semi-finals. In the semi's Tiedemann took down Bill Nycz 10.932 to 10.889 to earn a date with Stack. Stack who took down Dave Harvey Sr, Kodadek and Staub in the semi's 10.957 to 10.891. In the finals Stack laid down an 8 thousandths package on Tiedemann. Stack took the advantage at the tree (.008 vs. .031) and laid down a perfect 10.900 to Tiedemann's 10.897.
The Mid Atlantic Super Street Series will run race number 3 & 4 on May 18th & 19th at Maple Grove Raceway in Reading, Pa. For information on MASSA contact Rob Keister at 856-332-2851 or e-mail him at Rekeister@aol.com.




Drag News: 10 Most Recent Entries [ top ]

Feb 22- ANDRA Top Alcohol Champ John Cannuli Looking at Back-To-Back Championships
Feb 22- Frank Mamone is Back
Feb 22- Drag Illustrated to Hold $100,000-to-Win World Series of Pro Mod
Feb 17- Speedgroup Announces Title Sponsorship- EDRS European Drag Racing Series Becomes Summit Racing EDRS Series
Feb 08- 2016 TNT Super Series Champion- Jim Thomson
Feb 08- Dave Gunn- 2016 TNT Super Series Second Place
Feb 08- Harry Phelps- 2016 TNT Super Series Third Place
Feb 08- David Surmatchewski- 2016 TNT Super Series Fourth Place
Feb 08- JJ Jablonski- Jason Vitez- 2016 TNT Super Series Fifth Place
Feb 08- Carl's 4-Wheel Drive & Performance Center Named Presenting Sponsor of 2017 Gateway E.T.