Tue, 26 Mar 2013, 09:54 AM



Southwest Nostalgia Racers Ready For Action



Courtesy of Chris Graves


Photo copyright 2013 Max Cackle Photography





After what seemed like a lifetime, the off season for the nostalgia drag racing series' of the southwest is over as teams are gearing up for their respective season openers for the 2013 racing season. With the emergence of a new series and expected debuts of several new racecars to the action, this year will be one for the books for nostalgia drag racing enthusiasts of the region.
The Southwest Junior Fuel Association will kick off it's season at Ben Bruce Memorial Airpark Raceway in Evadale, Texas on March 30th. Entering it's seventh consecutive season, the SWJFA series will bring the best of the best in heads up junior fuel drag racing to battle it out on the quarter mile. Defending series champion Ricky Marshall will have no easy feat in defending his 2012 Championship with the caliber of junior fuel machines the SWJFA series brings to the track. The SWJFA would like to thank Smiley's Racing Products, Champion Spark Plugs, Hayden Enterprises and Hilborn Fuel Injection for their support this season.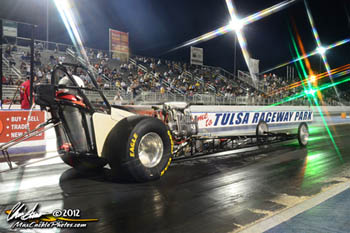 The highly anticipated debut of the MalloryPrint.com Southwest Heritage Racing Association is scheduled for April 6th at North Star Dragway in Denton, Texas. This new series will feature three nostalgia eliminator index classes and two sportsman classes, which many expect to yield a strong car count and support from the grassroots nostalgia racers. With high expectations and lots of hard work from the all-volunteer staff, the SHRA series aims to be the premier attraction to racers looking for fun, affordable, old school drag racing in the southwest. The SHRA is made possible with the support of Mallory Screen Print & Embroidery, Robinson Restoration & Service, Meyer Enterprises, Good Vibrations, Competition Sales of Dallas, North Texas Diesel, AlkyDigger's and Harry's Hot Rod Auto & Truck Accessories.
Headlining the effort to keep the old school drag racing effort thriving in the area is the one, the only, Painless Performance Outlaw Fuel Altered Association. Entering it's seventeenth consecutive season, the OFAA series will also kick off April 6th at North Star Dragway where up to twenty three second machines are expected to battle for the first win of the season and those precious Painless Performance points. The OFAA rumor mill is plenty active with indications of several new teams and the return of some heavy hitters who have been on the sidelines in recent years, but their success will be determined by their ability to dethrone back to back OFAA Champion Jimmy Jones and the rest heavy hitters who show no mercy on the starting line. The series would like to recognize and thank it's 2013 supporters: Painless Performance Products, Good Vibrations, Wizard's Warehouse, Competition Sales of Dallas, North Texas Diesel, 3rd Coast Commissioning Service, A&A Specialties and Stith Printing.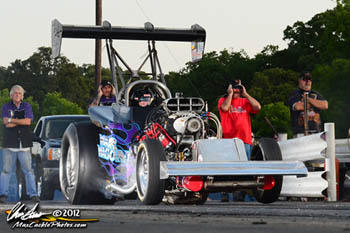 The OFAA will make headlines this summer when they go head to head against the Texas Outlaw Pro Modified Association in a return of the "Pro Mod vs. Fuel Altered Showdown" July 5th and 6th at North Star Dragway in Denton, Texas, which will also feature the SHRA series. This event will be the single most anticipated event of the year in North Texas and the smack talking is in full swing as these two series build up this event to determine who really is the baddest outlaw of them all.
There's plenty of nostalgia drag racing action to watch and experience across the southwest so come on out and see these associations in action! For more information visit www.swjfa.com, www.shraracing.com and www.ofaa.net.




Drag News: 10 Most Recent Entries [ top ]

Feb 22- ANDRA Top Alcohol Champ John Cannuli Looking at Back-To-Back Championships
Feb 22- Frank Mamone is Back
Feb 22- Drag Illustrated to Hold $100,000-to-Win World Series of Pro Mod
Feb 17- Speedgroup Announces Title Sponsorship- EDRS European Drag Racing Series Becomes Summit Racing EDRS Series
Feb 08- 2016 TNT Super Series Champion- Jim Thomson
Feb 08- Dave Gunn- 2016 TNT Super Series Second Place
Feb 08- Harry Phelps- 2016 TNT Super Series Third Place
Feb 08- David Surmatchewski- 2016 TNT Super Series Fourth Place
Feb 08- JJ Jablonski- Jason Vitez- 2016 TNT Super Series Fifth Place
Feb 08- Carl's 4-Wheel Drive & Performance Center Named Presenting Sponsor of 2017 Gateway E.T.