Mon, 04 Mar 2013, 18:26 PM



Billy Meyer Announced as the 2013 Bakersfield March Meet Grand Marshal



Courtesy of Rob Gibson



Art Chrisman Named Honorary Starter



BAKERSFIELD, Calif. --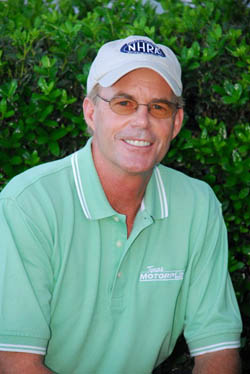 Billy Meyer
>From competing at the highest level of nitro funny car, to stirring the political pot of drag racing in the 80's, Billy Meyer's love of the sport has always driven him forward into uncharted territory and his unconventional thinking and powerful motivation has brought NHRA drag racing and its facilities forward into the 21st century.
Art Chrisman won the first March Meet on March 1, 1959 when the Smokers car club invited Don Garlits out to California to prove himself against the West Coast racers. Chrisman beat Garlits in the first round and went on to win the race against local driver, the late Tony Waters. Art and his son, Mike, founded Chrisman Auto Rod Specialties where they currently build and restore hot rods. Art will be in attendance throughout the weekend as the legendary Chrisman family returns to March Meet competition in the Jr. Fuel category.
Billy Meyer started driving nitro funny cars at the young age of 15 and acquired his competition license at 16. Meyer drove his way to a semifinal finish at the IHRA Spring Nationals in Bristol, Tenn. during his 1972 debut. He also won the famed Orange County International Raceway 64-Funny Car Manufacturer's Cup event that same year. By the end of his driving career Meyer had drove his Funny Car to 12 victories in 22 final rounds in just 112 NHRA events. Only one other driver in NHRA history has a better winning percentage, John Force.
As Meyer's racing career wound down, his involvement in other aspects of the sport began to take off. In 1986 Meyer built the Texas Motorplex. Heralded as the first NHRA "Super Track", the Texas Motorplex raised the bar with stadium style seating and the first all concrete racing surface. From the press boxes to the VIP facilities, the Texas Motorplex set the standard for future NHRA big show events and facilities.
Meyer - "It's exciting to be part of the growth of the sport and to be connected to a special time in the sport's history," Meyer said. "Since the Motorplex was built, the quality of the facilities has greatly improved and it's nice to be part of that and help the progression of building bigger and nicer places for the sport."
Art Chrisman
As drag racing moves into the 21st century, the Heritage Series events provide a sharp contrast to the current NHRA National events. Racers compete within a rules package that presents the cars as they competed in the 60's, 70's and early 80's. Racing fans all around the world now have the choice of seeing the most modern cars drag racing has to offer as well as experiencing a trip back in time to see the early evolution of drag racing.
Blake Bowser,VP and GM of the Kern County Racing Association - "Billy represents the change in NHRA drag racing from small rural venues with little corporate support, to a traveling show at "Super Tracks" like Texas, Vegas, Chicago and zMax in Charlotte. The March Meet turns back the hands of time to let the fans experience racing from the 70's. The cars that compete at the March Meet are modern built race cars with drivers and teams that are fiercely competitive. These guys don't hold back, they are here to win and that creates an amazing atmosphere for the fans."
"We're honored to have Billy Meyer as the Grand Marshal of the March Meet. Without him the NHRA wouldn't have the amazing facilities that they compete at. And that division helps the Heritage series and the events we have here at Auto Club Famoso Raceway. Some people like classic rock and some people like modern pop. We're are fortunate to have a sport that can accommodate fans of all the eras or drag racing".
Celebrating 55 years of racing, the March Meet is a four-day speedfest of quarter-mile drag racing. It attracts drag racers and spectators from around the world and also includes a hot rod car show, swap meet and a vendors' midway. The 2013 March Meet will be held Mar. 7-10 at historic Auto Club Famoso Raceway. March Meet advance ticket sales, as well as tickets for car show registration and camping, are now available on the Auto Club Famoso website and at www.TheFOAT.com.
The Kern County Racing Association operates Auto Club Famoso Raceway (just north of Bakersfield, Calif.) and promotes a full schedule of races year round, including the world famous March Meet, which is recognized as the Mecca of nostalgia drag racing. For more details, visit www.autoclubfamosoraceway.com.
Follow Auto Club Famoso Raceway on:
Facebook:
Twitter:




Drag News: 10 Most Recent Entries [ top ]

Feb 22- ANDRA Top Alcohol Champ John Cannuli Looking at Back-To-Back Championships
Feb 22- Frank Mamone is Back
Feb 22- Drag Illustrated to Hold $100,000-to-Win World Series of Pro Mod
Feb 17- Speedgroup Announces Title Sponsorship- EDRS European Drag Racing Series Becomes Summit Racing EDRS Series
Feb 08- 2016 TNT Super Series Champion- Jim Thomson
Feb 08- Dave Gunn- 2016 TNT Super Series Second Place
Feb 08- Harry Phelps- 2016 TNT Super Series Third Place
Feb 08- David Surmatchewski- 2016 TNT Super Series Fourth Place
Feb 08- JJ Jablonski- Jason Vitez- 2016 TNT Super Series Fifth Place
Feb 08- Carl's 4-Wheel Drive & Performance Center Named Presenting Sponsor of 2017 Gateway E.T.