Sun, 03 Mar 2013, 09:54 AM



Big Money Kick-off Classic @ San Antonio Raceway 2/15/13



By J M Hallas



MARION, Texas --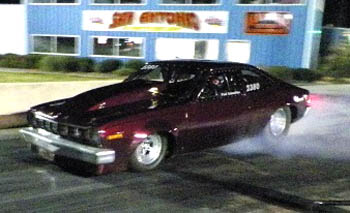 Paul Schneider
Friday was the official 'kick-off' to San Antonio Raceways 2013 racing season. With Mother Nature providing a decent forecast, drivers from across Texas came to race on the IHRA sanctioned track just east of San Antonio.
The Big Money Kick-off Classic gives drivers in Electronics, No-box and Jr. Dragster three days of racing on the 1/8 mile as they gear up for this year's points battles. Friday night's show opened with a test-n-tune session, followed by eliminations in all three classes.
Saturday and Sunday racing includes a two-sided bracket, that I have dubbed the 'red fish, blue fish' races, and gives Electronics and No-box racers two chances to make their way to the final round where the money is. Saturday also features a "Gunslingers" race with a possible $4,000 going to the winner.
Schneider Scores Electronics Win
San Antonio's Paul Schneider took home the Electronics Class hardware after a double break out against Cibolo's Brent Ritter. Schneider's AMC Hornet was the least offender running a 5.810 on a 5.82 dial while Ritter's 2000 Undercover Dragster turned a 5.049 on a 5.06.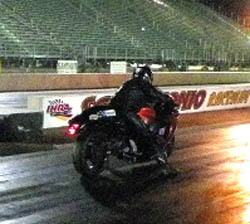 Ruben Gallegos
Paul Schneider, 5.810 @ 117.62 defeats Brent Ritter, 5.049 @ 134.69
Schneider, who had to rebuy after a round 1 loss to Ritter, then posted wins over Jeff Rabedeau and Carlos Carrasco sr. to make the finals. Ritter scored wins against Schneider, Kyle Williams and Leroy O'Bryant.
Gallegos Grabs the Goods in No-box
Ruben Gallegos(Shertz) grabbed the victory in another double break out final run besting Jimmy Inman(San Antonio). Gallegos on his 2008 Suzuki Hayabusa tripped the lights with a 5.878 on 5.90 dial in with Inman over shooting his dial by 7.192 on a 7.23 in his 98 Camaro.
Ruben Gallegos, 5.878 @ 119.02 defeats Jimmy Inman, 7.192 @ 96.26

Ty Casey
After a red light loss in round 1, Gallegos rebought and took out William Simpkins, Rocco Whiting and M. Phillips. Inman also suffered a round 1 loss before making his way to the finals.
Mighty Casey Strikes for Win
Young Ty Casey(Van Vleck) scored the victory in the Jr. Dragster finals early when Juan Valadez(San Antonio) went red. Casey, driving the Casey Boyz Racing Dragster ran a near perfect 9.244 on a 9.22 after Valadez jumped by .004.
Ty Casey, 9.244 @ 68.61 defeats Juan Valadez, 8.025 @ 80.26(red light)




Drag News: 10 Most Recent Entries [ top ]

Feb 22- ANDRA Top Alcohol Champ John Cannuli Looking at Back-To-Back Championships
Feb 22- Frank Mamone is Back
Feb 22- Drag Illustrated to Hold $100,000-to-Win World Series of Pro Mod
Feb 17- Speedgroup Announces Title Sponsorship- EDRS European Drag Racing Series Becomes Summit Racing EDRS Series
Feb 08- 2016 TNT Super Series Champion- Jim Thomson
Feb 08- Dave Gunn- 2016 TNT Super Series Second Place
Feb 08- Harry Phelps- 2016 TNT Super Series Third Place
Feb 08- David Surmatchewski- 2016 TNT Super Series Fourth Place
Feb 08- JJ Jablonski- Jason Vitez- 2016 TNT Super Series Fifth Place
Feb 08- Carl's 4-Wheel Drive & Performance Center Named Presenting Sponsor of 2017 Gateway E.T.