Wed, 02 Jan 2013, 19:11 PM



Dilts Piston Hydraulics to Present the 2013 TNT Super Series Race of Champions



Courtesy of Lewis Robinson


Photo credit: Ted Barnes





ST CATHARINES, ONTARIO --
The 2013 season will be the SEVENTH for the popular Joe's Transmission TNT Super Series, a 10.90 based sportsman drag racing series that holds events in both western New York and southern Ontario.
Series officials are excited to announce the return of the prestigious Race of Champions with Dilts Piston Hydraulics presenting the 3rd annual event.
With no entry fee and the highest winner's purse of any TNTSS event, the Dilts Piston Hydraulics Race of Champions will draw the cream of the crop in sportsman racers. Only previous TNTSS event winners are eligible to enter and qualifying is set based on past performance.
Last year's winner, Jamie Stoneman came out of retirement after two years and marched through the field to victory. And JJ Jablonski, who won the ROC in 2011, earned himself the overall series championship in 2012.
"We are very excited about being a part of the TNT Super Series," said Ian Hill of Dilts Piston Hydraulics. "I am a huge fan of perfection type racing and there's nothing more perfect than trying to run a 'number' that somebody else has put on your window! Index racing is one of the most hated and loved classes in drag racing. People either will never get it and hate it, or are like me and want a set of bleachers setup about two feet away from the finish line."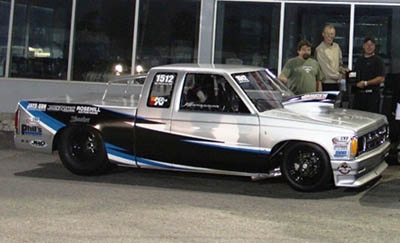 Header Goes Here
Ian sees the TNTSS as top notch, from the competitiveness of the racers, the reporting of the races, to the year end banquet. "It is very clear why the TNTSS numbers are growing!" he added.
"The ROC is a pretty exciting race to be part of. Dilts Piston Hydraulics looks forward to meeting the drivers throughout the 2013 season, to wish them luck and learn more about one of the hardest series to win a race in."
Dilts Piston Hydraulics is celebrating its 25th anniversary in 2013 with an open house coming this summer.
The date and location for the 2013 Dilts Piston Hydraulics TNTSS Race of Champions will be announced in coming weeks along with the rest of the 2013 TNTSS event schedule. Visit www.tntsuperseries.com regularly to stay up to date on all the latest news from the most competitive sportsman drag racing series in the country.




Drag News: 10 Most Recent Entries [ top ]

Feb 22- ANDRA Top Alcohol Champ John Cannuli Looking at Back-To-Back Championships
Feb 22- Frank Mamone is Back
Feb 22- Drag Illustrated to Hold $100,000-to-Win World Series of Pro Mod
Feb 17- Speedgroup Announces Title Sponsorship- EDRS European Drag Racing Series Becomes Summit Racing EDRS Series
Feb 08- 2016 TNT Super Series Champion- Jim Thomson
Feb 08- Dave Gunn- 2016 TNT Super Series Second Place
Feb 08- Harry Phelps- 2016 TNT Super Series Third Place
Feb 08- David Surmatchewski- 2016 TNT Super Series Fourth Place
Feb 08- JJ Jablonski- Jason Vitez- 2016 TNT Super Series Fifth Place
Feb 08- Carl's 4-Wheel Drive & Performance Center Named Presenting Sponsor of 2017 Gateway E.T.