Tue, 01 Jan 2013, 14:59 PM



North Star Dragway Announces Outlaw Pro Mod vs. Outlaw Fuel Altered Showdown



Courtesy of Chris Graves


Photo copyright 2013 Max Cackle Photography





DENTON, Texas --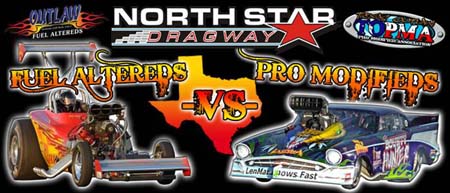 Header Goes Here
The time has come, the waiting is over, the money and the bragging rights are on the line, and the baddest outlaws of the southwest are finally going to re-unite their battle as the Texas Outlaw Pro Modifieds will take on the Outlaw Fuel Altereds in a special head to head two day event at North Star Dragway in Denton, Texas on July 5th and 6th.
Almost a decade ago, when a 4.10-4.20 eighth mile pass was good for the top spot, the Texas Outlaw Pro Mods and Outlaw Fuel Altereds lined up side by side at Lone Star Raceway Park in Sealy, Texas. This rivalry ignited a friendly battle between the associations as to who was the baddest outlaw of all. Frankie "The Mad Man" Taylor and his pro mod took home the win in both 2002 and 2003 over Mitch King and Larry Reep in their altereds. Unfortunately, the event did not continue in 2004 and until now, no one was sure if it would ever return.
Gene Nicodemus, owner of North Star Dragway, has stepped up bring the rivalry back to reality. The level of performance these series are now showcasing will bring literally the best of the best to this event in a shootout to see who is the top dog of the southwest outlaw racing scene. This event is in conjunction with the North Star Dragway Anniversary Celebration and 4th of July weekend and will also feature the Southwest Heritage Racing Association (SHRA) as well as Top Gas and Pro Mod Motorcycles, with more feature attractions to be announced.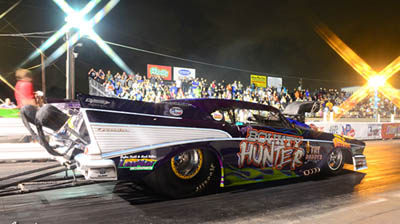 Gaylen Smith
"TOPMA and OFAA put on a great show and have for years, we are lucky to have such attractions here in our backyard. I want to bring our fans the best show we can possibly have, so we are lining the two top attractions up side by side! It's a show that can be found nowhere else besides North Star Dragway. We are going to allow spectators to camp for free at the track and offer discounted tickets online plus much much more to be announced soon. This will be the first annual Pro Mod vs. Fuel Altered Showdown at NSD every 4th of July weekend to celebrate our anniversary, so mark your calendars now and we'll see you at the show!" said Nicodemus.
Gaylen Smith, President of the Texas Outlaw Pro Modifieds, and the rest of the pro mod field is ready for the challenge to take on Outlaw Fuel Altered President, Bobby Marriott, and the rest of the fuel altered teams. The associations have even come up with terms to describe each other, as the pro mods call the altereds "buggies" and the altereds call the pro mods "slo mods" and say "real racecars don't have doors". All in good fun now, but when they line up against each other it will be for keeps and only the best of the best will survive this showdown.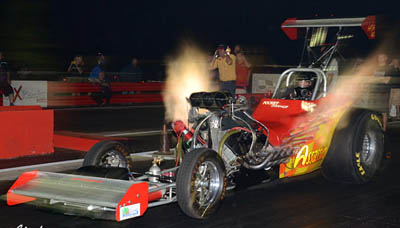 Chris Trussell
The event will feature three qualifying sessions (two Friday and one Saturday) and the quickest eight pro mods and quickest eight altereds will qualify for the sixteen car show. All qualifying rounds will be paired with a pro mod against a fuel altered and in the first round of eliminations, the quickest pro mod and the quickest altered will run each other and vice versa down through the eighth qualifying spot.
The two quickest winning pro mods and the two quickest winning fuel altereds from the first round of eliminations will advance to the semi-finals where they will run head to head, pro mod vs. pro mod and altered vs. altered, to ensure a true fuel altered vs. pro mod final round. North Star Dragway is offering free spectator and racer camping and discount tickets online, so bring the camper and the family out for this one folks, you won't want to miss it! For more information and to pre-purchase discounted tickets, visit www.northstardragway.com.




Drag News: 10 Most Recent Entries [ top ]

Feb 22- ANDRA Top Alcohol Champ John Cannuli Looking at Back-To-Back Championships
Feb 22- Frank Mamone is Back
Feb 22- Drag Illustrated to Hold $100,000-to-Win World Series of Pro Mod
Feb 17- Speedgroup Announces Title Sponsorship- EDRS European Drag Racing Series Becomes Summit Racing EDRS Series
Feb 08- 2016 TNT Super Series Champion- Jim Thomson
Feb 08- Dave Gunn- 2016 TNT Super Series Second Place
Feb 08- Harry Phelps- 2016 TNT Super Series Third Place
Feb 08- David Surmatchewski- 2016 TNT Super Series Fourth Place
Feb 08- JJ Jablonski- Jason Vitez- 2016 TNT Super Series Fifth Place
Feb 08- Carl's 4-Wheel Drive & Performance Center Named Presenting Sponsor of 2017 Gateway E.T.