Tue, 01 Jan 2013, 11:37 AM



The Funny Car Class Should Be Fun Again This Year



By Bob Frey


Photo copyright 2013 Auto Imagery, Inc.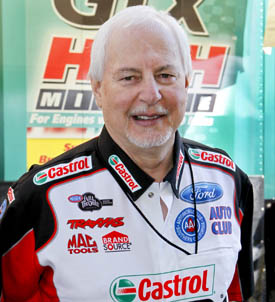 Bernie Fedderly
Photo copyright 2013 NHRA
Before wrapping up the 2012 Funny Car season and speculating about 2013 I wanted to take a moment to congratulate
Bernie Fedderly
on a wonderful career. As most of you know Bernie will be inducted into the
Drag Racing Hall of Fame
in March and it is an honor that is richly deserved. What a lot of you may not know is that Bernie officially retired from the
John Force Racing
organization last week. "He'll always have the keys to the building and he is always welcome here," John told me. "Bernie just said that it was time to move on and he did." It's an understatement to say that Bernie has made huge contributions to the sport and especially to John's team, but even more significant is the fact that he has spent four decades in the sport as a crew chief and crew member for some of the top teams in drag racing and he has done it all with class and dignity. >From his early years with
Terry Capp
,
Gary Beck
and
Ed McCulloch
to his more recent stint with John's team, Bernie has been associated with some of the best teams in the sport and that's not a coincidence. The talent, expertise and skill that he brought to the teams was one of the reasons they were successful, and as the "other guy" with
Austin Coil
, another Hall of Fame member, he helped make John Force and his team the best in the business for so many years. We wish Bernie all the best in his retirement years and look forward to seeing him inducted into the Hall of Fame in a few months. Is it just me or would it be cool to see Austin Coil there when Bernie is inducted?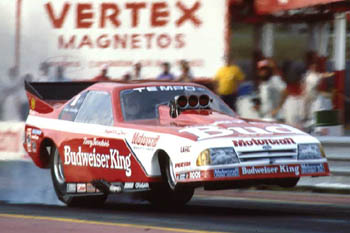 Kenny Bernstein
The 2012 Funny Car season was one of the best, and if you go back and read some of my stories from early in the year I predicted that it would be. Of course it didn't take a genius to know that because you had John's four cars, the four from Don Schumacher's camp and a lot of other very talented drivers and teams. As much as everyone talks about the "good old days" there really haven't been many years in the history of the Funny Car class where the talent was so strong from top to bottom. Did you know that there were times in his four year championship run (1975 - 1978) that Don Prudhomme out qualified the number two car in the field by more than a tenth of a second? And did you know that during his four year championship run (1985 - 1988) Kenny Bernstein did the same thing. In fact, at Indy in 1986 Kenny qualified number one with a 5.50 and the second place driver, Johnny West, checked in with a 5.66. Those were the "good old days" but that would never happen today. In fact, did you know that the biggest gap from the number one to the number two Funny Car qualifier this year was five-hundredths of a second and that only happened once? At Englishtown Ron Capps made that spectacular 3.964 pass and that had him way ahead of the number two man, Robert Hight, who ran 4.013. Other than that there were only two times all year where the gap was more than three-hundredths of a second. They didn't have that in the "good old days," did they?...Don Prudhomme qualified number one at seven of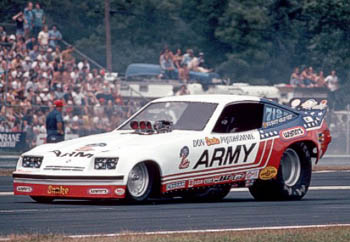 Don Prudhomme in 1976.
the eight races in 1976 and there were nine different number one qualifiers in 2012. Now before I get e-mails from the Don Prudhomme, Johnny West or the
Topper Kramer
fans (he was number two at Seattle in 1975 and I just like working his name into my story) don't get me wrong. There was some great racing back
then,
it just wasn't as competitive, top to bottom, as it is now at least in my opinion. Or maybe the competition was good from the number two spot down and the "Snake" was just that much better than everyone else. Let the debate begin.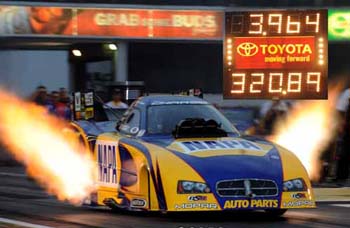 Ron Capps at Englishishtown.
Last week I mentioned some of the outstanding Top Fuel runs of the year and I thought I would give equal time to the Funny Cars this week. The aforementioned 3.964 by Ron Capps certainly has to be at the top of anyone's "Best Of" list in 2012. After all it was, as mentioned, the biggest gap between the number one and two cars all year, or in other words it was very "Snake-like," wasn't it? By the end of the year five different drivers had recorded three-second runs with three of them recording their career best numbers at the Maple Grove race. In the speed department Robert Hight's 321.81 in Reading was the best of the year and it should be included among the best runs of the year. I've always said that if they could just get some nice weather the Maple Grove race would be one of the best. As it is, with the cool (cold) overcast (wet) weather it still ended up as a pretty good race, didn't it? It would just be nice for everyone if it could end on the day it's supposed to end... There were several candidates for the best "Race of the Year" and I thought the run between Johnny Gray and Jack Beckman in Reading was among the tops. Johnny went 4.026 to beat Jack's 4.025 and that's outstanding in anyone's book. Did you know that was not only Jack's one and only holeshot loss of the year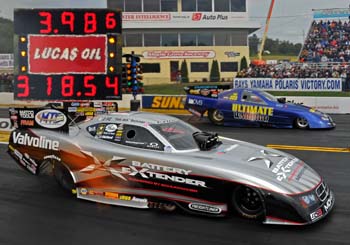 Jack Beckman set both ends
of the National Record at Reading.
but it was his first such loss since the 2010 season? Pretty good, huh
?...
Of course the final round at the 4-Wide race between John Force,
Cruz Pedregon
, Ron Capps and Robert Hight was pretty good, too. Three of the four cars made full runs (4.07, 4.07 and 4.08) and they treated the fans to the kind of action they expect at the special 4-Wide event. Robert Hight won that race and that was part of his great start to the 2012 campaign..In the "Outstanding Performance by a Funny Car" for an entire event it would be tough not to rank Jack Beckman's
Maple Grove
performance as the best. That's where he made not one but two three-second runs, set the record and took over the points lead, a lead that he never relinquished.
Did you know
that was the sixth time the Funny Car elapsed time record was set at the
Reading
event?
Jack also set the speed mark at that race and it was just the second time that both the elapsed time and speed records were set at
Maple Grove
.
Mark Oswald
did it (5.214 - 283.10) in 1989 in the
Candies & Hughes
car and that was the only other time a Funny Car driver set both ends of the record in
Pennsylvania
.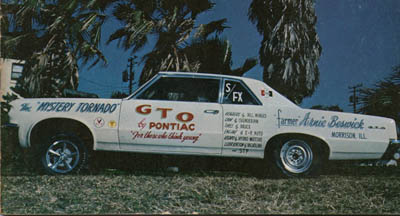 Arnie "The Farmer" Beswick
There was another Funny Car milestone recorded in the state of Pennsylvania and that happened in 1965 when
Arnie "The Farmer" Beswick
ran 9.96 (140.00 mph) in York, PA to become, unofficially, the first "Funny Car" to go in the nine-second range and he did that with a supercharged Pontiac!
National DRAGSTER
proclaimed it as the "first driver to turn in the 9's with a stock-bodied automobile." That was one of the top match-race cars of the time and today that wouldn't even be good enough to win a round of Super Gas. Amazing, isn't it?
There were some major upsets across the board in 2012, like Ike Maier's win over the number one qualifier, David Grubnic at that now historic Maple Grove race and T.J Zizzo's win from the sixteen spot in Chicago, but I thought Todd Lesenko's win over Robert Hight at the Winternationals was the biggest surprise win of the year. Let's face it, Robert is, well, Robert, and he drives a very fast hot rod. His spot at the top of the field didn't surprise anyone but Todd and Jim Dunn weren't scared. They should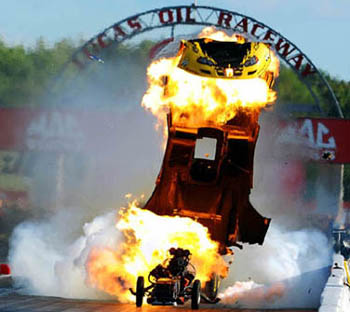 Todd Lesenko
Photo copyright 2012 Gary Nastase Photography
have been but they weren't (my opinion only I'm sure). But as I always say that's why we make them show up and run, and in a wild, tire-smoking run Todd won his first round and sent the former champ back to the pits.
Did you know
that the only other time in 2012 that the top qualifier in the Funny Car class lost was when Johnny Gray had his parachutes come out on the burnout in
Norwalk
and he wasn't able to make the run? By the way do you remember who was the number sixteen qualifier and in the other lane, at that race? You guessed it, Robert Hight. What are the odds?
Did you know
that was the first and only time in his 184 national events that Robert qualified on the bump in the Funny Car field?
In their year end issue National DRAGSTER has a category called the "Oh No" award and it is rather self-explanatory and Todd Lesenko's wild Indy weekend had to be at the top of the list. Let's face it, anytime you destroy not one but two Funny Car bodies you should get something out of it even if it is only the "Oh No" award, but there were several others that I thought deserved consideration. For an event it would be awfully hard to beat the Bristol race for the Team Force cars. That's the race when all four of them lost in the first round and that hardly ever happens. For one of them to lose early is a story but for all four to be out by the quarter-final round is truly noteworthy..And then there was the story of Alexis DeJoria in Brainerd. You remember it, that's the race where she was lined up against John Force and he fouled out apparently giving her the easy win. But as I also often say, we have these silly rules and one of them involves crossing the center line which she did and that gave John the round win and it gave Alexis a lesson.I hope. John took advantage of the situation to go to the final round and that may have preserved his spot in the top ten. Did you know that was just John's second red light start in the last five years and it was only the twenty-second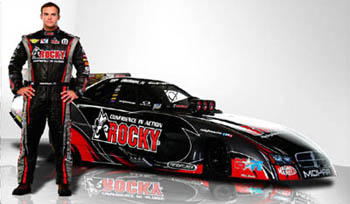 Matt Hagan
of his entire career and that spans a staggering 1,574 rounds?....Of course
Matt Hagan's
failure to make the "Countdown" was one of the main story lines, upsets and "Oh No" moments of the year. Even with a new crew chief for 2013 I fully expect Matt to rebound and be a serious contender again...Jack Beckman's championship run is also one of the big stories of the year especially after the crew change early in the year. By the way, everyone who thought that Don Schumacher was making a big mistake when he shook up the teams like that please raise your hand. Wow, that's a lot of hands. Is that Jack's hand I see in the air? After what his teams did this year I don't think anyone should ever second-guess the "Don."
It was a fun time in the Funny Car class in 2012 and we've come a long way since Arnie Beswick's stunning run in 1965, haven't we? With some movement already in the class, most notably Del Worsham returning to the driver's seat, Jeff Arend moving to Jim Dunn's team, Chad Head driving for his father, Jim, and the upcoming announcement of the Team Force lineup for next year, 2013 looks like it will be more of the same for the racers and the fans. Happy New Funny Car Year to everyone. Now if we could just get Melanie Troxel a Funny Car ride all would be right with the world..Just because I like doing things like this if you count the words in this story you will find there are exactly 2013.




NHRA: 10 Most Recent Entries [ top ]

Sep 16- DALLAS - Top Fuel'S Spencer Massey Knows Big Weekend at AAA Texas NHRA FallNationals
Sep 16- DALLAS - NHRA Mello Yello Countdown to the Championship Playoff Doubleheader
Sep 16- DALLAS - Fact Sheet
Sep 16- CHARLOTTE 2 - Special Awards
Sep 16- CHARLOTTE 2 - Through the Lens of Gary Nastase
Sep 16- Indy - Through the Lens of Ron Lewis
Sep 16- CHARLOTTE 2 - Pro Stock Racer Gaines Walks Away from Crash at zMAX Dragway
Sep 16- CHARLOTTE 2 - Lucas Oil Sportsman Eliminations Postponed
Sep 14- CHARLOTTE 2 - Continuation of Pep Boys NHRA Carolina Nationals Eliminations Moved to Texas Motorplex
Sep 14- CHARLOTTE 2 - Race Completion Moved Elsewhere.