Sat, 15 Dec 2012, 20:09 PM



Women in the Winner's Circle Celebrates 10th Anniversary Awards



INDIANAPOLIS -
On Friday, December 7, auto racing legend Janet Guthrie was honored with the prestigious Mildred Marcum Pioneer Award, a tribute to the inspiring spirit, worth ethic, and determination of ARCA founder Mildred Marcum.
In 1977, Guthrie became the first woman to start the Indianapolis 500 and the Daytona 500, where she was top rookie. Her ninth-place finish in the 1978 Indianapolis 500, with a team she formed and managed herself, was the best by a woman until 2005, with Danica Patrick's fourth place finish. Guthrie's helmet and driver's suit are in the Smithsonian Institute. She is a charter member of the International Women's Sports Hall of Fame and in 2006 was inducted into the International Motorsports Hall of Fame.
Guthrie said, "Lyn St. James and her foundation do so much to call attention to the successes of very talented women drivers in the racing business. Events like the Women in the Winner's Circle Awards are really significant."
The National Hot Rod Association (NHRA) was presented with the Leadership Award for its outstanding initiatives promoting diversity. Racers Shirley Muldowney, Ashley Force-Hood, Melanie Troxel, and Eric Enders have made history as the first female winners in their respective classes. In August 2012, history was made again at Pacific Raceways in Seattle when Enders claimed a Pro Stock win, Courtney Force took the Top Fuel win, and Megan Ellingson won in Super Street making it the first time three women won at the same national event. The NHRA's multi-cultural diversity has produced championships with Hispanic Funny Car racer Cruz Pedregon in 2008 and this year as Antron Brown became the first African American to win the Top Fuel championship.
NHRA President Tom Compton said, "The Leadership Award means a lot to everyone in the NHRA racing community. We are all about access for everyone. That's how the organization was set up from the grass roots level. We are proud of the success that women and minorities have achieved in the series and how our fan base reflects diversity as well. NHRA founder Wally Parks would be proud."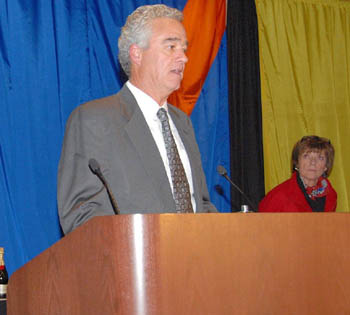 Tom Compton
NHRA Pro Stock driver Erica Enders received the Outstanding Achievement Award for her stellar performance in the 2012 season. Enders started her career at age 8 as one of the first competitors in the NHRA's Jr. Dragster class. This year, she achieved her career-best season becoming the first woman to win in the highly competitive Pro Stock class, scoring two No. 1 qualifying spots and winning four races to finish fourth in the points standings.
2012 Mopar Western Midget Series champion Shannon McQueen was presented with the USAC Kara Hendrick Spirit Award, which honors the memory of one of USAC's most accomplished female drivers. The award is presented annually to a woman driver whose spirit, determination and driving ability are reminiscent of the excellence demonstrated by Hendrick during her brief career. Opportunity Awards recognizing those who create significant opportunities for women drivers to excel were presented to ML Motorsports for signing Johanna Long to a limited season in the NASCAR Nationwide Series, and to Victor Cagnazzi's GK Motorsports for providing Erica Enders with the team that helped her make history as the first female to win in the NHRA's Pro Stock class.
Audi Sport Engineer Leena Gade received the C&R Racing Woman in Technology Award which acknowledges successful women who excel in the technical area of motorsports, and who serve as role models for women to pursue technical opportunities in the field. The foundation's Contribution Award was presented to Dr. Jacques Dallaire, President of Performance Prime, who has contributed his knowledge about the body and mind of a high performance individual to every racer who has attended the foundation's driver development academy since its inception in 1994.
"I'm extremely proud of all our award winners, as well as all the drivers who attended our event this year. Attendees were given a glance of just how much talent is out there and helped us celebrate the people who have contributed to the many successes these drivers have earned and had the opportunity to learn about the impact Title IX has had on motorsports. A wonderful evening!" said Lyn St. James.
About the Women in the Winner's Circle Foundation
The Women in the Winner's Circle Foundation's mission is to provide leadership, vision, resources and financial support to help create an environment of opportunity for women's growth in the automotive and competitive motorsports fields. In collaboration with the Henry Ford Museum, the Women in the Winner's Circle traveling exhibition showcases the history of women in motorsports, their achievements and the growing future of women in motorsports.




Drag News: 10 Most Recent Entries [ top ]

Feb 22- ANDRA Top Alcohol Champ John Cannuli Looking at Back-To-Back Championships
Feb 22- Frank Mamone is Back
Feb 22- Drag Illustrated to Hold $100,000-to-Win World Series of Pro Mod
Feb 17- Speedgroup Announces Title Sponsorship- EDRS European Drag Racing Series Becomes Summit Racing EDRS Series
Feb 08- 2016 TNT Super Series Champion- Jim Thomson
Feb 08- Dave Gunn- 2016 TNT Super Series Second Place
Feb 08- Harry Phelps- 2016 TNT Super Series Third Place
Feb 08- David Surmatchewski- 2016 TNT Super Series Fourth Place
Feb 08- JJ Jablonski- Jason Vitez- 2016 TNT Super Series Fifth Place
Feb 08- Carl's 4-Wheel Drive & Performance Center Named Presenting Sponsor of 2017 Gateway E.T.