Fri, 19 Oct 2012, 11:45 AM



Jones Wins NSD Fall Nostalgia Nationals



By Chris Graves


Photo copyright 2012 Max Cackle Photography





Clinches Outlaw Fuel Altered Championship In Final Round



DENTON, Texas --
Donnie Massey
The Painless Performance Outlaw Fuel Altered Association came into the North Star Dragway Fall Nostalgia Nationals with a points Championship on the line and a handful of teams in the running for the big year end payout from Painless Performance Products. Terry Brian came into the event holding an eight point lead over Jimmy Jones and Nick Poloson was just five points behind Jones. Just below them John Broussard, Donnie Massey, Bobby Marriott and Brad Rigler came into the event battling for position in the top five, at this, the final points event of the season.
Fifteen teams came out to battle in Denton, Texas for the bragging rights of winning the First Annual Fall Nostalgia Nationals including Donnie Massey and the "Showtime" nitro burner who had won the previous two OFAA events of the season. Massey and a tough field of entrants hoped to play spoiler for those contending for the Championship as the Outlaw Fuel Altereds were joined by the Texas Blown Fuel and Southwest Junior Fuel Associations to entertain the nostalgia drag racing fans in the house.
DoDad Burton and Donnie Massey started the show as the first pairing of the first qualifying session. Burton wheeled his "Free Spirit" machine to a nice 4.15 at 170 mph while Massey lifted early to a 4.55 at 111 mph. John Broussard and Brad Rigler were out next in a pair of heavy hitting blown alcohol machines as Broussard clicked off a 4.03 at 176 mph while Rigler was the first of the evening to dip into the threes with a 3.99 at 176 mph.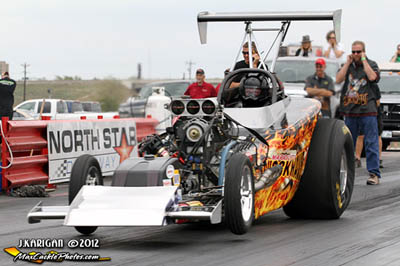 Bobby Marriott
Bobby Marriott posted a 3.97 at 188 mph in the "Shockwave" nitro burner next to Raymond Dawson's 4.31 at 164 mph in his "High Octane" machine. Terry Brian entered the session as the points leader and clicked off a 3.96 at 178 mph alongside Nick Poloson's 4.21 at 170 mph in the Tom Wood tuned "Sundown" altered. Mary Reep ripped off the quickest pass of the session and was the first of many to dip into the 3.80 zone with a 3.86 at 179 mph in the "Grim Reeper" machine from Austin, Texas.
Aaron Leyda's "Hemi Hunter" made the tow from Kansas and ran a 4.22 at 170 mph with Howard Farris at a 4.20 at 166 in the "War Wagon" in the opposing lane. Sean Belt and Jimmy Jones closed the session with Belt clicking off a 4.08 at 178 mph in the Iowa based "Nitro Madness" entry and Jones' "Texas Tremor" posted a 4.30 at 126 as the teams returned to the pit area to prepare for the final qualifying round.
Jones was last pair in the first session and first pair in this second session, this time along-side Bobby Marriott. This pairing turned out to be one of the wildest of the season as the "Shockwave" car of Marriott blew a slick around half track and Marriott had his hands full doing a masterful job behind the wheel to keep the car off the wall and in his own lane, actually making the turn off the track at the top end and climbing out on his own power uninjured in this bizarre incident. Unaware of what was happening in the other lane, Jimmy Jones clicked off a solid 4.01 at 153 mph.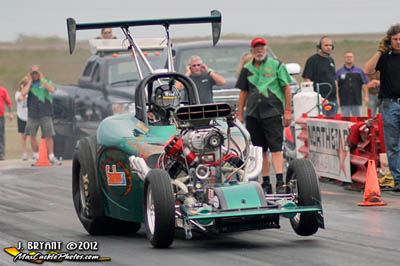 Nick Poloson
Mary Reep impressively stepped it up to a 3.84 at 183 mph in the "Grim Reeper" and Donnie Massey joined her in the 3.80 zone with a 3.86 at 188 mph. Aaron Leyda improved to a 4.20 at 170 mph as did Nick Poloson while Sean Belt also stepped up, posting a 4.04 at 181 mph. Leyda's 4.20 held on to claim the final qualifying position in the number twelve spot which earned him the Fuelish Habit "Final Cut" bonus. Howard Farris made the biggest news of the session in performance becoming the 18th driver to join the OFAA 3 Second Club with a 3.89 at 201 mph in the "War Wagon". That 201 mph blast also earned Farris the North Texas Napa Auto Parts "Top Speed" of the event bonus.
Raymond Dawson's "High Octane" and Jim Overly's "Fuelish Habit" came up just short of the quick twelve cut-off and Chris Trussell missed the show after suffering event ending engine damage on a test pass Friday night in the "Assassin" fuel altered. Jim Overly claimed the Lone Wolf Fabrication "Luck of the Draw DNQ" bonus and Raymond Dawson won the B&J Transmissions "Outside Looking In" bonus.

Final Qualifying Order: 
1) Brad Rigler (Heath, Texas) - 4.001 (3.998) @ 176
2) Jimmy Jones (Cleburne, Texas) - 4.01 @ 153
3) Bobby Marriott (Pilot Point, Texas) - 4.022 (3.977) @ 188
4) Terry Brian (New London, Texas) - 4.032 (3.967) @ 178
5) John Broussard (Lake Charles, Louisiana) - 4.034 @ 176
6) Sean Belt (Kansas City, Kansas) - 4.04 @ 181
7) Howard Farris (Tyler, Texas) - 4.102 (3.897) @ 181
8) Mary Reep (Austin, Texas)  - 4.130 (3.869) @ 179
9) Donnie Massey (Little Elm, Texas) - 4.135 (3.864) @ 188
10) DoDad Burton (Tyler, Texas) - 4.15 @ 170
11) Nick Poloson (San Antonio, Texas) - 4.204 @ 147
12) Aaron Leyda (Bartlesville, Oklahoma) - 4.206 @ 170
13) Raymond Dawson (Nevada, Texas) - 4.31 @ 164
14) Jim Overly (Oyster Creek, Texas) - 4.65 @ 121
15) Chris Trussell (Canton, Texas) - No Time (Broke)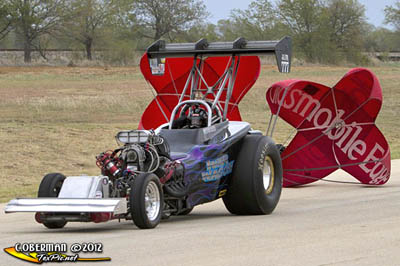 Howard Farris
The first pairing of eliminations featured a good match-up with DoDad Burton taking on the points leader Terry Brian. Brian needed to win this round to help ensure he stay atop the standings while Burton was running his best numbers of the season and hoped to play spoiler. Burton got a big starting line advantage and at half-track had a small lead and at the stripe Brian lit the win light with a 4.19 at 172 mph to Burton's 4.28 at 158 mph.
Next out, Donnie Massey crept into the stage beams in his flame throwing nitro burner along-side Aaron Leyda. Leyda got the jump off the line but soon lost traction and had his hands full keeping the "Hemi Hunter" off the wall while Massey clicked off a clean and straight 4.01 at 181 mph to take the win.
Mary Reep was out next facing off with Raymond Dawson who was inserted into the field for Bobby Marriott whose car was damaged beyond repair in qualifying. Dawson took the upset win in this one when Reep went red on the tree by -.011 and threw away a 3.88 at 171 mph to Dawson's 4.35 at 164 mph.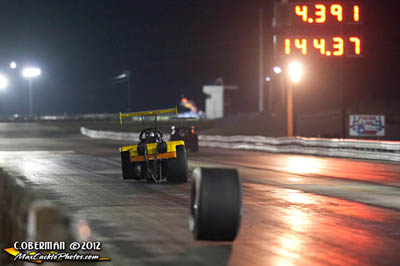 Brad Rigler
Nick Poloson was out next facing off with John Broussard. Poloson had a chance here to keep up with Terry Brian with a round win and if it was quick enough, possibly gain on Brian and Jones keeping the "Sundown" team in the hunt. Broussard's "Purple Haze" entry had a transmission fluid leak on the burnout and Poloson was blessed with a single after Broussard had to shut-off on the line. Poloson clicked off his best pass of the night with a stout 3.98 at 177 mph to take the win but in doing so encountered an oil return line failure and oiled down the track from start to finish.
After the clean-up, Jimmy Jones and Howard Farris crept into the beams as Jones was facing a must win situation after watching both Terry Brian and Nick Poloson earn round wins. Incredibly, Howard Farris blasted to the second quickest pass of the OFAA season with a 3.83 at 189 mph and lost to Jimmy Jones' 4.03 at 180 mph. Farris' .408 reaction time allowed Jones to hold him off at the stripe as Jones took the must win into the semi-finals.
One pair had been sitting in the lanes watching this ensue, both drivers looking to play spoiler as Sean Belt and Brad Rigler were out next to close the first round of eliminations. Rigler was -.330 red on the tree giving Belt the win, Belt was on a lap before popping the burst panel and coasting to a 4.39 at 144 mph. Meanwhile, in the other lane, Brad Rigler had his hands full as a wheel broke from the car and exited sending Rigler to a rolling stop on three wheels. Rigler did a great job behind the wheel and climbed out un-injured in this incident.

First Round Results: 
(W) Terry Brian (.103 rt) 4.19 @ 172 mph vs. (L) DoDad Burton (.040 rt) 4.28 @ 158 mph
(W) Donnie Massey (.098 rt) 4.01 @ 181 mph vs. (L) Aaron Leyda (.065 rt) 5.26 @ 90 mph
(W) Raymond Dawson (.-0006 rt) 4.35 @ 164 mph vs. (L) Mary Reep (-.011 rt) 3.88 @ 171 mph
(W) Nick Poloson (.068 rt) 3.98 @ 177 mph vs. (L) John Broussard (No Time - Broke)
(W) Jimmy Jones (.072 rt) 4.03 @ 180 mph vs. (L) Howard Farris (.408 rt) 3.83 @ 189 mph
(W) Sean Belt (.017 rt) 4.39 @ 144 mph vs. (L) Brad Rigler (-.330 rt) 9.06 @ 35 mph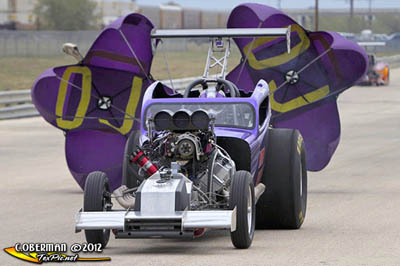 Sean Belt
In the semi-finals, Terry Brian and Donnie Massey fired up their machines and shortly after Massey noticed his transmission was acting up and wisely shut-off later to discover an airline had come un-plugged. Brian was blessed with a crucial semi-final bye and he posted a 4.04 at 172 mph to advance to the final and protect his points lead, for now.
Jimmy Jones and Nick Polson were up next, Poloson could end Jones' title run with a win here as the two cars crept into the stage beams. Poloson took a very slight advantage off the starting line and the cars were dead even to the 330' before Poloson lost a blower belt and had the best seat in the house to watch Jones win the semi-final with his best pass of the night, a stellar 3.89 at 186 mph.
Semi-Final Results:
(W) Terry Brian (.236 rt) 4.04 @ 172 mph vs. (L) Donnie Massey (No Time - Shutoff)
(W) Jimmy Jones (.056 rt) 3.89 @ 186 mph vs. (L) Nick Poloson (.051 rt) 4.26 @ 132 mph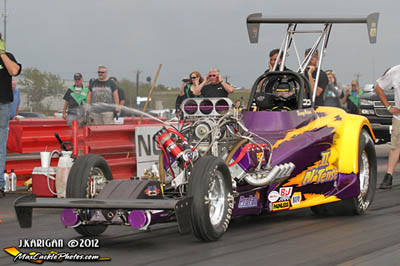 Terry Brian
If the action wasn't enough already, this next round will really send your nerves to the limit. Terry Brian and Jimmy Jones came into the final round within a round of each other in points, so this race was not only for the event win, but it would determine the 2012 Painless Performance Products Outlaw Fuel Altered Champion.
Every fan, racer, crew member and track employee was on the fence for this one as the call went out to fire them up for the final OFAA competition round of the season. After their burnouts the "II N'Tense" machine of Terry Brian and the "Texas Tremor" machine of Jimmy Jones crept into the beams. The drivers brought up the RPM's on their screaming blown alcohol Hemi powerplants and at the flash of amber they were off!
Jones was off the line with a staggering .001 reaction time (which earned him the Good Vibrations "Quick Reaction Time" Bonus) and had the lead as the cars reached the 330' foot cone. By half-track, Terry Brian's car was on fire kicking the head gasket out of the left side of the engine but was wide open doing all he could to keep up with Jones. Jones was moving to the center and had his hands full as the car went from the center back to the right lane guardrail and as he crossed the finish line the score boards lit up with the win light followed by a shower of sparks as the headers dragged along the guardrail.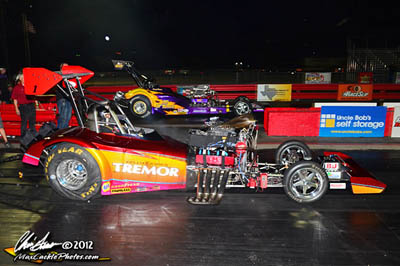 Jones defeated Brian in the final.
After investigation of the car and track, the North Star Dragway and OFAA staff determined Jones had hit the wall past the finish line and the run was legal, earning Jones the win at the First Annual Fall Nostalgia Nationals and the 2012 Painless Performance Products Outlaw Fuel Altered Championship. His 4.06 at 151 mph got the win light over Brian's 4.49 at 130 mph in what very well may be the most spectacular final round in OFAA history.
Final Round Results:
(W) Jimmy Jones (.001 rt) 4.06 @ 151 mph vs. (L) Terry Brian (.045 rt) 4.49 @ 130 mph
"I want to give thanks to my partner Paul Kelley and my crew John Jett, John Morris, Wesley Ice, Gary Greer, Joey McCrory and especially to my wonderful wife Glenda. Many thanks also goes out to Painless Performance Products and all the associate sponsors of the Outlaw Fuel Altered series. Bobby and Nancy Marriott are the ones who deserve the most credit for making all this happen. They supply us with a great playground and racing with these people is more fun than you can imagine. We surely used up all the racing luck we could have ever had this year and we somehow came out on top. Terry Brian and his team ran fast and consistent all year and the competition in this series is second to none. It won't be easy, but we will be back next year ready to defend the title. Thanks again to everyone who helps us with our racecar and to all the sponsors, fans and tracks who support the Outlaw Fuel Altered Association," said Jones.
Jones and team celebrate Championship.
With their final round appearances, Jimmy Jones and Terry Brian won the Wizard's Warehouse "Winner & Runner Up" bonuses as well as the North Texas Diesel "Winner & Runner Up" bonus. Nick Poloson was awarded the Competition Sales of Dallas "Luck of the Draw" bonus at Denton. The Outlaw Fuel Altered Association would like to thank the following sponsors for their support in the 2012 racing season: Painless Performance Products, Good Vibrations Racing, North Texas Napa Auto Parts stores, B&J Transmissions, Competition Sales of Dallas, Wizard's Warehouse, Lone Wolf Fabrication, Fuelish Habit Racing, North Texas Diesel, Joe Monden Racecars, A&A Specialties, Texas Diesel Power, Littlefield Blowers, Taylor Motorsports Products and Robert Reehl Equipment.
It was yet another Championship battle that came down to the late rounds of the final race of the season proving again how close the competition is in the OFAA series. Twenty three teams earned points in the 2012 racing season and the series six different number one qualifiers and four different winners in the seven completed races this season. We'd like to wish all our fans, tracks, teams and staff a relaxing yet productive off season as we will be back in action and ready for another exciting year of racing in 2013, our seventeenth consecutive year entertaining the drag racing fans of the southwest.




Drag News: 10 Most Recent Entries [ top ]

Feb 22- ANDRA Top Alcohol Champ John Cannuli Looking at Back-To-Back Championships
Feb 22- Frank Mamone is Back
Feb 22- Drag Illustrated to Hold $100,000-to-Win World Series of Pro Mod
Feb 17- Speedgroup Announces Title Sponsorship- EDRS European Drag Racing Series Becomes Summit Racing EDRS Series
Feb 08- 2016 TNT Super Series Champion- Jim Thomson
Feb 08- Dave Gunn- 2016 TNT Super Series Second Place
Feb 08- Harry Phelps- 2016 TNT Super Series Third Place
Feb 08- David Surmatchewski- 2016 TNT Super Series Fourth Place
Feb 08- JJ Jablonski- Jason Vitez- 2016 TNT Super Series Fifth Place
Feb 08- Carl's 4-Wheel Drive & Performance Center Named Presenting Sponsor of 2017 Gateway E.T.