Thu, 04 Oct 2012, 16:40 PM



Doll, Oliver Win the Battle, Cambria Wins the War at MASCA Finale



Courtesy of Rob Keister



ATCO, N.J. --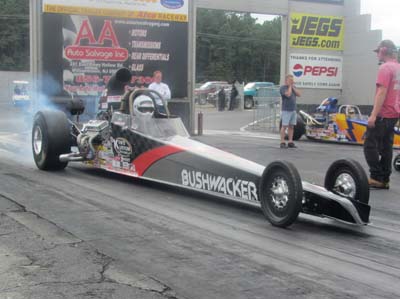 Joey Cambria
Past NHRA Division 1 Champion Doug Doll Jr. returned to his winning ways over the weekend at race #7 of the 2012 Mid Atlantic Super Comp Racing Series. Doll, who now hails from Plainsboro, NJ, took his 2009 Lightning Dragster to victory over a tough field of 8.90 Competitors.
Don Butkiewicz led the 35 car field into competition with a perfect 8.900. Doll started off his day with a victory over the ever tough Scott Albrecht, Tom Slater in the 2nd, Matt Eitel in the 3rd and Marty Jones Jr. in the 4th round to earn a bye-run into the final round. On the other side of the ladder was Kathy Smulligan and her 99 Cressman Dragster. Smulligan out of Coopersburg, Pa took down Dave Layne in the 1st round, Tom Boyle in the 2nd, Bill Hardifer in the 3rd, received a bye-run in the 4th round and finally took down #2 qualifier Dorr in the semis. In the final round Doll was ready to celebrate with birthday in style with a perfect reaction time (.000) against Smulligan as he padded that lead at the starting line all the way down the strip with an 8.92 to 8.92 victory.
On Sunday 34 cars took a shot at becoming the final winner of the 2012 season. Bill Hardifer claimed the #1 qualifying spot with an 8.902. Newcomer Tom Oliver out of Manchester, NJ was attending his first ever MASCA event and he proved to be a force by day's end. Oliver took down a fouling Don Bangs and Albrecht, strapped a 10 thousandth package on past world champ Dan Northrop in the 3rd and then disposed of Michele Costa in the 4th and Mark Kelly in the Semi-Finals. On the other side of the ladder was #1 qualifier Bill Hardifer out of Shamong, NJ. Driving his 89 S&W Digger, Hardifer got past Dick Dorr in the opening round, a bye-run in the 2nd, Don Butkiewicz in the 3rd and Kyle Koretsky in the 4th to earn yet another single into the finals against Oliver. With neither driver ever being in a MASCA final before it would assure us of our 8th different winner this season. At the flash Hardifer took a huge advantage at the tree (.022 to .089) but, couldn't turn that advantage into a victory as he broke out with an 8.891 to Oliver's winning 8.914.
As the MASCA season came to a close so did the season ending point's championship. With his 4th round finish on Saturday Joey Cambria officially clinched the 2012 Championship by 1 point over Don Butkiewicz. Following the top 2 were Ken Moses, Doug Doll Jr. & Tom Dauber. Thank you all for a great MASCA season and I hope to see many more guys and gals come join MASCA for the 2013 season. We will be expanding to 10 events and running along side of the Mid Atlantic Super Gas & Super Street Series for next year. For more info contact Rob




Drag News: 10 Most Recent Entries [ top ]

Feb 22- ANDRA Top Alcohol Champ John Cannuli Looking at Back-To-Back Championships
Feb 22- Frank Mamone is Back
Feb 22- Drag Illustrated to Hold $100,000-to-Win World Series of Pro Mod
Feb 17- Speedgroup Announces Title Sponsorship- EDRS European Drag Racing Series Becomes Summit Racing EDRS Series
Feb 08- 2016 TNT Super Series Champion- Jim Thomson
Feb 08- Dave Gunn- 2016 TNT Super Series Second Place
Feb 08- Harry Phelps- 2016 TNT Super Series Third Place
Feb 08- David Surmatchewski- 2016 TNT Super Series Fourth Place
Feb 08- JJ Jablonski- Jason Vitez- 2016 TNT Super Series Fifth Place
Feb 08- Carl's 4-Wheel Drive & Performance Center Named Presenting Sponsor of 2017 Gateway E.T.