Wed, 20 Jun 2012, 10:49 AM



Worner's Dominate 2nd annual Combo in the Hills Event



Courtesy of Rob Keister


Photos from Dave Bishop Photos





NUMIDA, Pa. --
Byron & Bryan Worner from nearby Duncannon, Pa took no prisoners at the 2nd annual Combo in the Hills Stock / Super Stock Event held at Numidia, Pa. On Friday evening Bryan Worner defeated Angelo Di Tocco from Mahopac, NY in the special CIC Event held under the lights in front of a huge crowd at Numidia Dragway. As in most CIC Races it's not always the fastest car that wins the race as Bryan qualified #7 out of 11 cars but, used quick reaction times and smart driving to claim the victory 9.77 (10.66 index) over DiTocco's 9.90 (10.59 index).
The Worner Brothers.
On Saturday the other Worner brother Byron decided it was his turn to shine as he drove his 1996 Camaro to victory over Jeff Tripp's 1984 Monte Carlo. Worner started out his day with victories over Dean Mowery, Bruce Ward, and a fouling Bill Belden and finally put down a .13 thousandth package with a victory over Lee Valentine to receive a Bye-Run into the finals. Tripp on the other hand took his trusty National Event winning Monte Carlo to the finals with victories over Di Tocco, dashed Bryan Worners Chances of doubling up in the 2nd round, then took down local favorites Ed & Ryan Horensky in the 3rd & 4th Round and finally beat a broken Lee Zane in the Semi's to match up with Byron Worning in the finals.
Byron Worner vs. Jeff Tripp
In the finals both drivers were deadly at the tree as Byron was .004 to Tripp's .007 but, Tripp's car lost some steam at mid-track and could only muster a 9.093 on his 9.04 dial in handing the win to Byron who ran a 10.026 on his 10.00 dial-in. Byron joins Canadian Bryan Clayton as winners of the Combo in the Hills event and look for more info in the next coming months regarding the 3rd annual event.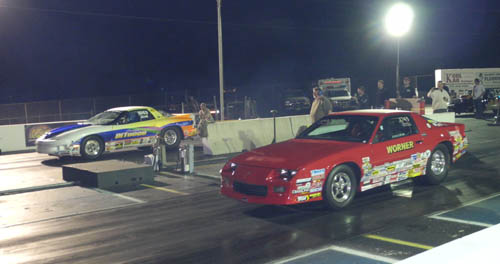 Bryan Worner vs. Angelo Di Tocco in the CIC Event.
Comp Cams Top 32 Shootout (Friday Night)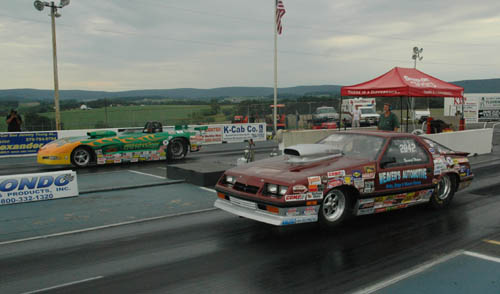 Bernard Weaver vs. Iggie Boicesco
Super Gas:
W: Iggie Boicesco - Warminster, Pa
RU: Bernard Weaver - Madison, Va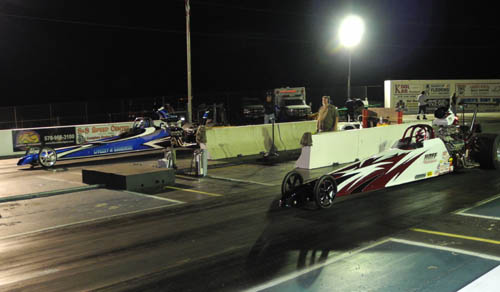 Jason Hoff vs. Jeff Livezey Jr.
Super Comp:
W: Jeff Livezey Jr - Philadelphia, Pa
RU: Jason Hoff - Littlestown , Pa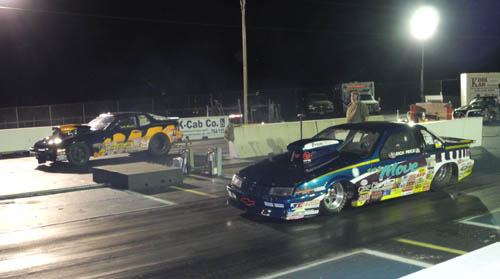 Rich Price vs. Keith Mayers
Super Street:
W: Rich Price - Royersford, Pa
RU: Keith Mayers - Fruitland, Md




Drag News: 10 Most Recent Entries [ top ]

May 22- NEW ENGLAND NO - Top Bike Final, Round 4 Eliminations
May 22- NEW ENGLAND NO - Super Stock Final, Round 5 Eliminations
May 22- NEW ENGLAND NO - Top Dragster Final, Round 4 Eliminations
May 22- NEW ENGLAND NO - Super Street Final, Round 5 Eliminations
May 22- NEW ENGLAND NO - Super Comp Final, Round 5 Eliminations
May 22- NEW ENGLAND NO - Top Sportsman Final, Round 4 Eliminations
May 22- NEW ENGLAND NO - American Muscle Final, Round 1 Eliminations
May 22- NEW ENGLAND NO - Stock Eliminator Final, Round 6 Eliminations
May 22- NEW ENGLAND NO - Top Dragster Round 3 Eliminations
May 22- NEW ENGLAND NO - Top Bike Round 3 Eliminations



Copyright ©2013 AUTOSALES INC, dba Summit Racing Equipment
Ready to take your order at 1-800-230-3030 | Customer Service 1-800-517-1035