Wed, 20 Jun 2012, 08:03 AM



Chad Head Will Bring New Found Love to Maple Grove's 50th Spectacular



Courtesy of Evan Jones



MOHNTON, Pa. -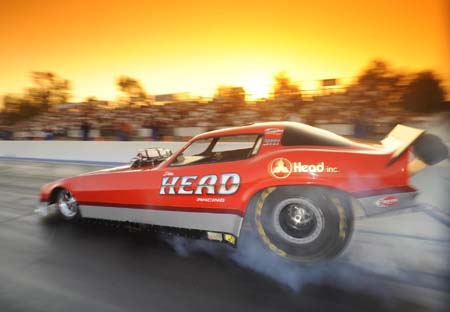 Chad Head
Chad Head has been around drag racing for just about his entire life.
His father, Jim, has been competing for decades and still runs a fuel Funny Car in the NHRA Full Throttle Series. When he was a child, Chad would go on tour with his father and was a regular visitor to Maple Grove Raceway "back in the day."
"Maple Grove is one of the coolest places we go to and it has a lot of character," Chad Head said.
These days, Chad serves as director of racing operations for Alan Johnson and the Al-Anabi Racing team. However, he's also following his dad's driving legacy.
Sort of.
Head will be behind the wheel of nostalgia Firebird Funny Car and will take part in the Auto-Plus Cavalcade of Funny Cars during Maple Grove's 50th Anniversary Spectacular on Saturday, June 23. He will be part of an eight-car nitro field that includes Dale Pulde's War Eagle, Raymond Beadle's Blue Max and Peter Gallen's Poverty Stricken. Eight alcohol Funny Cars will also race.
Spectator gates open at noon. The main event begins with prerace ceremonies at 6 p.m. with racing at 7.
Before taking the wheel of the Funny Car, Head had very limited experience as a racer. He tested a Super Comp dragster for Mike Coughlin back in the late 1990s and also took some practice runs in another Super Comp car in Qatar more recently.
"I was just going out and having fun," Head said. "It was something to try and do having been around the sport and never being in a car."
After some urging from the Bader family, owners of Summit Motorsports Park in Norwalk, Ohio, Jim Head got together with Del Worsham to build the "new" Funny Car. Jim joked at the time that Chad would be the driver.
"It's a new thing, but not a career thing," Chad said. "Dad decided to build the car, but with no intention for me to drive it. He did joke that 'Chad can drive it.' Del and I took that seriously and (Jim) didn't realize that right away. It turned into a good time."
Chad was licensed to drive it after testing at Bakersfield, Calif., in the fall and competed for the first time at the California Hot Rod Reunion in October, qualifying for eliminations. Not bad for the first time out.
The second time out was the charm. At the Bakersfield March Meet, Head notched his first career victory, though it came after initial winner Tom Boychuk was disqualified after NHRA officials found an illegal fuel pump.
That notoriety earned an invite back to The Grove.
"We won March meet by default and after that (MGR vice president/general manager) Lex Dudas called my father," Head said. "We match raced at Reading when I was a kid, so going back there in a replica car is pretty awesome. The coolest thing is my dad's No. 1 guy (crew chief) John Davis is still with him and this will be a neat thing to do with both of them."
One good thing to come out of piloting the Funny Car has been Head's new appreciation of what the drivers at Al-Anabi Racing go through.
"Getting in that nostalgia Funny Car was an eye-opening experience," Head said. "The acceleration and horsepower doesn't compare to my dad's car, but it gives you a different perspective to the sport. It helps you relate better to drivers and in my current position, when I talk with the guys, I can kind of relate to them now."
In his fourth season at Al-Anabi, Head is happy in his position, but wouldn't rule out a chance to drive full time if the timing is right.
"Obviously this has given me an opportunity, but I have such a great job with Al-Anabi," Head said, "but you never know. If the timing is right, I'd give it a shot."
For more information on the 50th Anniversary Spectacular, contact Maple Grove Raceway at (610) 856-9200 or visit www.maplegroveraceway.com.




Drag News: 10 Most Recent Entries [ top ]

May 22- NEW ENGLAND NO - Top Bike Final, Round 4 Eliminations
May 22- NEW ENGLAND NO - Super Stock Final, Round 5 Eliminations
May 22- NEW ENGLAND NO - Top Dragster Final, Round 4 Eliminations
May 22- NEW ENGLAND NO - Super Street Final, Round 5 Eliminations
May 22- NEW ENGLAND NO - Super Comp Final, Round 5 Eliminations
May 22- NEW ENGLAND NO - Top Sportsman Final, Round 4 Eliminations
May 22- NEW ENGLAND NO - American Muscle Final, Round 1 Eliminations
May 22- NEW ENGLAND NO - Stock Eliminator Final, Round 6 Eliminations
May 22- NEW ENGLAND NO - Top Dragster Round 3 Eliminations
May 22- NEW ENGLAND NO - Top Bike Round 3 Eliminations



Copyright ©2013 AUTOSALES INC, dba Summit Racing Equipment
Ready to take your order at 1-800-230-3030 | Customer Service 1-800-517-1035