Sun, 20 May 2012, 11:22 AM



Bob Maclosky Wins Saturday



Courtesy of John DiBartolomeo


Photo copyright 2012 John DiBartolomeo





BRISTOL, Tenn. --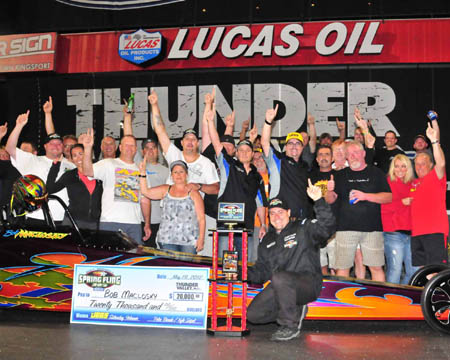 Bob Maclosky
A late night on Friday at the K&N Spring Fling 20s presented by Sparco saw the finals completed at 12:45 in the wee hours of Saturday morning. In addition to Marty Dabney's win in the Nitroplate Friday 20-grander, Dustin Dodgen defeated John Labbous Jr. in the McCarty Auto Parts Door Car Shootout. Wesley Washington then defeated red-hot Cameron Manuel in the American Race Cars/Racetech Dragster Shootout with both final round competitors winning a dragster of their choice.
But the JEGS Saturday main event hosted an almost unbelievable 459 cars with 124 of them being door cars. Starting at 9:00 in the morning with one time shot for all competitors, final eliminations didn't start until 2:00 in the afternoon.
Prior to eliminations, the Spring Fling $20,000 Challenge took place with 20 names randomly selected from their Tech Cards. Each driver was then afforded one shot at the Christmas tree. Anyone of them with a double-zero reaction time would receive $100 cash. A perfect triple-zero reaction time would earn the person a cool $1,000. At the end of the session, seven drivers who scored a double-zero reaction time left the time slip booth with a one hundred dollar bill in addition to their time slip. There were lots of near perfect reaction times but no one walked away with the $1,000.
With elimination taking place, the infamous Sparco-sponsored Racer Appreciation Barbeque fed the masses with Chef Anthony (Bertozzi) and crew which included crew chief extraordinaire "Rod Nuts" and NHRA champion Jimmy DeFrank from the left coast doing the cooking. Great food, a live DJ, dancing and karaoke went well into the night which included some great product give-aways.
Back to the racing though, as with the 459 car field whittled down to four, former Spring Fling winner Kevin Brannon from Boiling Springs, South Carolina, faced Brian Jones from Cookesville, Tennessee. Jones left the starting line with the dial-in advantage but with a .025 reaction time to Brannon's .019. At the finish line though, it was Brannon taking a little too much stripe, running under his dial-in and handing the win to Jones.
Bob Maclosky from Jackson, New Jersey had gotten down to seven cars the night before. This time at four cars he faced Three Rivers, Texas' Peeps Pennington. Pennington got the dial-in advantage and turned on the red bulb only three-thousandths of a second too early. Maclosky dodged a bullet as he was a little late with a .050 reaction time, but it's better to be lucky than good.
The final was set and it lived up to a great driver's race with both drivers leaving the starting line with double-zero reaction times. At the finish line, Jones ran under his dial to hand the win to Maclosky who posed the question during winner's circle celebrations, "Who wants to drive my car tomorrow, because with all the celebrating, I don't think I'm going to make it."




Drag News: 10 Most Recent Entries [ top ]

Feb 22- ANDRA Top Alcohol Champ John Cannuli Looking at Back-To-Back Championships
Feb 22- Frank Mamone is Back
Feb 22- Drag Illustrated to Hold $100,000-to-Win World Series of Pro Mod
Feb 17- Speedgroup Announces Title Sponsorship- EDRS European Drag Racing Series Becomes Summit Racing EDRS Series
Feb 08- 2016 TNT Super Series Champion- Jim Thomson
Feb 08- Dave Gunn- 2016 TNT Super Series Second Place
Feb 08- Harry Phelps- 2016 TNT Super Series Third Place
Feb 08- David Surmatchewski- 2016 TNT Super Series Fourth Place
Feb 08- JJ Jablonski- Jason Vitez- 2016 TNT Super Series Fifth Place
Feb 08- Carl's 4-Wheel Drive & Performance Center Named Presenting Sponsor of 2017 Gateway E.T.