Wed, 02 May 2012, 10:58 AM



More Jet Action Added to Jam-packed Mardi Gras Nitro Jam



Courtesy of IHRA Communications



Largest variety of race machines anywhere in country coming to Baton Rouge



BATON ROUGE, La. (April 19, 2012) -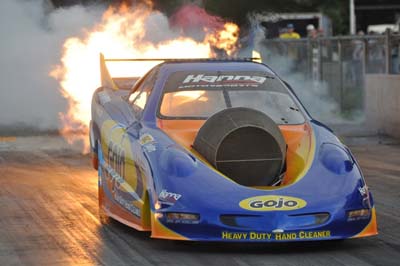 The largest variety of race machines anywhere
in the country is coming to Baton Rouge May 4-5.
If you like the ground-pounding, edge-of-your seat excitement and thrilling fire show of a jet-powered vehicle then you are in luck.
Because the third Nitro Jam event of the 2012 season in Baton Rouge just got a whole lot more explosive.
The Mardi Gras Nitro Jam presented by Domino's Pizza (May 4-5) at State Capitol Raceway recently added a slew of new acts to the show to go along with the biggest nitro spectacle available anywhere in the country making for two events race fans and newcomers alike can't miss.
The Mardi Gras Nitro Jam weekend will be rocking with nearly half a dozen jet-powered vehicles, wheelstanders, monster trucks and more. The Mardi Gras Nitro Jam presented by Domino's Pizza will feature a pair of jet dragsters, the 30,000 horsepower Super Shockwave jet truck and just recently added the Hanna Jet Funny Cars "First Strike" and "Top Secret" in a side-by-side 300 mph showdown.
Also in competition at the Mardi Gras Nitro Jam will be the Chevy Rebellion wheelstander and the much-anticipated State Capitol Raceway debut of the world's only monster truck drag race between Grave Digger driven by former Monster Jam world champion Randy Brown and Teenage Mutant Ninja Turtle driven by Joey Parnell.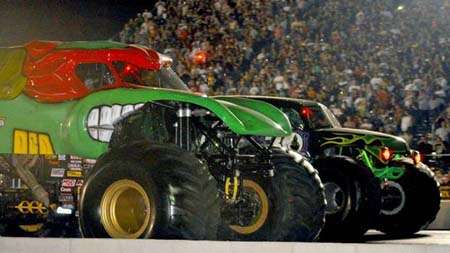 For the first time in Louisiana history
Grave Digger will drag race Teenage Mutant Ninja Turtle.
In addition to all the thrilling exhibition action, the Mardi Gras Nitro Jam will also feature four nitro classes including Pro Fuel Dragsters, AMSOIL Prostalgia™ Nitro Funny Cars, Nitro Harleys and Fuel Altereds and even Pro Mods giving the Louisiana event, the most unique lineup of racing vehicles found anywhere on earth.
Adult tickets are only $20 if purchased in advance and fans can also save $5 on kids tickets at participating local Domino's Pizza locations. And, as always, pit passes and entry to the FanFest Pit Party is free with admission.
Don't miss the Mardi Gras Nitro Jam presented by Domino's Pizza May 4-5 at State Capitol Raceway! For ticket information, visit www.nitrojam.com.




IHRA: 10 Most Recent Entries [ top ]

May 09- Dallas Raceway Summit Pro-Am Rescheduled to July 12-14
May 09- IHRA Summit Super Series @ San Antonio Raceway, 5/4/13
May 07- Dallas Raceway Closes, Summit Pro-Am Event to be Moved to New Location
May 05- SREPA 9-2 - Eliminations Postponed
May 05- SREPA 9-2 - Rain Interrupts Sunday Racing
May 05- SREPA 9-2 - Stock Eliminator Round 3 Eliminations
May 05- SREPA 9-2 - Hot Rod Round 3 Eliminations
May 05- SREPA 9-2 - Top Sportsman Round 2 Eliminations
May 05- SREPA 9-2 - Top Dragster Round 2 Eliminations
May 05- SREPA 9-2 - Super Stock Round 2 Eliminations



Copyright ©2013 AUTOSALES INC, dba Summit Racing Equipment
Ready to take your order at 1-800-230-3030 | Customer Service 1-800-517-1035