Tue, 01 May 2012, 16:04 PM



High Point's Mihalcik Wins UTI High School Challenge



Courtesy of Evan Jones



MOHNTON, Pa. --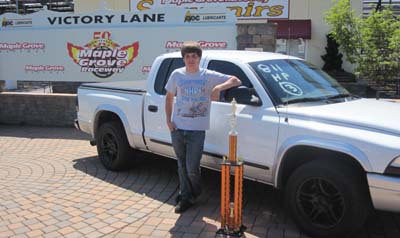 Bobby Mihalcik of Bechtelsville, Pa.,
a senior at High Point Baptist Academy,
is the 2012 Universal Technical
Institute High School Challenge champion.
The Universal Technical Institute High School Challenge allows young drivers and mechanics a chance to show their stuff annually at Maple Grove Raceway.
It doesn't matter if you come a small private school or a large public one, everyone gets their chance to race down The Grove's quartermile.
In fact it was a young racer from High Point Baptist Academy in Geigertown, Berks County, who came through with the individual championship. Bobby Mihalcik drive his Dakota pickup truck to PPC Lubricants Victory Lane.
Runner-up Taylor Potter from Spring-Ford High School of Royersford, Pa., helped lead the Rams to the team championship as they finished well ahead of runner-up Gov. Mifflin.
Mihalcik (Bechtelsville, Pa.) won with a run of 15.741 seconds at 82.81 mph that was just .01 over his dial-in. Potter, in a '95 Toyota pickup, went 21.538 at 61.72. He also received a $500 scholarship from Black Horse Auto Body of Plymouth Meeting, Pa., for further education or military service.
In the UTI race, made up of students and faculty from the school in Exton, Pa., Padraic Beanan (Malvern, Pa.) took his '05 Chevy 2500HD to the win light with a pass of 14.907 at 90.71. He was assured of the win when runner-up John Staas (Gloucester City, N.J.) went 13.933 at 95.16 that was ..01 under his dial-in.
Rashad Wilson (Westhampton, N.J.) took the Alumni race over Maple Grove regular Nathan Beideman (Parkesburg, Pa.). Wilson, who was coming off a win in the Honda race at Atco, N.J., stayed hot in his '88 CRX with a pass of 14.482 at 92.58 that bettered Beideman's 17.007 at 81.33.
Racing returns to Maple Grove Friday and Saturday with the American Drag Racing League's Northeast Drags II presented by Penske. The race features the world's fastest Pro Mod cars.
Results UTI High School Challenge
Alumni: Rashad Wilson, '88 CRX, .009 reaction time, 14.482 seconds, 92.58 mph def. Nathan Beideman, '98 Honda, .043, 17.007, 81.33.
High School: Bobby Mihalcik, Dakota, .174, 15.741, 82.81 def. Taylor Potter, '95 Toyota pickup, .103, 21.538, 61.72.
UTI: Padraic Beanan, '05 Chevy 2500HD, .299, 14.907, 90.71 def. John Staas, '88 Explorer, ..439, 13.933, 95.15.




Drag News: 10 Most Recent Entries [ top ]

May 22- NEW ENGLAND NO - Top Bike Final, Round 4 Eliminations
May 22- NEW ENGLAND NO - Super Stock Final, Round 5 Eliminations
May 22- NEW ENGLAND NO - Top Dragster Final, Round 4 Eliminations
May 22- NEW ENGLAND NO - Super Street Final, Round 5 Eliminations
May 22- NEW ENGLAND NO - Super Comp Final, Round 5 Eliminations
May 22- NEW ENGLAND NO - Top Sportsman Final, Round 4 Eliminations
May 22- NEW ENGLAND NO - American Muscle Final, Round 1 Eliminations
May 22- NEW ENGLAND NO - Stock Eliminator Final, Round 6 Eliminations
May 22- NEW ENGLAND NO - Top Dragster Round 3 Eliminations
May 22- NEW ENGLAND NO - Top Bike Round 3 Eliminations



Copyright ©2013 AUTOSALES INC, dba Summit Racing Equipment
Ready to take your order at 1-800-230-3030 | Customer Service 1-800-517-1035