Mon, 23 Apr 2012, 21:53 PM



Dan Walleigh Wins Spring Footbrake Nationals



Courtesy of Evan Jones



MOHNTON, Pa. -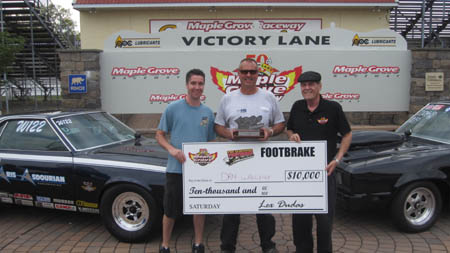 Presenting Spring Footbrake Nationals winner Dan Walleigh, center,
with his trophy and $10,000 first prize are race organizer Andy Anderson, left,
and Maple Grove vice president/general manager Lex Dudas, right.
Reading's Walleigh wins $10,000 on 'test' run
The 1970 AMX had only been in Dan Walleigh's possession for only a few weeks when he brought it Maple Grove Raceway on Saturday to compete in the Spring Footbrake Nationals.
Is there a better way to shake down a new ride? Not only did the Reading, Pa., resident get his car in shape for the season, he became $10,000 richer while doing it.
Taking advantage of some itchy trigger fingers on his opponents in the final rounds, Walleigh won the first annual race as his car was able to complete the quarter-mile consistently with a time of just over 11 seconds.
There were a total of 171 entries for the inaugural race, which was formed to complement the fall Footbrake Nationals, which have been run at Maple Grove for several years. The race featured door cars that run 9.00 seconds and slower and drew competitors from as far away as Michigan.
Despite the threat of rain toward the end of the afternoon, The Grove's crew kept the race running smoothly.
A second $10,000 Footbrake race for the weekend was scheduled for Sunday, but a rainy weather forecast forced Maple Grove management to cancel it.
Walleigh had his first break in the quarterfinals against Kenneth Dick (Bowie, Md.). Walleigh completed the run in 11.246 seconds at 107.79 mph, but Dick was just .003 seconds too quick off the starting line and drew the red light.
Also advancing to the semifinals were Joe Wetzel (Blue Ridge Summit, Pa.), Paul Werner (Sinking Spring, Pa.) and Ed Talbert (Woodbine, Md.).
In the semis, Walleigh faced Talbert and his opponent fouled by just .010 seconds. Walleigh completed the run in 11.327 at 104.54. Wetzel, a regular at Quarter Aces Dragway near Carlisle, Pa., beat local favorite Werner with a pass of 10.215 at 120.55.
Moving to the final, Walleigh's patience worked once again as he ran 11.248 at 115.78 while Wetzel was .023 seconds in the red.
Racing returns next weekend with a test and tune on Saturday, April 28 and the Universal Technical Institute High School Challenge on Sunday, April 29.
For more information, contact Maple Grove Raceway at (610) 856-9200 or visit www.maplegroveraceway.com.
Results
Spring Footbrake Nationals at Maple Grove Raceway

Final:
Dan Walleigh, '70 AMX, .041 reaction time, 11.248 seconds, 115.78 mph; def. Joe Wetzel, '78 Fairmont, foul -.023, 16.614, 64.13.




Drag News: 10 Most Recent Entries [ top ]

Feb 22- ANDRA Top Alcohol Champ John Cannuli Looking at Back-To-Back Championships
Feb 22- Frank Mamone is Back
Feb 22- Drag Illustrated to Hold $100,000-to-Win World Series of Pro Mod
Feb 17- Speedgroup Announces Title Sponsorship- EDRS European Drag Racing Series Becomes Summit Racing EDRS Series
Feb 08- 2016 TNT Super Series Champion- Jim Thomson
Feb 08- Dave Gunn- 2016 TNT Super Series Second Place
Feb 08- Harry Phelps- 2016 TNT Super Series Third Place
Feb 08- David Surmatchewski- 2016 TNT Super Series Fourth Place
Feb 08- JJ Jablonski- Jason Vitez- 2016 TNT Super Series Fifth Place
Feb 08- Carl's 4-Wheel Drive & Performance Center Named Presenting Sponsor of 2017 Gateway E.T.