Tue, 10 Apr 2012, 09:39 AM



Dave Vandereyken Set for PBSS Drag Racing with his Suzuki



Courtesy of Tim Miller


Photo Credit: Mike Goodwin and Dave Erauw Photography





Pro Bike Rider Ready to Ride After Broken Leg Healed During Off-Season



ACTON, ONTARIO --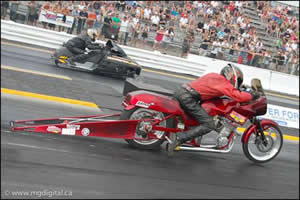 Dave Vandereyken
Now with his broken leg fully-healed, Dave Vandereyken will be ready for the opener of the Pro Bike & Sled Series presented by Wiseco Performance Products for a full season of drag racing action.
We're ready to go, said the Pro Bike rider. I broke my leg late last year but it's fully healed. I've got the motor freshened up and we're all set.
Vandereyken rides a 1982 Suzuki GS1100E which is powered by a 1540-cc engine, propelling him down the quarter-mile in 8.5 seconds at 160 mph speeds. He qualified for five of the six PBSS events in 2011, sitting out the final with his broken leg. His best showing last year was a semi-final in the series' first event.
The chassis on the Suzuki is basically stock, and uses a five-speed gearbox and incorporates a Slider carburetor fuel system.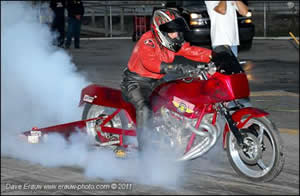 Dave Vandereyken
While Vandereyken does the riding, Louise Reid is the team's crew chief. Sponsorship comes from Halton Power and Lowrider Sweeping, a Mississauga-based maintenance firm.
Vandereyken has only been racing since 2010, but said he is enjoying himself both on and off the track in the PBSS.
I love it, he said of the series. It's been a blast. We've met a lot of new people and we're having fun. I really enjoy it.
The PBSS presented by Wiseco Performance Products gets underway this year with the season-opening Victoria Day Weekend Challenge at the Cayuga Dragway of Toronto Motorsports Park May 18-20.
The Pro Bike & Sled Series, www.PBSS.ca will race six times in 2012. The series also competes with its two companion series, the Pro Modified Racing Association, www.PMRA.ca and the Quick 32 Sportsman Series, www.Quick32.ca offering a solid and full package of drag racing action.




Drag News: 10 Most Recent Entries [ top ]

Feb 22- ANDRA Top Alcohol Champ John Cannuli Looking at Back-To-Back Championships
Feb 22- Frank Mamone is Back
Feb 22- Drag Illustrated to Hold $100,000-to-Win World Series of Pro Mod
Feb 17- Speedgroup Announces Title Sponsorship- EDRS European Drag Racing Series Becomes Summit Racing EDRS Series
Feb 08- 2016 TNT Super Series Champion- Jim Thomson
Feb 08- Dave Gunn- 2016 TNT Super Series Second Place
Feb 08- Harry Phelps- 2016 TNT Super Series Third Place
Feb 08- David Surmatchewski- 2016 TNT Super Series Fourth Place
Feb 08- JJ Jablonski- Jason Vitez- 2016 TNT Super Series Fifth Place
Feb 08- Carl's 4-Wheel Drive & Performance Center Named Presenting Sponsor of 2017 Gateway E.T.