Tue, 23 Nov 2010, 11:12 AM



Team Summit Germany Troop Visit Blog Day 1



Courtesy of Jon Knapp



RAMSTEIN AFB, GERMANY --
A contingent of four Team Summit drivers, including former NHRA Pro Stock champions Jason Line & Warren Johnson, up-and-coming Pro Stock and Pro Mod racer Rickie Jones and Dan Runte, driver of the legendary Bigfoot monster truck, are in Germany this week, visiting the troops at the Ramstein Air Force base. Throughout the visit, each driver will offer their thoughts on the event, including an update on the day's activities.
In today's edition, Rickie Jones, driver of the RJ Race Cars and Quarter-Max Chassis & Racing Components Pontiac, gives his take on the trip overseas, as well as Team Summit's first day in Germany:
This is my first trip overseas, and so far, it's been quite an experience. It all started Saturday afternoon when I caught up with Jason, Warren and Dan, as well as Jim Greenleaf from Summit at O'Hare airport in Chicago. Just as we were about to board the United 777 for Frankfurt, Jim, Jason and Dan were called to the counter, where they were told they had been upgraded to Business class, and by the time everything was said and done, we were all bumped up, with most of us seated together. I guess the lady working the counter noticed our Team Summit jackets, and upon hearing what we were doing, decided to help us out.
It was incredible. Each one of us had our own spacious seat that laid almost completely flat with footrests coming up from the bottom to provide extra support. If that wasn't enough, they had built in entertainment units, allowing us to choose from a wide variety of music, movies and TV shows to help the time go by. It took us some time to figure out what all the buttons did, but we eventually got it all sorted out and settled in for the nine-hour flight.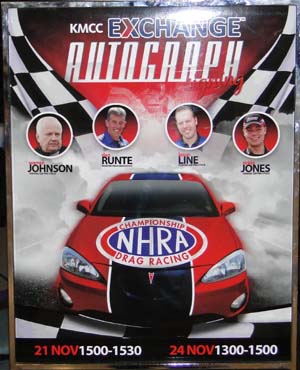 Once we were airborne, we were treated to service that you would expect from a five-star restaurant, including a full three-course meal with a choice of entree and dessert. After dinner was over, I talked with Jason and WJ for a while before checking out the offerings on my video monitor. One feature we all really enjoyed was the map function, which not only showed you where our plane was, but also pointed out our speed, altitude, head wind and ambient temperature (which at one point dropped to over 70 below). Although it was a little daunting to see over 4,000 miles remaining right after take off, it was fun to monitor our progress.
Knowing we would have little time to rest once we arrived, we all tried to get some sleep with varying degrees of success. Eventually, the flight attendants came back through the cabin offering a continental breakfast shortly before our arrival in Frankfurt. We experienced our first (and hopefully only) problem of the trip at baggage claim when Dan Runte discovered his luggage had been sent to Denver! Hopefully, it will come in tomorrow, and United promised to deliver it to the front gate at Ramstein.
After clearing customs, we met up with our guides for the week, Wayne Reed, Dieter Protsch and Wayne McCray, who led us to our official Team Summit van. We loaded up and headed out on the Autobahn for the one-hour drive to Ramstein with Wayne McCray at the wheel, while Wayne Reed and Dieter Protsch taking care of some paperwork and pointing out points of interest along the way.
I was amazed by the speed of some of the drivers on the Autobahn. Our route included some of the sections where there is no speed limit, and these people really took advantage of it in everything from BMWs, Audis and Mercedes to a bunch of station wagons that were absolutely flying.
Our hotel for the visit is the recently completed Ramstein Inn on the base, which is a great hotel. We were given a little more than hour to catch our breath and clean up before meeting for a quick bite and heading to our first appearance.
Attached to the hotel is the Kaiserslautern Military Community Center, which is a huge mall much like you'll find back home, complete with a food court where we made our first appearance signing autographs for the military personnel and their families as they shopped. We were there for two hours and got to talk to a lot of people from around the United States, as well as giving them goody bags from Summit. As well as it went, we're looking forward to going back there on Wednesday.
>From there, we had a half-hour break before climbing back into our trusty van and heading to a little restaurant called Maxi's, where I got to taste wienerschnitzel for the first time, which is close to our pork tenderloin, They served it with three sauces, with the ramschnitzel my favorite. It was a fun evening, with everyone telling stories and having a great time before heading back to our hotel to bunk in for the night.
We have an early start to a full day in the morning, meeting for breakfast at 7:00 before heading to our first stop, the Landstuhl Regional Medical Center to spend some time with the troops, and I know one of my running partners will be back here tomorrow to bring you up to speed. Have a great day!




NHRA: 10 Most Recent Entries [ top ]

Feb 19- Tim Marshall- A Drag Racing Photographer
Feb 17- POMONA 1 -Through the Lens of Ron Lewis
Feb 16- PHOENIX - Fact Sheet
Feb 16- PHOENIX - Leah Pritchett Hopes for Third Straight Win at NHRA Arizona Nationals
Feb 14- Summit Racing Equipment Renews NHRA Sponsorships
Feb 13- Brittany Force Released from Hospital
Feb 13- POMONA 1 - Special Awards
Feb 12- POMONA 1 - Lucas Oil Drag Racing Series Wrap Up
Feb 12- POMONA 1 - Sunday Video
Feb 11- POMONA 1 - Sunday Wrap Up