Tue, 4 May 2010, 10:28 AM



Andy Jensen brings Dunn Benson Track Record North



Courtesy of Karon Woodward



BENSON, N.C. --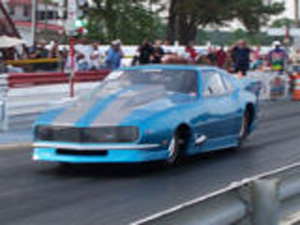 Andy Jensen
The first Extreme Outlaw Pro Mod Showdown at the New Dunn Benson Dragstrip was a great success. Alot of the reason for the fans frantic cheering was due to having one of the baddest turbo powered cars in the world on the grounds, Mr. Andy Jensen in his awesome Jensen Engine Tech powered 68 Camaro built by Tim McCamis. "That car is just awesome. You barely hear it running until he sends it high in rpm, then bam its gone" said the Dunn Benson starting line official. Jensen and his crew, who have been competing with a turbo since 2004, traveled down on friday night after thrashing all week to have the car ready to support the EOPM. "Coming in we had a few new things on the car, but we were most concerned with the new clutch. We are glad that the staff at Dunn Benson and the EOPM had no probelem with us taking an early shakedown pass which really helped us" said Jensen. On his shakedown, and his first qualifying pass AJ experienced some bad tire shake and clicked off, but hearing the car leave the line the first time was all it took to gain a whole new crowd of fans at the New Dunn Benson Dragstrip. After the the first qualifying round it was off to the races for Jensen. On his second qualifying effort the team from Pennsylvania was able to break the track record (4.12 by Brian Williams) with a thrilling 4.094 shot. Andy's team would only be getting started though as on the final EOPM Showdown qualifying pass Jensen would shatter his own record with an amazing 4.013 at 190 mph. This pass would gain him the mph record also which was previously owned by a jet funny car. This would set Jensen up against number 5 qualifier Buzz Varner in the first round of eliminations. Jensen would fall to Mr. Varner with a losing 4.115 to a 4.129. Jensen always the competitor just admitted that he made a bad call on his clutch set up. "I had alot of fun with the guys, and the fans, and I look forward to coming back as I think I left something here at Dunn Benson" said Jensen. Andy would like to thank his crew, Tim, Terry, and Brenda along with his sponsors, Turbonetics, and Jensen Engine Tech. Though I didnt confirm, I do believe AJ will be competing at the ADRL event at VMP, but he could end up at the Extreme Outlaw Pro Mod event at Roxboro Motorsports Park. Where ever he goes the EOPM gladly support him and appreciate him for supporting us.




Drag News: 10 Most Recent Entries [ top ]

Feb 22- ANDRA Top Alcohol Champ John Cannuli Looking at Back-To-Back Championships
Feb 22- Frank Mamone is Back
Feb 22- Drag Illustrated to Hold $100,000-to-Win World Series of Pro Mod
Feb 17- Speedgroup Announces Title Sponsorship- EDRS European Drag Racing Series Becomes Summit Racing EDRS Series
Feb 08- 2016 TNT Super Series Champion- Jim Thomson
Feb 08- Dave Gunn- 2016 TNT Super Series Second Place
Feb 08- Harry Phelps- 2016 TNT Super Series Third Place
Feb 08- David Surmatchewski- 2016 TNT Super Series Fourth Place
Feb 08- JJ Jablonski- Jason Vitez- 2016 TNT Super Series Fifth Place
Feb 08- Carl's 4-Wheel Drive & Performance Center Named Presenting Sponsor of 2017 Gateway E.T.