Sun, 18 Jan 2009, 08:52 PM



Worsham Closes With A Stunner



by Larry Sullivan


Photo copyright Roger Richards, CompetitionPlus.com





Schumacher, Dixon in Virtual Tie



PALM BEACH, Fla. --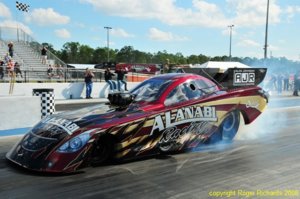 Del Worsham
Tony Schumacher continued to flex his Top Fuel muscles on the final day of the fuel test session at Palm Beach International Raceway, but it was Del Worsham, in the Alan Johnson Al-Anabi Racing Funny Car, who provided the "wow-factor" to bring the curtain down Saturday night.
After missing the first day and experiencing a litany of "new car blues" during the remaining two days of testing, Worsham closed the show Sunday with a stunning 4.056 second, 308.50 mph effort, eclipsing Ron Capps' Saturday run of 4.098 at 299.66 for best run of the three-day test session.
Capps added a 4.102 at 302.25 on Sunday and held the top spot from early Saturday right up to Worsham's event-concluding run.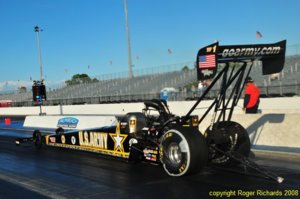 Tony Schumacher
On the Top Fuel side of the ledger, the battle for #1 turned into a three-way dogfight. After leading the way Sunday, Schumacher upped the ante with a 3.812 at 317.05, but Larry Dixon almost matched that, a thousandth short with a 3.813 at 313.73. Cory McClenathan couldn't match those two, but was well within the competitive range with a 3.887 at 308.85.
Four of the other five Funny Car drivers participating in the test session also made competitive runs, in the 4.1-second zone, and three of the four also recorded speeds above 300 mph. Jeff Arend and Matt Hagan were third and fourth, at 4.120 and 4.124, respectively, both with 301.40 mph speeds. Jack Beckman made the fifth-quickest run, at 4.175, and recorded a perfect 300.00 speed on another.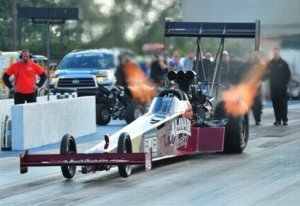 Larry Dixon
Tim Wilkerson debuted a radical new chassis, with a front suspension, and managed to record a best of 4.198 at 284.62 on his second run with the new design. Wilkerson's teammate, Bob Tasca III, also debuted a new car, but didn't manage to get all the gremlins out and left with a best of 4.247 at 240.12.
Now the teams move on to the NAPA Auto Parts National Time Trials at Firebird International Raceway for the final fuel test session before the season opener in Pomona. Until then, Schumacher and Worsham have bragging rights.




Drag News: 10 Most Recent Entries [ top ]

Mar 28- Lowdown Hot Rods to Increase Presence in DSE Sportsman Series
Mar 20- Father-Son Pro Gas Final Highlights SoCal Series Racing
Mar 09- BAKERSFIELD - Nostalgia Top Fuel Final, Round 4 Eliminations
Mar 09- BAKERSFIELD - 7.0 PRO Final, Round 5 Eliminations
Mar 09- BAKERSFIELD - Nostalgia Funny Car Final, Round 4 Eliminations
Mar 09- BAKERSFIELD - A FUEL Round 3 Eliminations
Mar 09- BAKERSFIELD - Nostalgia Funny Car Round 3 Eliminations
Mar 09- BAKERSFIELD - Nostalgia Top Fuel Round 3 Eliminations
Mar 09- BAKERSFIELD - Junior Fuel Final, Round 3 Eliminations
Mar 09- BAKERSFIELD - AA/Fuel Altered Final, Round 3 Eliminations