Tue, 23 Sep 2008, 11:02 PM



What A Weekend!



By Bob Frey


Photo copyright 2008 Auto Imagery, Inc.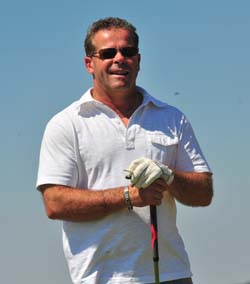 Allen Johnson at Golf tourney.
There are so many things that make a race great, and a lot of them were present at the 22
nd
running of the O'Reilly Fall Nationals at the Texas Motorplex this past weekend
.
For me, it all started with the Greg Morris Memorial Golf Tournament on Wednesday and it didn't end until
JR Todd
gave his now famous salute after beating
Tony Schumacher
and winning the race on Sunday. The weekend also included the popular DRAW auction on Saturday night and that had some great moments, too. Besides all the wonderful items that were up for bids, the members of
Team Kalitta
were there to present a check for $15,000 to DRAW on behalf of Connie and the entire team. Like they did a week earlier in
Charlotte
, when they presented a huge check to
Doug Herbert's
BRAKES foundation, they said that the money was part of the proceeds from the items that have been sold in memory of
Scott Kalitta
. And as if that wasn't enough,
Jim
and
Jon Oberhofer
stayed and bought a lot of items at the auction which raised a total of almost $60,000. And that total is over and above the donation from the Kalitta's. It was quite a night. If I may say so, I made a pretty nice purchase at the auction when I got the jacket that was presented to
Buddy Garner,
the first NHRA World Champion back in 1960. The jacket was given to him by Hot Rod Magazine for being number one in their initial top ten poll and it now is part of the Bob Frey collection. Also included in that top ten were
Dennis Garrett, Earl Rowe
and
James Butler
among others, and you have one of their jackets, give me a call. Anyway, like I said, it was quite a weekend.
Schumacher vs. Todd
If you watched the ESPN show from
Dallas
you undoubtedly saw JR Todd's salute after winning the Top Fuel final round over Tony Schumacher. Now I don't know if he'll get reprimanded for standing up in the car but I have to tell you, it was a fascinating moment and the fans at the Motorplex loved it. And they loved JR winning the race. I also have to add that they loved watching Tony's streak come to an end. It's nothing personal, I'm sure, it's just that when one driver or one team in any sport keeps winning and winning the fans always cheer when that driver or team finally loses. It happened with
Bob Glidden
. It happened with
Warren Johnson
. I'm not sure if it ever happened with
John Force
but there is an exception to every rule, isn't there? If memory serves me correctly, JR gave that same salute when he beat Tony for his first win at
Denver
in 2006 and he did it again when he won his second race by beating Tony at
Sonoma
that same year. Maybe they weren't quite as dramatic as this one, but as JR said, "It's been so long since we won a race that this feels like my first win." In addition to beating Tony in all three of those final rounds
did you know
that JR also beat
Hillary Will
on his way to each of those three wins? It's amazing that JR has won six races in his TF career and three of them have come at the expense of the "Sarge."
Did you know
that
Gary Scelzi, Larry Dixon
and
Doug Kalitta
are the only ones with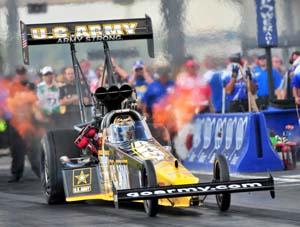 Tony Schumacher
more final round wins over Tony than JR Todd? Even with his final round loss Tony did two things at the Motorplex. First, he set the record for the most rounds won in a single season with 63 and he extended his lead over
Antron Brown
to 97 points. That's about five rounds and, with four races to go, it puts Tony in a great position to win his sixth Top Fuel title. Great position, that is, unless someone can take him out early in
Memphis
this weekend. Good luck with that.
Did you know
that Tony has now won twenty-two consecutive round one matches? Tony also went to his eighth consecutive final round and that's another TF record. The old mark of seven was set by, oh yeah, Tony, in 2005 and he tied that this year.As I always say, I know what happens when drivers deep stage or shallow stage or when they "take a chunk" on the starting line. I also know that when a 3.912 beats a 3.910 it will go down in the record books as a holeshot win or loss, depending on what side of the race you are on. That said, JR's win over Tony was just that and it was only the second time that JR has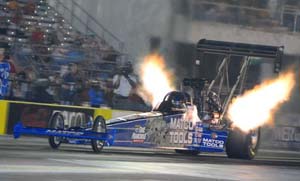 Antron Brown
beaten Tony on a holeshot in his career. It was also the second time this year that Tony has lost a final round on a holeshot, the other coming in
Atlanta
when
Antron Brown
beat him that way.
Did you know
that in his entire career Tony has only lost twelve times on a holeshot and that's in 645 rounds of racing? Now that's impressive, and maybe it's why he has won so many races and championships...
Larry Dixon
qualified number one and that was the third consecutive race at which the
U.S. Smokeless
driver was the best in qualifying.
Did you know
that's the first time since his championship year of 2002 that Larry has been number one at three races in a row? In the twenty-two years of this race the top qualifier in Top Fuel has only won five times, and the last one to do it was Larry in 2001....Antron Brown is in second place and
Cory McClenathan
is third and they both need to go to the finals this week if they want to keep their title hopes alive. And, as I said, they also need Tony to go out early.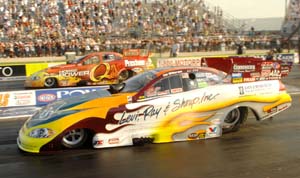 Wilkerson vs. Pedregon
Tim Wilkerson
regained the points lead with his very impressive win in
Dallas
. Tim beat
Ron Capps
and
Bob Tasca
before eliminating John Force in the semi-finals. Tim then faced
Tony Pedregon
in the money round and the two treated the fans to a great race, with Tim winning 4.172 to 4.206. Tim's win was his fifth of the year and his tenth overall.
Did you know
that his ten win ties him with
Mike Dunn
for eighteenth place on the all-time Funny Car win list? In his winner's interview after the race Tim said that he was trying to make up for an "embarrassing performance" in
Charlotte
a week earlier. Let me say this, nothing that Tim has ever done has been embarrassing. He is a great racer and a real credit to the sport. Just the simple fact that he thought he needed to apologize for losing in the first round last week was amazing. If someone is going to win the championship they're going to have to contend with, and beat, Tim Wilkerson along the way, and believe me, that's not going to be easy...Tim's lead over Tony is a very slight eleven points while
Jack Beckman
is in third place just twenty-nine behind the leader.
Robert Hight
, the top qualifier at the Motorplex, is in fourth place fifty points back and
Cruz Pedregon
, the leader coming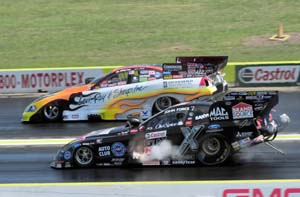 Force vs. Wilkerson
into the race, dropped to fifth after his round one loss to John Force. Cruz is sixty-nine points back and
Ashley Force
, who is in sixth place, is ninety-three behind Tim....Tim's win over John Force was huge since John had beaten Tim in twenty-three of their previous twenty-nine meetings.
Did you know
that Tim and John had met in nine semi-final matches before this weekend and that John had won eight of them? And Tim's win over Tony was big since Tony had won nineteen of their previous twenty-seven head-to-head battles. When you can beat John and Tony in consecutive rounds you've accomplished something and they were both big round wins for Tim. Tim's 4.120 in round one was the quickest of the round and his 4.201 in the semi-finals was the best of that round, too. This was a very impressive performance by Tim and his
Levi, Ray and Shoup
team and the way they are running right now he has to be considered the favorite to win it all. At least that's the way I see it going into
Memphis
..Tony Pedregon's loss was his first in a final round since Englishtown of last year. Since then Tony has won seven straight finals including four in a row this year.
Did you know
that in his last nine final rounds Tony has faced nine different drivers? What are the odds?...John Force captured the heart of the
Texas
fans with his return to the scene of the accident that almost ended his career last year. I didn't see the ESPN show but I'm pretty sure they ran footage of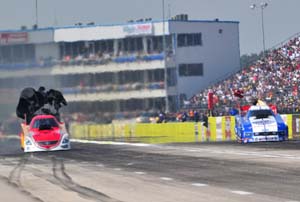 Head vs. Hight
the accident at least once or twice (or more, many more times). When John made it to the semi-finals I really thought that he would go all the way and win the race. After all, nobody has a flair for the dramatic like John does, and nothing would have been more dramatic than that, but he ran into Tim in the semi-finals and the rest, as they say, is history..
Robert Hight's
number one qualifying spot was the 27
th
of his career and it was the second time that he grabbed the top spot at the Fall Nationals.
Did you know
that the last time Robert won from the top spot was at this very race two years ago? In twenty-seven times as the top qualifier Robert has only gone the distance and won the race three times. Robert's opening round win over
Jim Head
was the 200
th
round of his career and he has won 127 of those rounds. Robert is within striking distance of the leader but he needs to win more rounds than Tim does this weekend if he wants to keep his title hopes alive, and I say that even though he is less than three rounds behind Tim. The simple math is that if you don't gain ground on the leader soon you will eventually run out of rounds to do it.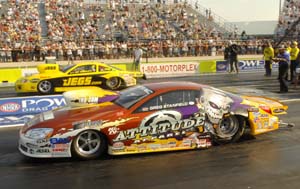 Stanfield vs. Coughlin
Greg Stanfield's
win may have been the most surprising of the weekend for a variety of reasons. First of all, he qualified in the bottom half of the field (15
th
) and it's always tough to win from there.
Did you know
that in twenty-two years the cars in the bottom half of the field have won five times in
Dallas
? And the number fifteen qualifier has now won twice in
Texas
. In addition to Greg,
did you know
that
V. Gaines
was the only other driver to win in Pro Stock at the Fall Nationals after qualifying fifteenth? In the entire history of the Pro Stock class, which now spans 614 races, the number fifteen qualifier has won a grand total of seven times.
Greg's win was also a surprise because, after leaving the starting line dead even with
Jeg Coughlin
, and after trailing at half-track, Greg actually ran by Jeg to get the win.
Did you know
that this was the first time in a dozen meetings that Greg beat Jeg in his Pro Stock career? Just staying even with Jeggie off the line is a big thing for any Pro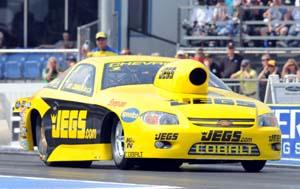 Jeg Coughlin

Stock driver, but getting off the line first is nothing new for Greg.

Did you

know

that in 176 rounds Greg has been first off the line an amazing sixty-four percent of the time? And in his twelve meetings with Jeg, Greg has been first off the line six times, Jeg five and they have that one race with identical reaction times..Greg's win was also very emotional since we learned that

Greg Hill,

who is invested in the

Attitude Apparel

team, lost his granddaughter in a car accident on Friday. Greg Stanfield said after the race that he hopes he can personally deliver the trophy to Mr. Hill, "in an effort to try to let him know how much he means to us." Please keep

Greg Hill

and his family in your prayers..If you think that Ashley Force can catch Tim for the FC title, you have to think that Greg can catch Jeg for the PS crown. His win moved Greg into sixth place in the standings and he is 103 points behind the leader, while Ashley in ninety-three points behind Tim.Jeg was the top qualifier and, like all the other top qualifiers, he didn't win.

Did you know

that Jeg has only won three times at the fourteen races at which he has been number one?...

Greg Anderson

and

Jason Line

both lost in the first round, Greg on a red light and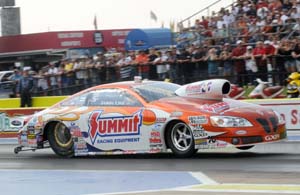 Jason Line
Jason on a holeshot. For Greg it was his second foul start of the year and just the fourteenth of his career. But with Jeg going to the finals, Greg dropped to third in the standings and he needs to do well this weekend to get back in the chase. I realize that he is only forty-six points behind Jeg but that's more than two rounds and those extra points could be huge down the stretch. Jason's loss hurt, too, and it was really tough because he ran 6.638 on the run and that was the best elapsed time of the day in Pro Stock....
Dave Connolly
fouled out in the semi-finals and that was his second red light of the year, and
did you know
that they have both come against Jeg Coughlin?...When Greg won the race he became just the fourth driver in the history of the sport to win national events in five different classes. Ironically, two of the others, Jeg and
David Rampy
, were also in final rounds in
Texas
. The other driver to win in five classes is
Scotty Richardson
. Of all the classes that those four have won, the only one where they all have recorded victories is Super Stock.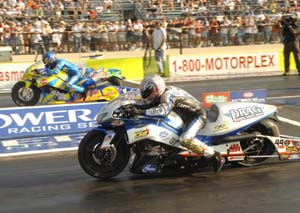 Rivas vs. Smith
When
Karen Stoffer
fouled out against
Steve Johnson
in round one, it was the fifth red light against Steve in his last nine rounds. That kind of record had Steve subscribing to the theory that "the rider with the most green lights will win the championship this year." Steve should now be a believer since he fouled against
Eddie Krawiec
in round two and, as a result, he dropped from second to fourth in the points.
Matt Smith
remains the leader, Eddie is up to second and
Chris Rivas
, the winner in
Texas
, made a huge jump from eighth place to third place. And if you don't think that "green light" theory is correct, ponder this.
Did you know
that Chris Rivas had reaction times of .176, .117, .026 and a final round of .091 and he still won the race? Of course having a bike that ran low elapsed time in every round on Sunday doesn't hurt, does it?...Four of the riders in the "Countdown" all lost in round one in Texas to go with the five of them who lost in round one in North Carolina. Of those four, both Karen and
Andrew Hines
lost on red lights, while Angelle and Steve both lost the same way in the next round..Angelle, on the
Rush Racing
bike, hasn't won a race yet this year and she has three more chances to change that including this week in Memphis.
Did you know
that Angelle has won at least one race every year since 1996?...Keep your eyes on the motorcycles this week and see how many red lights there are against the eventual winner.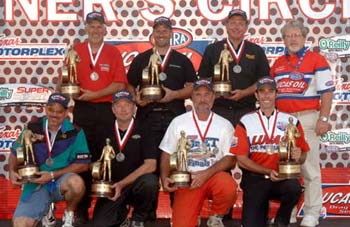 Standing: David Rampy, Von Smith and Jim Whiteley
Kneeling: Greg Parson, Tommy Phillips,
Richard Pierson and Jerry Emmons
The Jegs Sportsnationals was held in Columbus and
Katie Sepanek
added her name to the ever growing list of women winners when she beat
Kevin Helms
for the Stock Eliminator title..
Jim Whiteley
went wire-to-wire to win the Top Alcohol Dragster class in Texas and, in the process, he took over the points lead. With only a few divisional races remaining for Jim and
Bill Reichert
, the top two in the points, it will be interesting to see who goes where in an effort to win or block the other guy. With two divisional races still to claim Bill has a slight advantage over Jim who is down to his last race..
Von Smith
won the TAFC class when he beat
Jay Payne
. For Von it was his fifth national event victory and three of them have been at this race.
Did you know
that Jay had won eleven consecutive final rounds before losing on Sunday? The last time that Jay lost in a final round was at Brainerd in 2004..
David Rampy
just continues to amaze and he won for the 70
th
time in his career. On a weekend when his sponsor,
Boo Weekley
was helping the U.S. win the Ryder Cup, David won his 58
th
Competition Eliminator title.And congratulations to the first time winners in Dallas, including
Richard Pierson
and
Greg Parson
.




NHRA: 10 Most Recent Entries [ top ]

Feb 17- POMONA 1 -Through the Lens of Ron Lewis
Feb 16- PHOENIX - Fact Sheet
Feb 16- PHOENIX - Leah Pritchett Hopes for Third Straight Win at NHRA Arizona Nationals
Feb 14- Summit Racing Equipment Renews NHRA Sponsorships
Feb 13- Brittany Force Released from Hospital
Feb 13- POMONA 1 - Special Awards
Feb 12- POMONA 1 - Lucas Oil Drag Racing Series Wrap Up
Feb 12- POMONA 1 - Sunday Video
Feb 11- POMONA 1 - Sunday Wrap Up
Feb 11- POMONA 1 - Bonus Points