Tue, 16 Sep 2008, 08:06 PM



Who Is Having A Better Year Or Career?



By Bob Frey


Photo copyright 2008 Auto Imagery, Inc.





To say that the inaugural Carolinas Nationals at
Z-Max Dragway
was a success would be a major understatement. The fans, the racers, the manufacturers, everyone really seemed to enjoy the race at the place that
Bruton Smith
built. The fans, and there were lots of them, especially on Saturday and Sunday, all thoroughly enjoyed the facility, the amenities that came with it, the way they were treated and, of course, the racing. With a big part of the crowd being first-timers, I think they were treated to a very good show that included some tense moments in qualifying and some stunning upsets on race day. And if they didn't enjoy it, there really isn't much more that we can do to impress them with the sport of drag racing. One member of the press, when asked what he thought of the event and of drag racing, said that he really enjoyed it but he thought we should have a provisional qualifying rule that would have allowed the obvious crowd favorite,
John Force
, to make the show. Hey, he's entitled to his opinion, but a rule like that would have taken all the suspense out of the final round of qualifying on Saturday, wouldn't it? All in all, the race was an unqualified success and we look forward to going back next year..I will say this, the sport of drag racing is experiencing a real growth and Bruton Smith is just a part of it. Look what's happened in the sport in the past few years. The Bader family has created a magnificent facility in
Norwalk
, one that is as nice as any track that we go to, and their hospitality is legendary. The track in
Joliet, Illinois
, is spectacular, and it really raised the bar when it opened and it's always a joy to go there. I always tell people that I am the ultimate "trickle-down" kind of guy, and by that I mean that as long as people like Bruton, the Bader's and the folks in
Joliet
continue to build facilities like they have, it will help all of us. Or, as they said in the movie "Field of Dreams," build it and they will come. And they built it and they most definitely did come.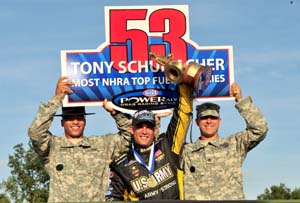 Tony Schumacher
Three of the Indy champs won again in
Concord
this weekend.
Tony Schumacher
and
Steve Johnson
repeated their professional class wins while
Bill Reichert
won the
Mac Tools U.S. Nationals
and he also won this past weekend. One driver who didn't win at Indy and who did win in
North Carolina
was
Frank Manzo
. When Tony won at Z-Max Dragway he set the record for the most wins in the history of Top Fuel when he won for the 53
rd
time in his career and for the twelfth time in 2008. When he won this past weekend Frank Manzo won for the 78
th
time in his career and for the seventh time this year, and that got me thinking....just which one of these drivers is having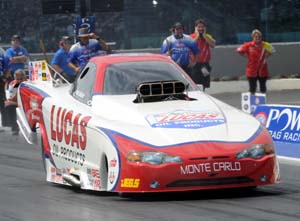 Frank Manzo
the better year? Obviously Tony gets a lot of attention because he is in the sport's premier class, Top Fuel. He has also had a "career year" in 2008, re-writing every record in the books, but Frank is having a good year too, a very good year, and you could make a case for his year actually being better than Tony's. Let's take a look. Tony has competed in nineteen races and he has won twelve of them. He has a 2008 record of 60-7. Frank has competed in nine national races and he has won seven of them. He has also been to seven divisional races and recorded five wins, one runner-up and one first round loss and that gives him a 2008 record of 48-4. Over the past two years Frank has put together a streak of forty-six consecutive round wins, compared to Tony's current streak of twenty-eight. Tony has qualified for 126 consecutive races while Frank has made the show at 177 races in a row. Tony's last DNQ came at Englishtown in 2003, while Frank last missed the cut at
Indianapolis
in 1985. And let's not forget Frank's record on the divisional level where he has won another ninety-eight races. Tony is 53-31 in his national event final rounds and he has won twenty-one of his last twenty-three final rounds. Frank's national event final round record is 78-24 and he has won twenty-eight of his last thirty national event final rounds. Tony has competed at 263 national races and he has compiled a record of 439-202, while Frank has been at 209 national races and he has posted a record of 463-130. Tony has won five national championships and Frank has already secured his 12
th
series title. Both are the best in their class and it will take a great run for someone else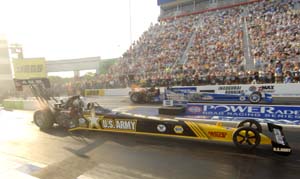 Schumacher vs. Brown
to beat them. Neither one of the two set low elapsed time in their class this past weekend and yet they both won the race. Tony was first off the line three times in his four rounds on Sunday while Frank, who had a single run in Concord, was first off the line in two of his three competitive rounds. I could go on, but you get the idea. Tony and his
Army
team are crushing everyone who gets in their way this year and Frank and his
Lucas Oil
team are doing the same in the Top Alcohol Funny Car class. They're both having great years and both deserve all the attention they get. It kind of makes me wonder what Frank would have done if he ever made the move to a fuel car? .
Antron Brown
came into
Concord
number two in the points and that's the way he left
North Carolina
. Driving his Matco Tools car Antron gave Tony a good run in the final round but, as almost everyone else has this year, he came up short. That will make this week's race in
Texas
so very important for Antron and the other Top Fuel teams. If Tony gets out of
Texas
with another win this thing will be over after only two races of the "Countdown."
Someone will eventually beat Tony, but the question is who and when? Probably abut the same time that someone beats Frank Manzo.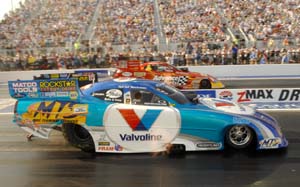 Beckman vs. Pedregon
I have said for a while that
Jack Beckman
and
Cruz Pedregon
may have the best cars in the Funny Car class and they both showed that to be the case in
North Carolina
. With his win Jack made a big move from sixth place up to second in the points while Cruz, with his runner-up finish, went from fourth up to first in the standings. With those two making it to the final round, and with the points leader,
Tim Wilkerson
losing in round one, the top of the standings have a completely new look.
Did you know
that the top five drivers are separated by just thirteen points?
Tony Pedregon
is third,
Robert Hight
is fourth and Tim is in fifth place going into the race in
Texas
..The biggest hit to any of the contenders in the FC class was taken by John Force who failed to qualify for his second consecutive race. Ironically, this DNQ hurts John more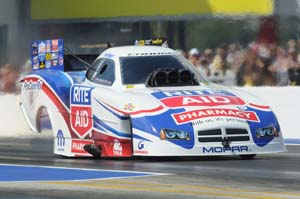 Frank Hawley
than the one he had at Indy, as big as that race is.
Did you know
that this is the first time that John has failed to qualify at back-to-back events in the same year since he missed the cut at Indy and Seattle back in 1979? At the
Seattle
race that year John missed the cut by just two-hundredths of a second, the same amount he missed the field by this week. John did fail to qualify at two consecutive races another time since then but they came in different years. He missed the field at
Fremont
in 1981, the last race he attended that year, and then he failed to qualify at the Winternationals, his next race, at the start of the 1982 season
. Did you know
that when John failed to make that Winternationals field the number one qualifier was none other than
Frank Hawley
, the same man who qualified number one in
Concord
? Even with his DNQ John is still within striking distance of the leaders. He is 124 points behind Cruz right now and I'll say the same thing about him that I said about the TF teams coming into
Texas
, and that is, if John wants to contend for the championship he has to do well this week. And by "do well," I mean at least a semi-final or final round appearance. John will, of course, get a lot of media attention since he is coming back to the track where his career almost ended last year. I hope all of the media outlets who focused on the accident last year will return and cover the story of John's remarkable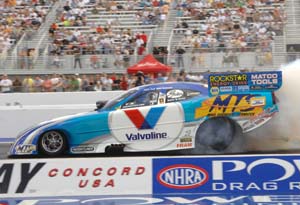 Jack Beckman
comeback this year....Jack Beckman won the race from the number eleven qualifying spot and, as strange as it is, that is the position that more winners have come from this year in the FC class than any other spot. We keep saying how competitive the Funny Car class is this year and it's obvious if you look at where the winners have come from.
Did you know
that more races have been won in the FC class this year by drivers who have qualified in the bottom half of the field than from the top half? Ten times the FC champ started from the bottom half of the field this year with top-half qualifiers winning the other nine times.
Did you know
that the number one qualifier has only won twice this year, and twice in the last thirty two races? Frank Hawley, the top qualifier at Z-Max Dragway, earned the number one spot for the tenth time in his career but this was the first time that he failed to get out of round one after being the quickest guy in qualifying..The Funny Car class certainly is wide open and every run, including those in qualifying, will be very important this week.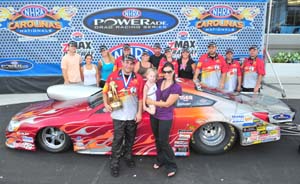 Humphreys and crew celebrate win.
Justin Humphreys
won Pro Stock and I don't think you could have found anyone in the house who would have picked him once we saw the final round pairings. Running with a
Warren Johnson
engine in his
Pontiac
, and facing
Kurt Johnson
in the money round, it almost seemed like a foregone conclusion that Kurt would win the race. Don't get me wrong, I'm not saying that Kurt and Warren would have issued any team orders or anything like that going into the final round. I just think that it would have been a surprise if Justin outran KJ in the finals. Even Justin said, during the post-race interview, that he was backing up as slowly as he could after the burnout in order to give Kurt time to get his car started. When that didn't happen, Justin got the single run and his first NHRA Pro Stock national event win. Justin drove well on Sunday and he left the line first in every round including his opening round holeshot win over
Rob Mansfield
and his semi-final round match with
Jeg Coughlin.
Did you know
that Jeg has left the line first sixty-five percent of the time in his pro career?
Congratulations to Justin and his entire team for a job well done....I spoke with several of the top ten drivers in the class before the race and they said that you would have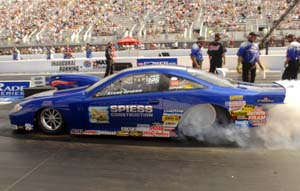 Steve Spiess
to win two or three races in order to win the championship. Well, with Justin winning one, that puts the burden on the drivers to step up this weekend, doesn't it?....There were several real surprises this weekend, including
Ron
Krisher
not qualifying and
Steve Spiess
beating
Allen Johnson
in the first round. This was the third consecutive race at which Steve has qualified, it was his best starting position and it was his first NHRA national event round win..Kurt Johnson started eliminations from the number one spot, the twenty-ninth time in his career that he has done that.
Did you know
that KJ has only won three times after being the best in qualifying? Like the Funny Car class, being number one in Pro Stock certainly doesn't guarantee that you'll make it to the finals, at least not recently.
Did you know
that the number one Pro Stock driver has only won three times in the last twenty-seven races? And
did you know
that Greg Anderson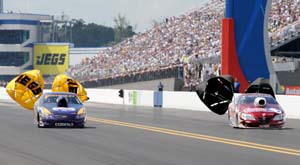 Connolly vs. Anderson
won all three of those races? ...Kurt is fifteen points ahead of Greg right now in the standings with Jeg in third,
Jason Line
in fourth and
V. Gaines
in fifth....The "monster match-up" in round one occurred when Greg Anderson and
Dave Connolly
squared off. Greg was first off the line and he was quicker on the track and he got the very important round win. With the class as close as it is, winning those round one matches is going to be very important over the next five races.
Steve Johnson won for the second consecutive race and that moved him from eighth to second in the standings, thirty-four points behind the leader, Matt Smith. The motorcycle class, more than any other pro category, saw a tremendous amount of upsets in the first two rounds including five of the top ten riders losing in the first round. I've often said that the key to wining in the bike class may be what happens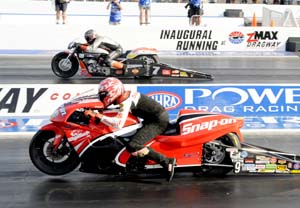 Johnson vs. Krawiec
right on the line, and of those five top ten riders who lost in the opening stanza, three were decided before they went by the tree.
Craig Treble
lost on a holeshot to
Hector Arana, Chip Ellis
fouled and so did
Andrew Hines
. At least they made it to the line and that's more than
Chris Rivas
did. Chris couldn't get or keep the bike fired and he lost without even staging the motorcycle and that has to be the worst way to lose a drag race. And if you doubt my theory about the starting line being important in this class, consider this.
Did you know
that Steve had three opponents foul out against him including
Eddie Krawiec
in the money round? Go green and you could be winning a lot of green in the Pro Stock Motorcycle class this year....Over the years the
Angelle Sampey
motorcycle class has been dominated by four riders,
Dave Schultz, Angelle Sampey, John Myers
and
Matt Hines
. Between them they have won a total of 148 races out of the 269 that have been contested in the bike class. With the class being that top-heavy, it shouldn't be a surprise to know that Steve's win, which was his fifth, puts him in the top ten on the all-time win list.With her semi-final finish Angelle is in third place, Eddie is in fourth and Andrew Hines is in fifth.
Did you know
that's the lowest Andrew has been since after the
St. Louis
race in 2007? .Eddie Krawiec may have had the best bike on race day and he ran low elapsed time of the day in every round including the final round when he fouled out. He also set top speed for the first time in his career and he joins others such as
Steve Miles, Stephanie
Reaves
and
Wayne Saunders
as motorcycle riders who have just one top speed to their credit.
In addition to Bill and Frank, the other sportsman titles were won by Arnie Martel in Comp, Bryan Worner in Super Stock, Ronnie Clayton in Super Comp and Billy Leber in Super Gas. For Bryan and Ronnie it was their first NHRA national event win. Nice job, everyone.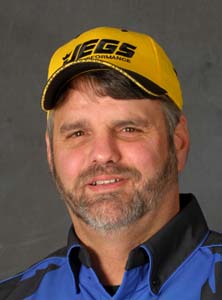 Steve Engel
Finally, I wanted to pass along my condolences to the family of
Steve Engel
, the Pro Mod driver who passed away this week. Steve crashed his Corvette at
Indianapolis
during the U.S. Nationals and, after a few weeks in the hospital where he was being treated for a variety of injuries, he appeared to be making some slow but steady progress at
Methodist
Hospital
in
Indianapolis
. Unfortunately Steve passed away over the weekend and his passing will be felt by all of us in the drag racing community. I only met Steve a few times at the races when the Pro Mods were running, but I found him to be a delightful person who thoroughly enjoyed racing his car and who was well liked by his fellow racers and competitors. Our thoughts and prayers go out to his wife, Tonya, and his two sons.




NHRA: 10 Most Recent Entries [ top ]

Feb 21- PHOENIX - New Challenge in Funny Car doesn't Change Shawn Langdon's Early-Season Expectations
Feb 20- Carolina Dragway and Piedmont Dragway Join NHRA Member Track Network
Feb 20- Dodge Fuels Migh-High NHRA Nationals as New Title Sponsor
Feb 20- PHOENIX - Tony Schumacher Likes Team's Direction Heading to NHRA Arizona Nationals
Feb 19- Tim Marshall- A Drag Racing Photographer
Feb 17- POMONA 1 -Through the Lens of Ron Lewis
Feb 16- PHOENIX - Fact Sheet
Feb 16- PHOENIX - Leah Pritchett Hopes for Third Straight Win at NHRA Arizona Nationals
Feb 14- Summit Racing Equipment Renews NHRA Sponsorships
Feb 13- Brittany Force Released from Hospital