Sat, 3 Nov 2007, 10:20 PM



POWERade Countdown To The Championship Titles To Be Decided Sunday



Courtesy of NHRA Communications


Photo copyright 2007 Auto Imagery, Inc.





Schumacher, Arend, Connolly and Hines are No. 1 qualifiers at season finale



POMONA, Calif. --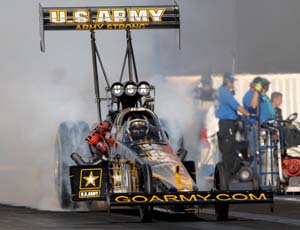 Tony Schumacher
Four-time and reigning POWERade Drag Racing Series champion Tony Schumacher raced to the No. 1 position in his last qualifying attempt Saturday at the 43rd annual Automobile Club of Southern California NHRA Finals to add some more drama to the final day of the 2007 POWERade Countdown to the Championship.
In Funny Car, points leader Tony Pedregon barely made the field in the 16th and final spot, but by holding on he all but secured his second POWERade world championship. His rivals need him to lose in Round 1 while they go on to win the race and set a national record to steal away the crown.
The Pro Stock categories -- whose qualifying ladders are topped by Dave Connolly and Andrew Hines -- are still undecided but could be wrapped up by the semifinals if leaders Greg Anderson and Andrew Hines maintain their edge.
The Auto Club NHRA Finals is the second and final race in the Countdown to 1, the two-race championship round of the NHRA Playoffs.
Schumacher took full advantage of a drawn-out final session and used the cool evening air to power to a 4.508 at 320.58 mph in his U.S. Army dragster. Schumacher will now need to win the race and hope points leader "Hot Rod" Fuller loses in the first round to win it all. He'll also need Larry Dixon and Brandon Bernstein to bow out early.
"We have a very good racecar, especially this weekend," Schumacher said. "It was set up for awhile where I would have been racing 'Hot Rod' in the first round and that would've been cool. Then if we win it all, we do it by beating him. It's still open -- it's a longshot, but it's still there. I don't know if we'll have the chance to determine how it all comes out."
Bernstein is fourth on the ladder with a best of 4.524 at 328.54 mph in his Budweiser/Lucas Oil dragster, while Dixon qualified 10th with a 4.541 at 322.96 mph in his SkyTel dragster. Both men will need to go at least three rounds further than Fuller to win it all and neither will have a chance to meet Fuller until the semifinals at the earliest.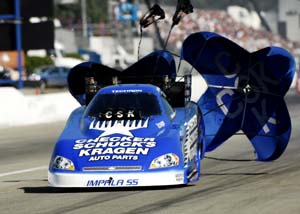 Jeff Arend
Coming into Saturday unqualified, Fuller was happy to qualify in the No. 11 slot with a 4.549. He'll clinch the championship if he reaches the semifinals, unless someone sets a national record.
"I was definitely relieved after that first run," Fuller said. "So many people were asking about not being in and all the fans seemed really worried. It actually made me nervous. It really felt like we had won the race just by qualifying. That might have been our biggest run of the year. I have tons of confidence in my team. I really felt we'd come out and make two good runs today and we did."
Local hero Arend remained the low qualifier in Funny Car, much to the delight of his legion of fans from nearby San Dimas, Calif. His reward for collecting his second career pole is a first-round date with current points leader Tony Pedregon, who all but clinches his second POWERade title by making the 16-car field.
"It's a heckuva draw getting the pending world champ in Round 1 but that's the way Funny Car is these days -- every car is great," Arend said. "It's our last race together with this team and this group of guys. We want to go out with a win."
Pedregon barely stayed in the field with a 4.842 that earned the 16th spot in his Q Horsepower Chevy Impala. By qualifying for the event, Pedregon essentially locked up his championship. The only way Gary Scelzi or Robert Hight can pass him now is if they win the race and collect a 20-point bonus for setting a national record with Pedregon losing in Round 1.
"I've been sweating bullets for the last month," Pedregon said. "Today we had to dodge bullets. We're really happy that we stayed in and still can control our own destiny."
Ron Capps was eliminated from the title race when Pedregon made the field.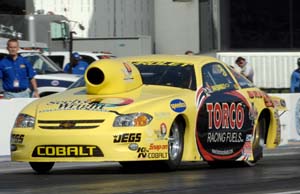 Dave Connolly
Connolly earned his second low qualifier award in a row with a 6.648 at 208.01 mph in his Torco Chevrolet Cobalt. Last week, despite his great qualifying effort, Connolly lost in the second round and gave up the points lead. He'll hope to reverse that result here and make up the 47-point deficit he has to leader Greg Anderson to win his first championship.
"It's definitely going to be an interesting day tomorrow," Connolly said. "For the first time in my Pro Stock career we were actually trying to slow our Chevy down so that we didn't qualify No. 1. We wanted to get seventh or eighth so we could face Greg early and try to take him out but it didn't work. We added a bunch of weight and still went faster. We even thought about skipping the scales but the 6.66 we had from before still would've placed us up there near the top so we might as well get the No. 1 bonus money."
Anderson looks sharp in his Summit Racing Pontiac GTO, running a 6.654 and a 6.655 Saturday. He'll start eliminations in the No. 2 spot. Jeg Coughlin, who is in between Connolly and Anderson in the points, is fourth in his Jegs Cobalt after a 6.656 at 207.85 mph.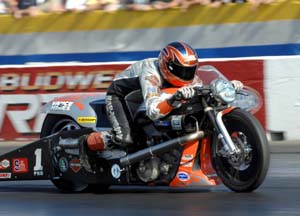 Andrew Hines
Allen Johnson has officially been eliminated from championship contention despite qualifying seventh overall with a 6.669 in his Team Mopar Dodge.
Hines' second low qualifier of the year came at a perfect time as it was worth an entire round of action Sunday. By out-qualifying Chip Ellis, Hines completed qualifying on his Screamin' Eagle/Vance & Hines Harley-Davidson with a 41-point advantage over Ellis. On race day, points are earned in increments of 20 so Hines' pursuers will now need to go three rounds further than him to steal away the title.
Ellis ended up third with a best of 6.965 at 191.46 mph on his Drag Specialties Buell. Matt Smith will try to win his first POWERade title from the fourth slot after a 6.965 at 190.46 mph on his Torco Buell. Peggy Llewellyn needs a lot of help but she can still win the title from the No. 5 spot on her Rush Racing Products Buell if all the pieces fall into place for her. She posted a best of 6.969 in Round 3.




NHRA: 10 Most Recent Entries [ top ]

Feb 24- PHOENIX - Saturday Wrap Up
Feb 24- PHOENIX - Total Qualifying Bonus Points
Feb 24- PHOENIX - Funny Car Qualifying, Session #4 Bonus Points
Feb 24- PHOENIX - Top Fuel Qualifying, Session #4 Bonus Points
Feb 24- PHOENIX - Pro Stock Qualifying, Session #4 Bonus Points
Feb 24- PHOENIX - Funny Car Eliminations Ladder
Feb 24- PHOENIX - Pro Stock Qualifying, Session #3 Bonus Points
Feb 24- PHOENIX - Top Fuel Qualifying, Session #3 Bonus Points
Feb 24- PHOENIX - Funny Car Qualifying, Session #3 Bonus Points
Feb 24- PHOENIX - Funny Car Final Qualifying, Session #4 Order