Wed, 24 Dec 2003, 01:07 PM



Rob Atchison Announces Engagement



Courtesy of Dennis Smith



LONDON, Ont. --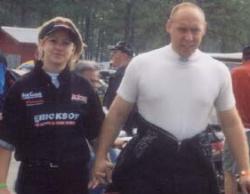 Julie and Rob
IHRA Funny Car Champion Rob Atchison driver of the Erickson Manufacturing Pontiac became engaged Friday Dec. 19th to his girlfriend Julie Evans. Julie, a local Weather Girl at the New PL made the annoucement during her weather broadcast Sunday evening. The lucky couple has not set a date for the wedding but it would be safe to bet it will be planned so it does not conflict with the drag race season. Atchison Racing is busy preparing both Pontiac Funny Cars to defend their IHRA Funny Car title and possibly run some other events if they can fit them in the schedule. Rob and all the Atchison Racing Team would like to wish everyone a Merry Christmas and a safe and Happy New Year.


IHRA: 10 Most Recent Entries
[ top ]
Feb 09
-
The International Hot Rod Association Names Mike Dunn as President
Feb 04
-
Summit Live Webcast Kicks Off At Immokalee this Weekend
Feb 01
-
Drag Review Magazine Going Green
Jan 31
-
Cordova International Raceway Appoints Interim General Manager
Jan 22
-
2016 Memphis International Raceway Schedule Announcement
Jan 21
-
San Antonio Raceway Readies for 2016 Season
Jan 21
-
Division 1 Patriots Summit Pro-Am Schedule Released
Jan 21
-
Summit Racing Equipment Renews Partnership with IHRA
Jan 21
-
Division 4 Renegades Summit Pro-Am Tour Schedule Revision.
Jan 19
-
IHRA Announces the Appointment of a New Interim President