Wed, 5 Oct 2005, 05:55 PM



Carrier Boyz and McClenathan Extend Contract to 2009



Courtesy of Mickey Schultz



BRISTOL, Tenn. --
Andy and Mark Carrier, owners of Carrier Boyz Racing, and Cory McClenathan, who drives the Carrier Boyz Racing Top Fuel dragster, jointly announced the extension of McClenathan's contract to drive for Carrier Boyz Racing through the 2009 season.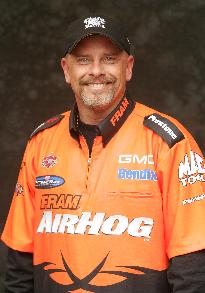 Cory McClenathan
"Having Cory Mac with Carrier Boyz Racing for the next four years is a big plus for our race team," said Andy Carrier. "It keeps our foundation sound, keeps with our philosophy of staying with the same people and continues our growth. During our talk regarding the extension on Sunday you could sense Cory's excitement and that excitement is contagious and will help this whole team strive to do better.
"Cory brings a lot of things to the table, but I feel one of his best qualities is how he represents all our marketing partners. He's one of the best out here at that.
"Cory is an important part of the plans to make Carrier Boyz Racing a better team. We'll have a few more surprises to announce in the very near future."
Mark Carrier added, "Carrier Boyz racing is here to stay and having Cory on board makes us a sound team for the future and give us a strong foundation to strive for the top tier in Top Fuel and hopefully bring home the championship."
McClenathan, who has 28 career wins and 29 No. 1 qualifying position, began driving for Carrier Boyz Racing at the start of the 2004 season.
"I'm very excited," said McClenathan. "It turned a dismal Sunday at the Ameriquest Nationals in Chicago into an exciting day for me. After you exit in the first round and the bosses come to you and tell you they want to talk with you, you get a little edgy. Well, let me tell you that talk was all good. They asked me if I wanted to extend my contract with them for the next four year. I immediately said yes and hope that this extension quiets all the rumors that had me going elsewhere.
"I never wanted to jump camp, but you will always have some people out there that are not happy unless they're stirring the pot. Sure I had people approach me but let me tell you I never wanted to go to any other team. I'm really excited to know that I have a long future with Mark and Andy and mom, Shirley.
"Four extra years sounds good, especially when it means that I have a home and team and owners that I respect and have a good relationship with them both on the track and off. I plan to work real hard for them and do all we can for all our sponsors over the next four years."
McClenathan has done and accomplished much since he began Top Fuel racing in 1991. The one thing that has eluded the driver who now calls Lake Havasu City, Ariz., home is the NHRA POWERade Top Fuel point championship. He has been every so close finishing No. 2 four times (1992, 1995, 1997-98).
"The future looks bright," added McClenathan. "I really want to add that NHRA POWERade championship to my resume. This team can do it and I will do everything in my power to lead them to the top."




NHRA: 10 Most Recent Entries [ top ]

Feb 20- Carolina Dragway and Piedmont Dragway Join NHRA Member Track Network
Feb 20- Dodge Fuels Migh-High NHRA Nationals as New Title Sponsor
Feb 20- PHOENIX - Tony Schumacher Likes Team's Direction Heading to NHRA Arizona Nationals
Feb 19- Tim Marshall- A Drag Racing Photographer
Feb 17- POMONA 1 -Through the Lens of Ron Lewis
Feb 16- PHOENIX - Fact Sheet
Feb 16- PHOENIX - Leah Pritchett Hopes for Third Straight Win at NHRA Arizona Nationals
Feb 14- Summit Racing Equipment Renews NHRA Sponsorships
Feb 13- Brittany Force Released from Hospital
Feb 13- POMONA 1 - Special Awards